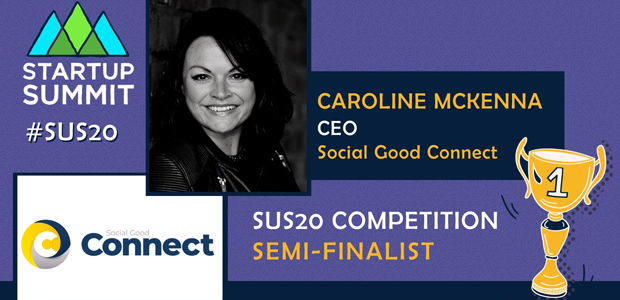 Startup Summit finalists: Social Good Connect
Social Good Connect is a unique digital platform connecting employers and their employees to volunteering opportunities. Charities need skilled help day in, day out, but they haven't always got the time or resources to find it. Motivated, skilled volunteers are hard to come by. However, in any one city there are hundreds of businesses with potentially thousands of skilled volunteers who could solve that problem.
Social Good Connect partners with employers who want to improve their social impact to help them engage their employees, embed a culture of giving in their organisation, and measure their results.
Where did the idea come from?
My previous experience of leadership roles in both the private and third sector led me to realise that, on both sides, there is a significant desire for closer collaboration; but when it comes down to it, these sectors find it incredibly difficult to work together.
After many years in Financial Services and as CEO of a non-profit, I launched a consultation business for organisations who were looking to level up their social good strategies. It was here that I realised the scale of demand from businesses and non-profits for both volunteers and effective volunteering and strategies.
And so, Social Good Connect was born. A unique, and scalable digital platform that supports well-intentioned employers to direct their enthusiasm towards a structured, coordinated, and impactful volunteering culture, while giving non-profits access to high-quality, skilled volunteers.
How many are on your team?
Our team has grown rapidly over the last few months from one employee in January to a team of nine creative, motivated, passionate individuals who share a common purpose – A passion for doing good through business.
What is the main goal?
We have a big, hairy, audacious goal to create £100m of social impact through the distribution of funds from our Social Good Foundation and employee volunteering hours.
Our mission is to create a world where people care and are inspired to make a positive social impact. We have already enabled the completion of some great volunteering projects right when the need for collaboration between the sectors is paramount. We are so excited to see just how much good we can inspire in the world as we grow!
How did you hear about the Startup Summit Competition and what made you apply?
We heard about the Startup Summit Competition through Bruce Walker's social media feed. We applied because we truly believe in our ability to make it easy for employees to choose a cause, make a difference and enrich lives.  The impact of winning a place on the Silicon Valley Scale programme would be a game-changing opportunity for us to drive these goals forward!
What makes your business different?
We know that there are plenty of volunteering job boards out there, and other CSR related softwares, but Social Good Connect is the only model in the UK to offer a bespoke search and match employer-led volunteering service with online and offline guidance.
No other volunteering organisation or service is currently able to match employees so effectively, guide employers and volunteers through the process, or track who is doing what when and what the impact has been.
What have some of the biggest challenges been so far?
Some of our biggest challenges have been around securing start-up funding. We quickly realised that seed funding for not-for-profit businesses can be very hard to access, especially if your organisation focuses on systemic change rather than direct impact. We have had to be adaptable while staying strong to our values and purpose.
Initially, we thought that one of our biggest challenges would be educating businesses on why employee volunteering and coordinated social responsibility was so important, but the world has changed so much, so quickly this year that actually, most businesses are now totally open to hear about how we can support them with their social good aims.
Embedding a culture of volunteering across the employee community is critical to our success and we have created a bespoke onboarding process for each business.
How did COVID affect you?
Our original plan was to complete our digital platform build over summer and launch our product in October 2020, however, due to the increased demand for volunteers during the pandemic, and the number of furloughed staff with a desire to support, our platform build was accelerated to launch 5 months early in May!
During the crisis, we have been able to facilitate the delivery of thousands of pieces of PPE to care homes across Scotland, help businesses to engage with and support their furloughed staff, and connect employers with risk assessments for a safe and secure return to life post lockdown.
It has been an honour to support the selfless actions of non-profits and companies during these difficult times and we have been blown away by the way communities have come together to support one other when the need has been greatest.
What do you have planned for the future?
We have big plans. First a regional roll out across Scotland by the end of this year and across the rest of the UK into 2021. We are also excited to progress and expand our mission to build a global brand that will support employee volunteering across the pond and beyond!
Describe your startup journey in one sentence?
Our start up journey has been exhilarating, exhausting and a rollercoaster of up's and down's but most of all the foundations for the future have been built and that is so exciting.