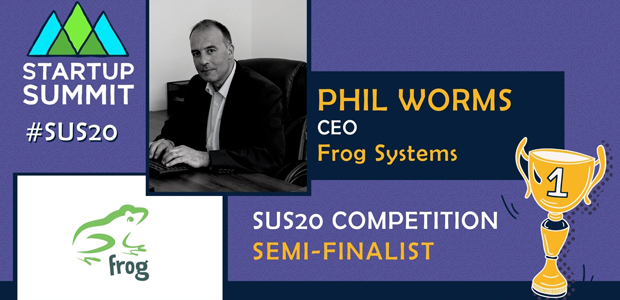 Startup Summit finalists: Frog Systems
Frog Systems has developed the first dedicated mental health and wellbeing video platform to utilise the power of the lived experience to communicate positive messages of hope and support, from those that have survived dark times, to others who are facing their own personal challenges.
Tell me about your startup and what you do?
Recognising that video content accounts for 80% of all consumer internet traffic but is woefully ignored as a communications channel, Frog has placed film at its heart. Its Champions Cinema® contains 1000s of professionally curated videos featuring real people telling their stories in no more than 60 seconds - covering a comprehensive range of mental health and wellbeing topics. 
Uniquely, the software signposts the user automatically to their nearest local support and services (UK or International), as related to the video's content, at the point of need, eliminating frustration and additional internet searches. The published details of the support services are verified and regularly updated to ensure accuracy. The platform can be fully customised, personalised, and licensed by any organisation that has a duty of care.
People perform better - at university, at work, on a sports field - when they have a purpose, are confident, motivated, and completely focused on being the best they can be. Good mental health underpins this. The benefits of Frog are twofold. The end user receives the encouragement and inspiration to seek support, whilst the organisation accesses Frog's real time anonymised data sets, gaining early insight into the potential levels, and types of, health-related issues that may exist within it. Use of Frog's data enables organisations to deploy early intervention and support strategies, and measure their effectiveness, helping to create more resilient, empathetic and productive work environments through the significant reduction of absenteeism and presenteeism.
Frog complements other employee type wellbeing services by bridging the gap between a person struggling and taking that first step in seeking support. Through its innovative use of video, Frog makes it easier to find hope as we believe a sense of hope is a necessity to living and working well.
Where did the idea come from?
Frog Systems, a Tech4Good company, was incorporated in 2014 with the founding CEO, having experienced his own traumatic recovery journey from addiction, originally envisaging a national public website to signpost UK citizens to the type of local community wellbeing organisations that he and his family had sought during his dark days. At the heart of his vison lay the harnessing the power of peer support (which is key feature of the Fellowship model to aid the recovery of those suffering from addiction). For those struggling with life it can be hard to find positive stories from people who have survived; YouTube and other platforms are full of unstructured videos which focus on worst moments or offer unrelated or inappropriate additional content.
How many are on your team?
Eight.
What is the main goal?
Frog's mission is to ensure that everyone has access to stories of hope and relevant support, providing individuals with the inspiration to recover from personal problems and health issues.
How did you hear about the Startup Summit Competition and what made you apply?
Through LinkedIn. Just as we advocate the use of the Lived Experience to provide people with the support to take early ownership of their wellbeing issues, so we would value the Shared Experience of like-minded peers, mentors, start-up founders and teams so that we too can listen and learn from. The Start Up Summit offers us that opportunity.
What makes your business different?
Prior to the pandemic, ONS data suggested searching for health-related information was already the UK's fifth most common internet activity. Lack of easy to find, relevant online information at point of need leaves the citizen feeling frustrated (many will turn to direct contact with already over stretched services such as GPs, A&E & Local Authorities.) and is very much a lottery:
Search engine algorithms place emphasis on 'authority' (news stories) or paid content meaning that many smaller local organisations providing vital services remain 'invisible';

Despite video accounting for 80% of internet traffic and 70% of the UK population using mobile as their primary internet access device (2 out of 3 mins spent online are via mobile), major health/wellbeing information service providers (NHS, CAB, Gov) continue to produce non mobile friendly sites full of unengaging text, outbound links and pdfs;

Most health & wellbeing sites are single topic – yet most health & wellbeing issues are multifaceted;

Many sites contain data that is outdated or links to further information which result in 'page not found' 404 status;

Many people within health & third sector organisations do not have search optimisation skills;

Abundance of information narrows our collective attention span - only 28% will finish reading a text page; and

Accessibility issues – blindness, non-English speaker, dyslexia etc
Despite these significant barriers to even finding information, Frog actually resolves a deeper issue which is that what information can be found is poorly presented to the individual and does not provide pathways for the user to act on what they find. We want information to be available, engaging, and useful. This is the key issue.
One of the most common reasons for not seeking help is fear and shame. People recognise the negative stigma and discrimination associated with having a mental illness and do not want to be labelled "mentally ill". They may also have concerns about how such a label could negatively impact their career, education, or other life goals.
To find the strength and inner desire to seek help and support may have been the result of overcoming a long term inner battle or it may have been an impulsive decision, but regardless of that, to finally make that decision to reach out and then not find what you seek can be crushing.
That 'moment' might have been the only opportunity that society had to have helped that individual.
Mental and physical illness does not discriminate. Each one of us is touched by it at some point in our lives. For those struggling with life it can be hard to find positive stories from people who have survived. Frog makes it easier to find hope.
What have some of the biggest challenges been so far?
Initial concept for the business was sound but the target market – public sector - was challenging. At the time, the idea of a community directory type service resonated with the primary healthcare sector as it championed the embryonic Social Prescribing model.
Funding was raised via several high net worth investors, including current board members, to support a business plan that envisaged annual subscription revenues from UK local authorities and Health & Social Care Partnerships. Despite significant interest, and investment revenues did not materialise, due to low market adoption of social prescribing, and cash burn became critical.  In 2019, an investor- led review was undertaken, resulting in the original founder leaving, the appointment of a new CEO, a bootstrap and a company pivot.
How did COVID affect you?
While the Frog team was working very effectively in its Govan offices in Glasgow until the March lockdown, it has been able to morph into an even more effective operation on a working from home (WFH) basis. Through the use of collaboration tools such as Microsoft Teams, WebEx, Slack and Zoom staff were able to keep in contact and indeed put in more productive effort with the CEO (and occasionally the chairman) both managing and ensuring that all was well on a regular daily/weekly basis.
The lockdown however has had a damaging impact on the planned sales pipeline, with many new projects frozen or delayed whilst organisations react the situation and implement their own 'disaster recovery' type strategies to ensure they function and survive through the pandemic.
However, one positive outcome for Frog has emerged from the lockdown measures and that is the nation has collectively 'found its voice' through the use of technology, with millions of video calls connecting people daily. Major broadcast news reports have featured remote interviews to 'tell personal stories' as normal and this has demonstrated the power of video to potential Frog clients. Video's impact is immediate, emotions are stirred, content is relatable, and it is not limited by language or accessibility. We are 95% more likely to retain a message after watching a video compared with 10% when reading text. We are no longer having to explain the power of peer support.
Frog has been fortunate to have had the cash reserves to have negated the need to furlough its employees nor defer any of its HMRC liabilities.
What do you have planned for the future?
Growth! We have a product set that is attaining real interest and the focus for the short to mid term is sales and marketing activity. The product is not limited by language or geography – so we can target both UK and International markets.
In terms of product development we are planning a self-serve online subscription version for micro and small SMEs.
Describe your startup journey in one sentence?
We're five years into a three year business plan.