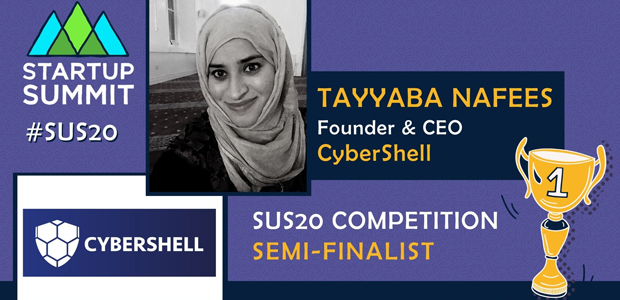 Startup Summit finalists: CyberShell
CyberShell provide comprehensive and understandable support and education of cyber-threats(Interactive application security testing-IAST) to software development team to prevent and mitigate cyber-threats. They give their clients confident and resilient in the digital age against cyber-attacks with securely develop products that reduce their risk of getting hacked with competitive advantage.
Where did the idea come from?
The foundation of my business was laid during the research-period of my PhD under the supervision of world-leading cybersecurity experts Dr Natalie Coull, Dr Ian Ferguson and Dr Adam Sampson at Abertay University. I have invented patentable technique to capture and communicate vulnerabilities during software development process, which ensures security in software industry development practices with potential to prevent up to 90% of vulnerabilities
How many are on your team?
We are team of 3 at the movement. However, we are in phase of recruiting 2 more full time  Ethical Hacker and Data analyst.
Dr Tayyaba Nafees: CEO &Founder:

 

Dr Tayyaba Nafees (CEO of CyberShell) is software engineer with considerable expertise in Application-security-development and a PhD in Ethical Hacking. She received prejudice entrepreneurial award of a Royal-Society-of-Edinburgh-Enterprise- Fellowship 2018 and 6 years of working experience within team of world leading cybersecurity experts at Abertay University.

Dr Jamie Graves: NXD :

Jamie has a PhD in Computer Science from Edinburgh Napier, extensive security and digital forensics experience, and was recently recognised as the 'Champion of Champions' at the inaugural Scottish Cyber Security awards for his contribution to the industry. He also attended the prestigious Ignite course at Cambridge University's Judge Business School, and the Entrepreneur Development Programme at MIT. Ex- founder of ZoneFox and now VP of Security Analytics at Fortinet.

Khizer Aziz :Part-time Full-Stack Developer
What is the main goal?
CyberShell main goal is provide resilient automated cybersecurity solutions that empower software development teams to build systems quickly and securely
How did you hear about the Startup Summit Competition and what made you apply?
I read about the Startup Summit Competition on LinkedIn and Our NXD pushed to apply for this great opportunity.
What makes your business different?
Our automated tool (CyberSuite) based on bleeding edge and patentable technology that provides
Fast Blackbox Analysis:

CyberSuite seamlessly integrate into

existing toolsets like JIRA for issue tracking, or Jenkins for your build pipeline / CI process to educates and provide real time support for developers in solving identifiable security flaws in comparison to existing ineffective and static tools with a lot of false positive.

Cost-Effective:

CyberSuite analyses and generates safe solutions against 90% of live attacks and saving 30% testing time in comparison to very expensive end of line penetration testing and expensive scanning tools .

Continuous Education about Up-to-Date Cyberattacks

: Our agonistic vulnerability scanning tool linked with cybersecurity awareness training to provide  education while considering the customers' context, it aid in helping developers retain security information better.
What have some of the biggest challenges been so far?
Building the team: find the competent and trustworthy team member was biggest challenge for me, however, I am very lucky enough to surround by the people who share the same vision and  ambition to  make CyberShell successful.
Changing the Industry perceptive:  According to a Cisco report, 71% of organizations believe that security issues are impeding innovation. Also, post fixation to detect and fix vulnerabilities is 30 times more expense rather than prevent during initially during the software development process . The time has come to change our businesses mindset and embed security into the fabric of software systems from the outset rather than building a wall around them with a unique core philosophy of Anti-Pattern to build upon prediction and prevention rather than repair.
How did COVID affect you?
COVID affect us in both positive and negative ways
Lose investment deal: Before the COVID, we were in the final phase of closing our seed investment deal, however, after lockdown, initially investor put us on hold and then the term sheet pulled by the investors because they were saying the investor panel has short of funding to procced. Or we have to sell them more equity. We refused to sell more equity.
Increased the demand of our product: Due to unprecedented shift to a dispersed workforce, Cyber-space is a new frontier for hackers in the COVID19 pandemic to exploit vulnerabilities in emerging business-critical services. This digitisation increasingly exposes health and social care organisations to both generic and targeted attacks. UK intelligence agency warns of cybercriminals exploiting the coronavirus outbreak. During a contraction, the need of our product increased dramatically, for example, government and health systems are introducing new applications, which lack the security and are more vulnerable to attacks. For example, CoronApp-Colombia app is a way for Colombians to send health updates
What do you have planned for the future?
CyberShell has three key plans:
Finalised Seed investment deal

Launch MVP within UK

Run Trials with European Customers
Describe your startup journey in one sentence?
Thrilled and tickle journey for a Muslim female entrepreneur, the sky's the limit for my enquiring mind to look ahead in the field of Cybersecurity.