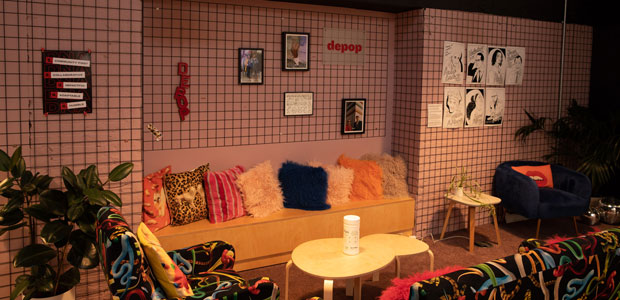 A startup in style
The social marketplace with the cult Gen Z following, Depop has been shaking up the fashion industry over the last few years. Starting up in 2011 as an incubator in Milan, Depop founded its HQ in London in 2012 and has fitted in with the smart hipster tone of Shoreditch ever since.
As the world of clothing has seen a definite shift in sustainability, there is now a high demand for vintage items on Depop and in turn, users are now attempting to build a following and run their own online shops.
Hosting an array of pop-up events and weekly gatherings is crucial for Depop as its sellers and developers can continue to be involved in the growing online community. While the global pandemic has seen a halt to these events for the foreseeable future, the company turned to Flipside Soundsystem to ensure the space for hosting these events could live up to the brand's reputation.
"We were looking around at various companies for this project and a lot of them just didn't have the right vision," explained Depop's IT Support Engineering Lead, Hayden Duffy. "We eventually went with Flipside as they were very personable and just knew what they were talking about."
The team were originally using a single box of AV equipment and a couple of speakers for an array of meetings and events for around 50-150 people - a lot of these being streamed from the US. The goal was simple: to have a smooth-looking system that was easy to use and ideally did not have cables lying around on the floor - which was an original challenge the Depop IT crew were dealing with.
James Cooper, Managing Director of Flipside, worked with Depop to help with improving the look and capabilities of its AV setup before Depop decided to invest in a system that was more resilient and could support it long term. Requiring a comprehensive system that was in-keeping with the brand's niche aesthetic, the Flipside team were on-hand to deliver a discreet solution that was beyond the client's expectations.
Keeping the equipment as unobtrusive as possible was a key element to the project, meaning Flipside decided to use column speakers that would blend into the background. As such, white and black columns from Yamaha were selected depending on the wall colour they were to be mounted on. Equally out of the eyeline and coloured to blend in with the background are a pair of NEC projectors which fire onto motorised screens that can be rolled down when required.
The Yamaha amplification and processing alongside video processing from Wyrestorm have also been hidden from view in a small rack concealed behind plants and totally covered when the projector screens are down. The wireless microphones Audio Technica mean that presenters will not be trailing cables around during events while the conveniently located wall boxes continue this theme to achieve the clutter-free meetings that Depop required.
"James was great - he just knew the exact solutions we needed and how we could utilise each system as effectively as possible." Duffy added. "On one of the installation days, the team and I popped in and we got the full explanation of how everything worked which was great."
A startup business often means sharing the control and having the flexibility to combine more than one solution with another, which could not be more relevant with a technical installation. As Cooper sumed up: "The philosophy of startup companies and the requirements for AV (especially online and tech-based startups) ultimately means a hybrid between traditional, meeting room-style presentation systems with live and more dynamic elements. At the end of it all, the audience needs to be at the forefront."
Duffy concluded: "Various events in London are always trying to win people over with the best experience, so presenting yourself with cables everywhere and a clearly botched together solution just isn't going to fit. Thanks to Flipside, our clients and associates can see that everything works perfectly with our new installation and it really helps Depop present itself to people in a much clearer way for the long term."