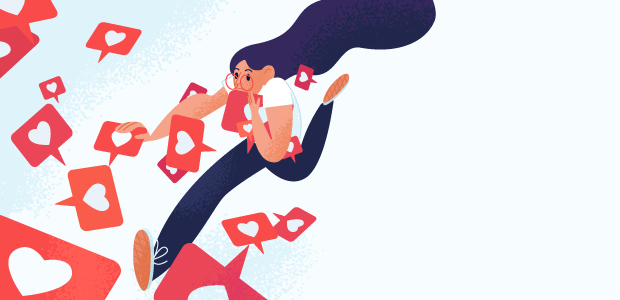 Startup storytelling through social media
More than 200,000 small companies have been created in 2019, according to the Federation of Small Businesses, and each and every one of these businesses will have their own story to tell. So, what's yours?  
What motivated you to launch your business? What problem are you solving? And how will you meet the needs of your customers?  The answers to many of these questions will be ingrained in your business plan.
But once your company is all set up and ready to go, how will you go about telling people about what you do and, crucially, how will you reach potential customers?
Other than word of mouth, existing relationships, and advertising, there are two main channels to publicise and promote your business: Social media and PR.
Social startup
Creating a social media account is a relatively quick and easy process. However, for social to succeed, there needs to be strategy in place and a clear plan of what you want the platform to achieve.
Firstly, you need to consider what social media platforms to use. Facebook, Twitter, LinkedIn, Snapchat, YouTube – the list goes on, but not all will be relevant to your business. There are over 330 million Twitter accounts worldwide, 60 million active Facebook business pages and over one billion monthly active users on Instagram, so choosing where to have a presence can be a challenge.
And that's before you factor in new channels that pop up, such as Tik Tok. Each social media platform requires a slightly different tone and message and so, rather than trying to hit them all, you should focus your attention on the platforms that fit your business and on those which your prospective clients and customers use.
For many businesses, this means LinkedIn and Twitter. However, it really does depend on your target audience: if you're trying to reach people in the local community, Facebook might be a more fruitful channel to focus on, whereas if you're a tech-startup, LinkedIn, Twitter – and potentially YouTube – might be the best channels to pursue.
Visibility
Once you've decided where you're going to be in the social media landscape, you need to make sure that you're visible. Ideally you should be posting content regularly – weekly, if not daily. This can include retweets, engaging in online conversations, posting your own content and creating surveys for your followers to answer.
It isn't enough to just promote what you do. In fact, this is likely to turn people off, if all they're seeing from you is advertising and a sales push. They want to receive insights from the company and its experts, as well as interesting, creative content. This could include infographics, articles, or videos as well as photos. Repurposing existing collateral for social media is one way to engage – and educate – your followers, but they also need exclusive content and insights that they won't have seen elsewhere.
You should also try to actively engage in conversations about your trade / sector by keeping tabs on relevant hashtags and commenting, where appropriate. This involves a simple search by hashtag, and you should also try to include hashtags in your posts, so that they come up in relevant discussions.
Followers
It's important that you're following all the right accounts – including peers, competitors, regulators, industry commentators and relevant trade bodies and associations.
If possible, give your social a 'human face' as well– there's a famous saying that 'people buy from people' and this remains true on social media. People want to feel that they're engaging with a person – and not a 'bot.' If you're a large company and have the benefit of a social media team, it may even be worth adding initials at the end of each tweet, or Facebook post, so that the audience can see who is responding and active.
If you're a small startup, make sure you showcase your team with pictures and even bios or videos, so people can see who you are. With social media, you want to give some personality, and this should be reflected in your language and tone. For example, you should try to be more conversational – but remain mindful of your business image.
'Traditional' media
As well as social media, traditional media has a vital role to play in promoting your business. Seeing your company's name in a respected local, trade, national or online title can give real credence and confidence in your brand. It also massively expands the number of people who will see your company's name and, by being quoted in these articles, it highlights that the journalist – and title – see you as industry experts with valued insight.
To boost your profile in the press, you need a clear message on what your business does, and why it does it. Importantly, it should answer the question 'why is this news / why is this important to the readers?' Using facts, statistics and case studies to back up these claims is a fantastic way to show why you set the business up, what it's going to achieve, and how.
The media approach should be centred around one key aim, however: what is the one piece of information you want the journalist to take away from the meeting? One level down from this key message are the supporting key messages – no more than three. For each of these, you should try to have reinforcements in the way of stats, testimonials and research. The stats don't have to be your own, but if they're not, they should come from a reputable organisation, such as the ONS or YouGov.
It's imperative to know what you want to get out of any media or social media engagement. Something like a media messaging workshop or media training can prove extremely useful in this regard. Events like these will not only help you refine your thoughts, but will also make sure that they're appropriate for the audience that you're targeting.
Rostrum holds half-day and full-day media training to help businesses define and refine their messages. These sessions also provide insight into a 'typical day' for a journalist, how to answer tough questions, and also include a practical filmed element.