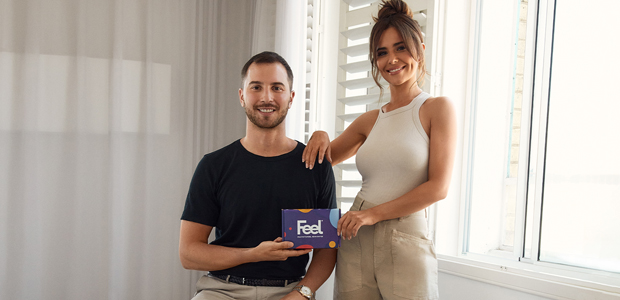 The startup helping you Feel good
Imagine stepping into a health shop after a long day at work. You're on the hunt for a multivitamin that will kick the fatigue that's been following you for weeks. You want to be engaged and productive, but you wake up tired, and you have trouble focusing when you need to give it your all. Let me introduce you to Feel. We caught up with founder Boris Hodakel to find out more on the startup.
Tell me a little bit about Feel and why you started it? 
Like many start-ups, Feel was born because I wanted to solve a problem.
I was always taking supplements and through the years I, like many other people as consumers, started to get more aware of what's on the label. Due to a very common skin condition, I have, I have to be extra careful with things I put into my body. And avoiding additives and synthetic substances really helped my condition. Luckily, a few years ago I had more time to explore what supplements really are, how they are made and what goes into them. To my surprise, I discovered that many vitamins are packed with bulking agents, nasty chemicals like manufacturing additives, and contain small doses of low-quality ingredients. I saw this as an opportunity to create a clean label brand with the mission to become the world's highest quality nutritional company. I make sure we only produce high-quality nutritional supplements with clinically backed formulas that exclude all harmful and unnatural substances. We run Feel so that we can provide high-quality, natural products at affordable prices due to its D2C subscription model.
What is the goal and mission?
Our goal is to create exceptional nutritional products for the modern world, and we aim to do this by cleaning up this 'dirty' industry. We are committed to providing our customers with honest, convenient, and affordable products containing vitamins, minerals, and phytonutrients (botanical ingredients). On top of that, we are 100% plastic-free. Personally, I don't like plastic and when it's my company I have the option not to use it. Don't we all want to help the planet a little bit? We are also a 100% vegan brand. We have strong ethical values we stick to.
Why do you think Feel is needed to help in the dietary supplements space?
Not all vitamins are created equal. Unfortunately, a lot of what is available in retail stores takes advantage of the uneducated consumer. Most of us are not nutritional specialists so it's easy to see why brands look for the easy way out. Did you know that some minerals have more than 15 different forms, like iron or magnesium? How could the consumer possibly know which form is good or bad, which is more absorbable than the other and which to take? We do! And we make sure we establish ourselves as a reputable and trusted company that can make this decision on behalf of our clients. We are also the cleanest alternative in the market and continually invest in making our formulas as effective as possible. Some products we produce have a formula update once or twice a year. We do research and formulate in-house, as it's part of our process to constantly look for ways to improve our products and search for innovation in the market. For example, in just two years, our flagship multivitamin is already in its fourth version. You won't get this anywhere else.
The dietary supplements scene gets a bad rap; how do you want to change this? 
By providing full information on the ingredients and how we make Feel. If you use potent forms of nutrients and do not add nasty additives there is a story to tell your customers. Those who don't use quality ingredients, sell in silence. Health-conscious consumers are on the rise. People want to learn and read about things they consume, and I think this trend is here to stay. We believe everyone deserves to know exactly what they're putting into their bodies. If you got a minute or two a week to learn about something you take every day we are there to educate you.
There are number of things:
No additives. It's hard to produce without adding so many things that make production easy, but we manage it. Trust me, it's not as easy as you think.

Reputable. We have a

senior medical board, and our nutrition team is obsessed with quality and innovation. They sift through thousands of studies to arrive at the perfect formulation.

Potent ingredients. Our products are of the highest quality and potency. We choose the most absorbable and effective nutrients in each category. Sometimes the same element can be 5x the price difference for us to purchase. While it seems the same to the consumer, it's not, and they will eventually Feel the difference after taking it.

Sustainable. How many brands do you know that are 100% plastic free in our space? Add vegan, cruelty-free, gluten-free, GMO-free and you have a brand that is really making a true effort.
What have some of the biggest challenges been so far? 
It has always been finding the best people. The best people can help you build the best business. It's not a one-man mission. You must have a great team.
How did COVID affect Feel and the industry as a whole?
To your surprise, the industry was on the rise even before COVID. What COVID did is open up digital to a lot of people who didn't shop online. It also saturated the market quite quickly as we are then all fighting for the user's attention. Not only in our category but with all other categories at the same time. Thankfully this is stabilising now and the saturation already peaked in mid-2020. Currently we see a trend that is looking more towards the pre-COVID era.  
What is next?
Building on the company's recent hyper-growth, my vision for Feel is to expand across EMEA and serve broader categories such as kids and pets. We also have plans to enter new verticals to become a full lifestyle and wellness brand. The immediate focus is to continue growing in the UK with our direct-to-consumer subscription model until we become one of the dominant players.