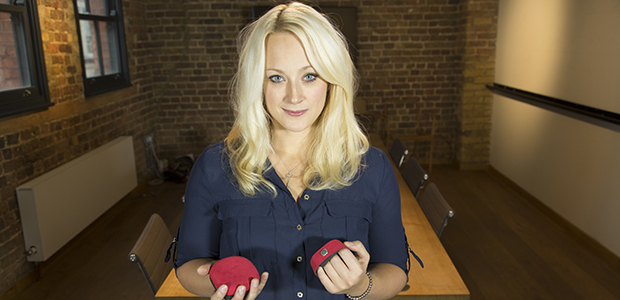 The startup company that's all heart
We couldn't really publish our annual women in tech issue without featuring our very own Hustle Award winner Joanna Montgomery, Fonder of Little Riot. Montgomery scooped the Biggest 2020 Hero award earlier this summer for her company's innovative Pillow Talk product, so we caught up with her to find out more.
Pillow Talk lets you hear in real-time the heartbeat of your loved one to enhance connection in long-distance relationships, or even for a child to hear the heartbeat of its mother. Users wear a wristband to bed and place a small speaker under their pillow. The wristband picks up your real-time heartbeat and sends it to the other person's device wherever they are in the world.
Montgomery first came up with idea while studying interaction design at university, when she was asked to develop an interactive product for an exhibition. As this was back in the early days of the iPhone, most students naturally gravitated towards developing an app. "It was an exciting time to be working in technology," said Montgomery, "however, while there was lots of cool stuff getting developed, I was worried how it was all going to look in five to ten years if we're all face down looking at screens all the time."
As an alternative Montgomery set out to develop a way for two people to communicate or connect without having to actively engage with a piece of technology – to sit with someone and feel their presence, without having to be interrupted by notifications, send messages back and forth, or sit in front of a screen.
Montgomery then developed an early crude version of the product out of parts from an old polar watch, an Arduino board and a mess of cables. This was to be displayed at her university degree show, and that, as they say, shouldn't have been all she wrote. Montgomery added: "I only ever thought it was going to be a university project - my plan was to graduate and get a job."
However, the project started gathering momentum online, and eventually went viral, leading Montgomery to be inundated with requests to purchase the product. "I never really set out to run a business," she continued. "But I was super naive and overly ambitious, so I thought if people want to buy the product, then I'll make it."
Montgomery admitted that she did have a slice of luck, as within a few weeks of graduating she won a substantial amount of grant funding. "For a 22 year old fresh out of university, that gave me a level of credibility that I didn't quite appreciate at the time.
"I had no idea how hard that was going to be, however. This was ten years ago, when the word startup was rarely used, and nobody built hardware in Europe. Everyone thought I was crazy - even trying to find advisors, mentors or anyone who knew what to do next, was incredibly difficult."
Montgomery admitted that it took a long time before the first batch of Pillow Talk finally rolled out of the factory, a lot of miss spent money, and a significant amount of trial and error. "A lot of people tried to take advantage of me – the product was getting so much press back then, so a lot of people wanted to jump on the bandwagon just to say they were involved, so I ended up working with a lot of engineering companies that couldn't actually deliver on their promises."
Product development
Montgomery explained that the early iteration of the product was a ring, due to the ease with which you can get a pulse from a finger. However, it was proving challenging to get the battery small enough for such a device, while providing a long enough life.
Therefore, the decision was made to switch to a wristband design. "This was around three years before the first Fitbit came out. I remember sitting in a meeting with an investor who told me that people were never going to wear technology on their wrists," Montgomery said with a chuckle.
To get the business off the ground in the early days Montgomery applied for as many grants, competitions, and investor pitches as she could, acquiring a significant amount of funding via that route. In 2012 she raised a first round of venture capital funding. And then, in 2015, she did an accelerator programme followed by a Kickstarter campaign which funded Pillow Talk's production. Fast-forward to 2020 and the company has now shipped around 10,000 units.
Hurdles, challenges, and opportunities
It is fair to say that Pillow Talk was ahead of the curve, however, in the early days this proved both a blessing and a curse. The foresight and innovation were the reasons behind so many innovation awards and grant funding that the company picked up at the time. The technology was not really fit for purpose however - Bluetooth Low Energy wasn't commercially available when Montgomery started building the product, and batteries were bigger than they are now.
She continued: "I was trapped in a weird place where people could see the potential, but the tech hadn't quite caught up. In terms of raising funding that could go either way, because some people understood it and saw the potential, yet others just thought it was the wackiest idea ever."
Montgomery explained that although initial roll-outs were targeted at couples in long distance relationships (as that was where the clamour for the product was coming from), the long play was always human connection on a bigger scale, and using technology to facilitate human connection in situations where it would not otherwise be possible.
One such application is in the healthcare space. Several years ago, Little Riot were contacted by a hospital in the Netherlands who had read about the product in a Dutch newspaper. They thought it could work for new mothers that had to be separated from their babies, and so wanted to conduct a pilot.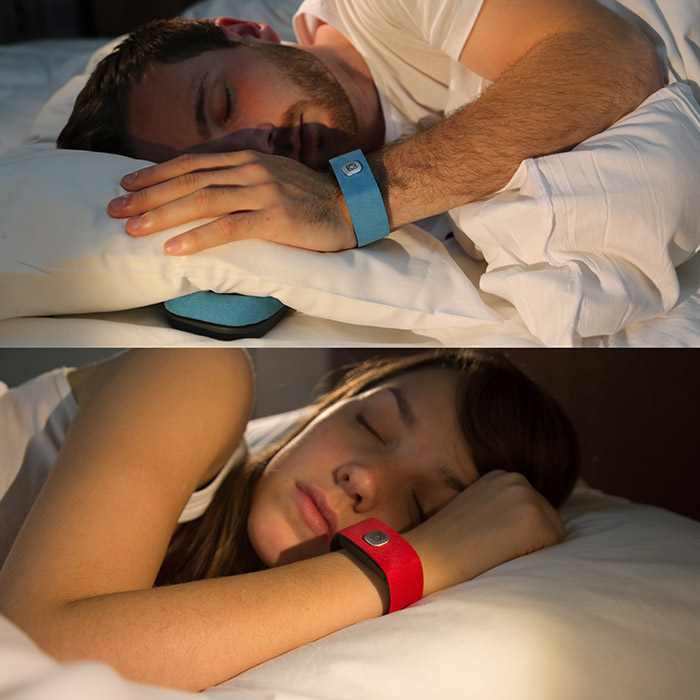 "They were so great to work with," Montgomerry added. "I can see why the Dutch are famed for innovation, because they were just such problem solvers. They took the product as it was and did all the risk assessment and certification – I thought the logistics and technicalities of getting a product certified for use in a hospital would be very complicated and expensive, however, they just found a way to get it done."
What Montgomery envisaged as a mere 'nice to have' piece of technology between parents and children evolved as the hospital discovered that babies who could hear their mother's heartbeat were calmer, fidgeted less, had lower heart and breathing rates.
It is now thought that long term, playing a mother's heartbeat to new born babies might actually have a noticeable impact on recovery and wellbeing. "That's opened a can of worms in a good way, because now we have a lot of other hospitals interested in trying out the product," said Montgomerry.
"It's quite a new space for us, and we're still trying to find our feet. And then obviously with the COVID situation we've seen a sudden surge in demand, but that's come with the added complication of not really being able to operate normally in terms of travelling or meeting in hospitals to see how they are implementing the product. We're crossing the river by feeling stones. We have of course been pretty lucky over COVID, because we make a product that connects people who can't be in the same place, which has been the case for a lot of people over the lockdown period."
Advice and experience
We certainly couldn't speak to one of our Hustle Awards winners without asking what advice they would give to anyone embarking on their own entrepreneurial journey. And for Montgomery, it would be to trust your gut instinct. "When I look back at my own journey, and the times when things have gone wrong, it would have been when I didn't listen to my gut. Whether it's hiring or partnering with people, working for someone or signing something, I feel that your gut instinct shows up when you really need it to.
"There was a point in my first year when I had a really bad feeling about a deal. I remember my financial advisor telling me that I can't run a business on gut instinct. I thought he knew better because he was so much older and more experienced and as such, I concluded that he was probably right. I listened to him and it ended up being a huge mistake."
As part of our women in tech issue we also asked Montgomery about her experiences of being a female founder in the technology sector, and she certainly cited some eyebrow raising incidents over the years, along with some factors that male founders would completely take for granted.
She explained: "Not that long ago, I was having a conversation with a male friend - I was going to a meeting and I mentioned I'd have to change my top because it was pink, and sometimes that stops people taking me seriously. I could see the confusion on his face. He said he never had to think about what to wear to a meeting.
"It's one of those things that as women, we always do - we are constantly asking ourselves, what are we wearing? Are we going to be taken seriously? Are we going to come across well? There are all these little micro issues that we just live with and adjust around that men are completely unaware of."
Montgomery also explained that she has experienced her fair share of prejudice over the years too, from 'business Barbie' comments and 'hot chick discounts', to being asked out for a drink by a married man within the first few exchanges of a business meeting. Montgomery was once even told by a potential investor that he would pledge the full amount being asked for, as long as she replaced herself as CEO of the business because "men are better at running businesses then women". Suffice to say, that was the end of that particular meeting!
"Way back at the beginning, business events were mainly men in suits hanging around conference rooms in hotels, so I often got asked whether I was someone's PA or secretary, or had just been brought along for a day out of the office."
Although things seem to be moving in the right direction, there is no silver bullet solution to eradicating these sorts of incidents completely, as Montgomery added: "No one knows the answer or I like to think we would have done it already. I sometimes wonder how good the whole 'women in tech' and women themed events etc are, as it seems a double-edged sword. Obviously, I care about the issue, and I believe it needs to change, but I wonder to what degree are we continuing to exacerbate the problem by putting the issue on a pedestal."