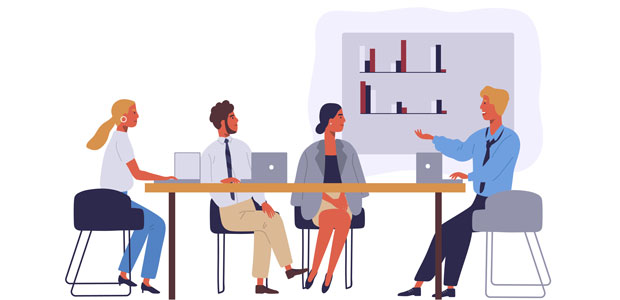 Staff training crucial for SME recovery post-COVID
A new study, commissioned by business bank, Allica Bank, shows that the practice of regular training correlates strongly with high performance in SMEs and will be vital to businesses' prospects of a swift recovery post-COVID. The study analysed data from over 1,000 companies and ranked their success on a scale that evaluated factors including productivity, growth, consistency and outlook.
Post-pandemic, many businesses will be focussing on day-to-day survival; it might be easy to forget long-term planning, of which staff training is a key component. Allica Bank's findings indicate that small businesses should incorporate training programmes into their recovery strategy to ensure long-term viability. Training will improve morale, retention and boost the company's credibility.
The study showed that routine staff training is a common characteristic among the most successful SMEs. 47% of the 100 highest scorers on the SME Performance Index provided training for employees at least on a quarterly basis. However, nearly half of all small businesses (46%) only provide training once a year or less, inadvertently hindering their growth and success prospects.
Frequency of training also differed across sectors. 34% of legal businesses provide training for staff once a month compared to just 6% in the hospitality and leisure sector. Whilst there will always be sector-specific disparities, firms in all industries can benefit from boosting and improving their training programmes.
Chris Weller, Chief Commercial Officer, Allica Bank, said: "With so many concerns and barriers for small businesses to navigate in the immediate term, it can be difficult for managers to focus on the training and development of their teams. However, if COVID has taught us anything, it is that adaptability and resilience are invaluable.
"The provision of regular training not only builds these characteristics into teams but serves to maintain a sense of value and togetherness that will boost morale, aide retention and improve performance - all of which contribute to the ongoing success of a business."
"There is no one-size-fits-all approach to training, but it's vital for business longevity that staff are supported with a formalised programme of some description. Customers will respond well to a company whose employees demonstrate enthusiasm and competence. Employees also need to feel that their skills are constantly being improved and expanding. These skills will contribute to the success of a company and this will feed through to the bottom line."
Allica Bank's SME Guide to Success identified six 'rules to success' that were more likely to be displayed by top-performing SMEs compared to their counterparts. The full report contains a wealth of additional data and insight into each of these topics.
As part of its mission to empower small businesses, Allica Bank is making the findings freely available and running a series of free online workshops with relevant partner organisations for businesses to attend.
Aliya Vigor-Robertson, CEO, JourneyHR, the expert partner for Allica Bank's training workshop, added: "Staff need direction and the knowledge that they are advancing in their career to stay motivated and engaged at work. An unmotivated, disengaged team is no recipe for long-term success and will ultimately hamper a business. Team members that lack tangible support from above are less likely to identify with their role and its duties, which is a completely natural reaction.
"Regular staff training is a key component of tangible support and will make the team feel secure in their career development. A happy team with purpose and direction will contribute to a thriving business."