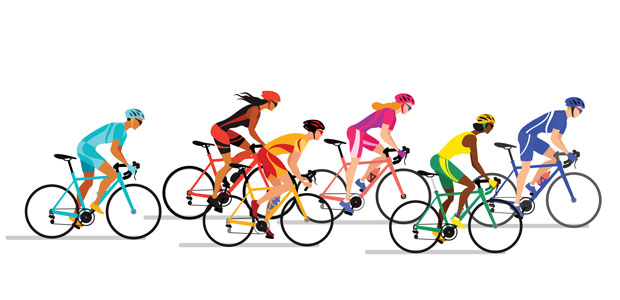 Sportstech startup's wild ride to launch
It's been 18 years since Body Rocket Founder Eric DeGolier first came up with the idea for a tool to help competitive cyclists accurately measure their aerodynamic drag. Eric had teamed up with three-time Paralympian Matt King  (who went on to join Facebook as their first blind engineer) to qualify for, and compete in, the 2004 Paralympic Games.
DeGolier was excited by the prospect of getting access to the US Olympic training facilities, particularly the wind tunnel. Aerodynamics plays a critical role in cycling performance, and a wind tunnel is currently the only place where a cyclist can accurately test the efficacy of different aerodynamic racing positions. As a design engineer working in the cycling industry, DeGolier was hungry for data that would allow him to optimise his racing form. 
He was disappointed to discover that only the very top tier of World Tour cyclists were granted access to the wind tunnel. These days many professionals and Olympians also get access to wind tunnels, but it's a facility that's still inaccessible to most cyclists. A single two-hour aerodynamics coaching session at a wind tunnel costs upwards of £900 and there's no way to collect data once you're back out on the road, where there are also so many other variables such as cross winds and gradients. 
DeGolier realised there was a huge gap in the market for a product that could measure aerodynamic drag - known as CdA - directly on the bike, on every ride. This sounds simple, but it's an incredibly complex technical challenge. Many companies, including Garmin, have been trying to crack aero measurement on the road for years. Garmin's TAS system focuses on estimating drag through power measurement as well as ambient pressure measurements within a controlled environment i.e. velodrome. This competes with the wind tunnel, but is still only useful in a velodrome and not live on the road. Aero products have come onto the market, but instead of measuring drag force they start with total power and then take estimates for other factors and use these to try to calculate the drag (often referred to as indirect measurement), which makes them tricky to use and prone to errors.
DeGolier spent 2010 immersed in the London startup scene, doing pitches that went nowhere. He said: "Everyone wanted us to have already made the product before they would invest.  It seemed crazy to me - how does anyone ever get an innovation to this stage with no cash?"
A local Santander Entrepreneur Award boosted the team's coffers and confidence, but they needed a solid investment to gain real momentum.
He did some consulting then ended up taking a job as Head of Innovation at impact protection start-up D3O, but never stopped working on his idea in the evenings and weekends. At the same time the sensing technology he needed to make the product work was catching up with the idea. He began to realise that the key to success was having no plan B. 
DeGolier said: "I had a good job at D3O, but I knew that unless I made this my only option, I would never be able to make it happen. So I quit my job and my wife and I committed to surviving on one salary. Six months later his wife wasn't enjoying her job any more and decided to quit, then she got pregnant. A perfect storm - there was no turning back!"
DeGolier was about to give up hope when he found his first investor, Beppo Hilfiker, former VP of Cannondale Europe, who immediately saw the value in what Body Rocket were doing. "I think 'that's genius' were the words he used," said DeGolier. 
Funding the work needed to make a technological breakthrough has been an ongoing challenge. With an estimated market value for aerodynamic analysis in excess of $680m, there's money to be made - but investors need the vision to see it.
DeGolier said: "Before you have an MVP, there's nothing to measure, so you're constantly having to convince investors to believe in something that doesn't yet exist. It's tricky ground for any truly innovative product to navigate and so few funding options around to get you over the belief bump."
One investor who spotted the product's potential is professional cyclist Alex Dowsett - who is the former Hour Record holder and a 6-time British Time Trial Champion. He said: "I've spent my entire life trying to get faster on a bike, and aerodynamics is absolutely everything. This really is a game-changer - no-one is doing it, and I'm beyond excited to see Body Rocket bring real-time CdA with real data, to the world of cycling."
More than 350 retail investors have also backed Body Rocket in two successful funding rounds totalling £525k on Crowdcube. The company has also been backed with innovation funding from both SPRINT and Innovate UK grants. Most recently the company secured convertible loan notes for £530k in preparation for the current round.
After more than a decade of development, Body Rocket is now testing a minimum viable product with riders and is in talks to provide services to elite triathletes and World Tour teams, and also British Cycling. 
DeGolier said: "The calibre of teams and individual athletes who have been keen to work with us is very high, which is testament to how valuable this data is." 
Now Body Rocket is opening its first large investment round of £3m in order to purchase tooling and set up our supply chains to turn its prototype into a commercial product.