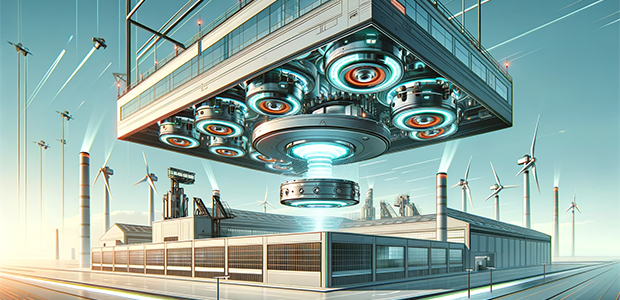 SpinDrive clinches €3.8M in Series A funding to boost global industrial efficiency
SpinDrive, a Finnish company providing affordable active magnetic bearings for original equipment manufacturers (OEMs), has secured a €3.8 million Series A funding round.
The investment was spearheaded by the US-based Rhapsody Venture Partners, which focuses on hardware companies, alongside contributions from existing stakeholders Innovestor of Finland and Born2Grow of Germany. The infusion of capital is set to catalyse SpinDrive's commercial expansion and enhance industrial efficiency on a global scale.
The company's magnetic bearings, lauded for their compact size, energy efficiency, and affordability, operate on a principle of magnetic levitation. This results in zero contact between rotating and static parts, obviating the need for maintenance for up to two decades, a stark contrast to the 12-18 month maintenance cycles necessitated by conventional ball bearings.
Nikita Uzhegov, COO and Co-Founder of SpinDrive, remarked on the company's ambitions and the new partnership: "We have seen increasing international demand for more energy efficiency and cleaner solutions in industrial production, and we are excited to build SpinDrive to meet those customer needs with our active magnetic bearing systems and controllers. With its specialisation in industrial technologies and global reach into industrial companies, Rhapsody Venture Partners is an ideal partner for us, and we're thrilled to be working with them."
SpinDrive's innovation extends beyond maintenance savings; their bearings also forgo the use of oil, thus eliminating the pollution risk associated with lubricants. This factor is of paramount importance given that EU factories annually utilise 5 million tons of oil-based lubricants, which pose significant risks of leakage and contamination.
Moreover, the bearings' frictionless nature contributes to significant energy savings, particularly in large machinery applications where traditional ball bearings would introduce efficiency losses due to friction. SpinDrive's offerings promise to reduce energy consumption by as much as 15%, an attractive proposition considering industrial electric motors account for 46% of the globe's electricity usage.
Janne Heikkinen, CEO and Co-founder of SpinDrive, emphasised the company's role in addressing climate change: "Climate change is the biggest challenge of our time, but we often get stuck thinking about technologies like carbon capture when it comes to CO2 emissions. Industrial production is a massive part of the world's energy consumption and climate emissions, so we must create energy-efficient and clean components to turn this tide. By improving the energy efficiency in existing and new machinery, we tackle the problem in a massive area and provide a significant impact."
The global bearing market, valued at €120 billion, stands as a testament to the potential scale of SpinDrive's market. Its technology is applicable across a diverse range of industries, including those requiring high-speed rotational machinery.
Carsten Boers, Managing Partner at Rhapsody Venture Partners, expressed enthusiasm about the partnership: "We scour the world for great hard science breakthroughs and love innovations that sell. SpinDrive's system is much cheaper and better than anything else on the market. We are excited to partner with the team and to help grow SpinDrive internationally."
To date, SpinDrive has raised a total of €8 million from a combination of venture capital, private investments, and public funding. With a client base that spans continents and an advanced control system for active magnetic bearings, SpinDrive is poised for significant growth. This is evidenced by the efficiency improvements reported by current clients, such as Runtech Systems, a global provider of vacuum solutions for the pulp and paper industry.
Ville Lahdensuo, R&D Director at Runtech Systems, shared his perspective on the collaboration with SpinDrive: "Active magnetic bearing technology is a major leap towards more sustainable papermaking, with a very affordable total cost of ownership. A 1 MW unit offers an unbeatable small footprint and material efficiency combined with low energy consumption over the product's lifetime. We look forward to deepening our cooperation with SpinDrive and continuing the application of the Magma AMB controller in other machine models."
With its innovative approach to industrial machinery and its focus on sustainability, SpinDrive stands at the forefront of the push towards a more energy-efficient and environmentally friendly industrial landscape.