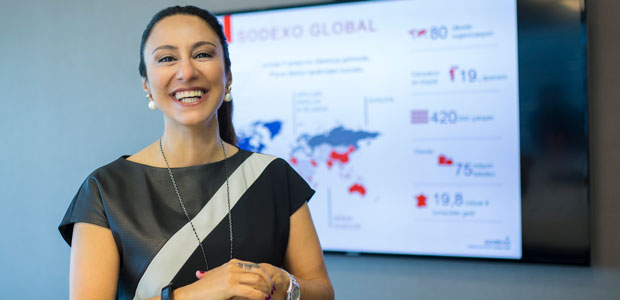 Sodexo Engage drives gender equality with SheWorks Programme
To mark International Women's Day 2021, Sodexo Engage UK is offering women an opportunity to join its job shadowing program, SheWorks.
Launched in 2019, the programme offers women the chance to learn about Sodexo's business and receive advice which will help them progress with their career. Participants may include women who want to enter industries where they are traditionally under-represented, women who are seeking independence through economic opportunity, or women with disabilities that want to learn about the company. Adapting to the pandemic, this year Sodexo will be replacing the face-to-face job shadowing by going virtual.
Sodexo Engage UK has chosen to partner with local secondary school - Stantonbury International School in Milton Keynes, as well as local women in the community to offer job shadowing to widen up the opportunities and networking across different business functions which will include working in Sodexo's Employee Benefits and Incentive and Recognition services. Previous participants have successfully applied for promotions, apprenticeships, and qualifications as a direct result of their involvement in the scheme.
The programme was created by the company's global gender advisory board, SoTogether, which has been a driving force behind the company's efforts to achieve gender balance by advancing women at all levels of the organisation. Established in 2009, the advisory board are senior executives in Sodexo, representing different business segments and global regions.
Sodexo Engage UK celebrates a great track record for gender balance and its senior management team currently has a 43% female to 57% male gender split. Sodexo's 5-year research shows that gender balance is critical for the success of business, scoring higher on key KPI's including a 8% higher profit margins, 8% higher employee retention, 9% higher client retention and 14% higher employee engagement rates.
Burcin Ressamoglu, CEO at Sodexo Engage, commented: "For more than 50 years, gender balance has been positioned at the heart of how we do business at Sodexo. Through our strategic commitment to Diversity & Inclusion, we take pride in investing in the growth of our employees and the business. Research from WEF shows that at current rates, gender equality will be reached in 217 years – we are committed to making this happen much sooner. Ensuring gender equality is one of our top priorities for our employees, our clients and also for the communities where we work.
"Our SheWorks program gives us a chance to create a better tomorrow by advancing gender balance, fostering inclusion and opening up new opportunities for women. It also allows us to connect with potential talent while helping women see new potential for their future career paths.
"At Sodexo we have seen first-hand the benefit of gender balance and the correlation to our business performance. We have to acknowledge the importance of creating inclusive cultures where women can belong in our society. International Women's Day provides a valuable opportunity to recommunicate our commitment to gender balance, the work we're doing to achieve this and how our teams can be involved.
"On a personal level, I am committing to encouraging more women every day to realise their potential and encourage other leaders to do so too."
In the UK the Sodexo Group has been in the Times top 50 Employers for Women for seven consecutive years and has achieved Gold Status from Investors in People.