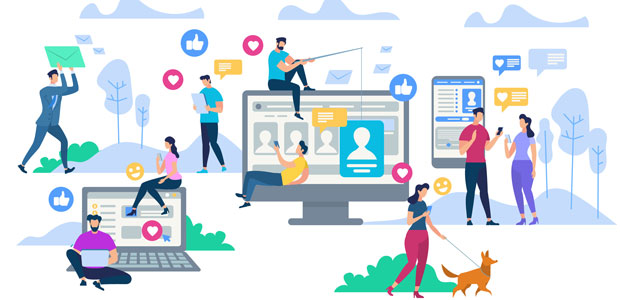 Social media trends to build your brand
With over 3.7bn social media users worldwide, neglecting the online presence of your business is simply not an option. As we start the new year, brands are looking at ways they can effectively engage their audiences well into 2022.
The events of the past two years have had a dramatic impact on how we all use social media, and as online trends continue to rapidly shift and develop, it has never been more important to ensure your online presence resonates with your audience.
Though the ever-changing online landscape may seem daunting at first glance, there are certain emerging key trends to keep an eye on this year, so you can make sure your marketing plans stay on the right track when it comes to social media.
Embrace video content
Video marketing is not new, but 2021 has seen it become central to many successful content strategies. With the rapid growth of TikTok, which grew 173% this year alone, and Instagram embracing a shift towards video content, it is set to become a crucial way for brands to connect with consumers in 2022.
Video content performs better and generates higher levels of engagement that their text or image-based counterparts, and the good news is that they are easy to adapt across various social media channels because of their versatility.
In particular, short-form videos are perfect for fast-paced social media platforms, and over 39% of businesses are already using this style of content to promote and sell their products and services, with 30% saying it provides a higher ROI than even their own websites. This is one trend that shows no signs of slowing down, and should be a key part of your social media content strategy.
Social commerce
The pandemic fuelled an increase in social media consumption, and with this a move towards social commerce.
Consumers want a streamlined experience when it comes to online shopping, and each additional step a customer is required to make before purchase is yet another opportunity to lose their attention and a potential sale.
Social commerce removes this friction from the customer journey, and with 81% of consumers already researching potential purchases via social media, it makes sense to dispense with the added step of navigating to an external website, and instead allow customers to purchase directly from the apps they already use.
Meeting potential customers where they already spend their time, on the platforms that mean the most to them not only allows you to remove these friction points, but also curate and target the products that will appeal the most to your audience.
The rise of social audio
With over 10 million registered users as of February last year, 2021 marked the meteoric rise of audio app, Clubhouse. Twitter also launched its own social audio platform, Twitter Spaces soon after, and this new form of content is already set to become an essential part of brand marketing in 2022.
Social audio differs from the one-way broadcast medium of podcasts in that it is a real-time conversation that allows listeners to actively participate. It offers the intimacy and authenticity of hearing thought leaders within a given industry have real, unscripted discussions on a variety of topics, and presents an exciting new way for brands to directly connect with their customers.
This new iteration of conversational marketing is a powerful way for brands to build trust and credibility, offering a unique way to personalise the customer experience. Though the trend towards social audio presents somewhat uncharted territory, the popularity of this new medium means that brands that get it right have the potential to become market leaders in this new and rapidly emerging space.
Organic reach or paid media?
Brands are facing the challenge of a decline in organic reach, with the average organic reach of a Facebook post at 5%, and Apple's iOS update allowing users to opt out of Facebook tracking altogether, there is a clear need to amplify content with paid advertising to reach your audience.
Social media click-through rates and costs-per-click still offer better returns than many other forms of paid media, so it makes sense for businesses to allocate part of their marketing budgets towards paid advertising.
Boosting your best performing posts, and strategically targeting paid exposure and tailored content towards the segments of your audience most likely to purchase are great ways to maximise the effectiveness of paid advertising. However, this is not to say organic content should be forgotten altogether. It is crucial for building awareness and audience engagement, and many brands are already opting for a location-based approach to their online marketing strategies to draw in local communities and boost visibility.
Don't forget the basics
While it is important to be aware of the key trends shaping social media platforms in 2022, it does not mean you should neglect your marketing basics.
To get the best out of these trends, a unified content and marketing strategy is absolutely vital. Ensure your marketing and sales departments are aligned and clearly define your marketing goals so you can utilise these trending forms of content effectively, while continuing to serve your audience.