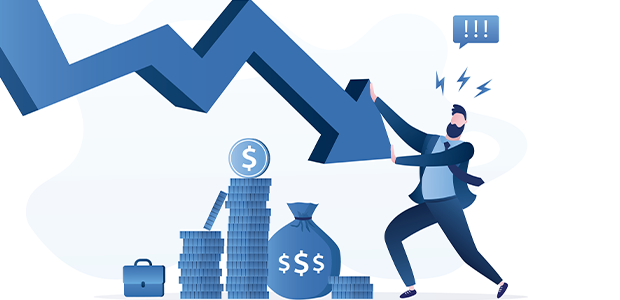 SMEs are struggling to secure funding - here's how you can fuel growth
Securing investment is crucial for any SME that has one eye on the future. International growth, team expansion and product launches are all possible when a business has spare capital. Unfortunately, the current economic climate has made it even more of a challenge for smaller businesses to secure funding.
Brexit, the Covid-19 pandemic and the cost-of-living crisis have wreaked havoc on the global economy. Many banks have turned their backs on SMEs in favour of larger, more established firms amid regulation tightening, interest rate hikes and high inflation. The situation has left innovative businesses stumbling in the dark and unsure where to turn to secure the funding they desperately need.
SMEs need to raise funds for a variety of reasons, according to Growth Lending's Don't Bank On It report. The survey found that for 33% of respondents, growth was the main reason behind their efforts to raise funds. 23% did so for working capital needs, while 19% said they needed to cover their overheads. 14% of respondents were raising funds for contingency planning, 6% wanted to hire new staff, 3% said they wanted to invest in research and development (R&D), and 2% were looking to drive M&A/MBO/MBI activity.
Once the next steps for business growth have been pinpointed, it's time to decide exactly what finance options to explore and prepare effective investment pitches.
Speak to experts
While they may be experts in their specific business sector, many SME leaders will not be entirely clued up on fundraising and particularly the alternative finance space. Speaking to an adviser who has experience working with SMEs and who can explain the options available will make the process easier and usually, more successful too.
As advisers will often have established networks of alternative finance providers, they can provide choices based on the business' individual needs and goals.
Starting the process of finding the right provider early gives SMEs plenty of time to prepare their pitches. Being clued up on what the provider will need to see and their processes will work in an SME's favour in its quest to secure investment.
A wealth of opportunity
With the high street banks tightening their lending criteria, some businesses may be disappointed when they find they are either not eligible for a loan, or cannot afford the inflated lending terms associated with what the banks perceive as "riskier" investments.
But SMEs must rest assured that there is always an appetite to invest in successful, growing businesses. Alternative finance providers can offer products to suit the specific needs of an SME and they may specialise in a specific business sector such as technology.
In this fast and diverse sector, alternative lenders can offer solutions such as invoice finance and asset based lending, which leverage capital already tied up in the business. Growth capital options are also available, which amortise like traditional loans, while equity investments raise cash in exchange for a stake in the business.
As alternative lenders tend to be more agile than large banks, it means that this funding route is usually much faster too – the processes are all designed to secure capital for SMEs quickly.
Forecasting the facts
When gathering information to present to lenders, SMEs should ensure their growth plans are detailed, realistic and, most importantly, backed up by data. The lender wants to see that the business is organised, proactive and strategic, and that it is led by a strong leadership team.
SMEs should be prepared to answer a number of questions, including: Why are your business plans for growth worth investing in? What risks have you identified and how will you mitigate them? How do you specifically intend to use the funding at each stage of your strategy?
Accurate financial projections and plans are absolutely crucial for a successful pitch. While the temptation is there to present the figures in their most positive light, this is not in anyone's best interests. Be realistic and present the true picture of the SME's value.
Closing thoughts
SMEs are crucial to the UK economy and they must be supported to succeed. And where the banks may be letting SMEs down, other lenders are stepping up to bridge the gap.
A solid growth strategy that is well-presented and answers the lender's questions is of paramount importance. The three key takeaways for any SME looking to grow are simple: Start early, speak to experts and forecast the facts. Do this, and business growth could be just around the corner.