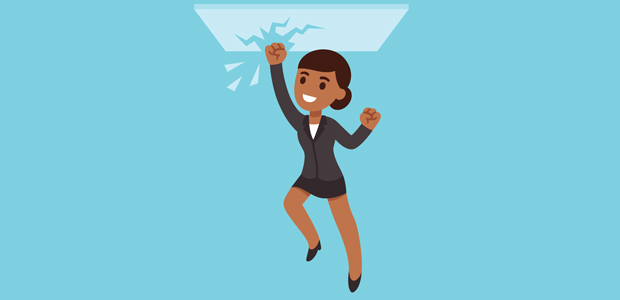 Smashing the glass ceiling for tech leadership diversity
University of Bristol multi-award-winning tech incubator, SETsquared Bristol, has seen its 80 startup and scaleup companies establish record leadership diversity.
In 2020, women made up 45% of SETsquared Bristol company founders/CEOs, and people from a BAME (Black, Asian and Minority Ethnic) background made up 23%, an increase of 66% and 21% respectively from 2019.
These figures compare favourably to the UK national average where less than 10% of women are CEOs in tech companies and less than 9% are senior tech leaders from a BAME background.
SETsquared Bristol is an active supporter of making tech more inclusive through its initiatives, giving under-represented groups access to funded business support and coaching, including Breakthrough Bursary for BAME-led start-ups, now in its second year, and Enterprising Women programme, in partnership with NatWest.
Whilst improving diversity, other successes in 2020 saw SETsquared members create 225 new jobs in the Bristol city region and wider, and achieve £32 million in turnover revenues.
More than half of SETsquared Bristol's members secured funding in 2020, despite a slowing down in investment due to the pandemic. The total investment raised by members amounted to £40.2 million, contributing over 10% of the total funding raised in the South West for the third consecutive year in a row.
Investment successes included digital eye care company, OKKO Health, who raised £1.3m from funding and a grant from Innovate UK.
OKKO Health Co-founder and CEO, Dr Stephanie Campbell, said: "COVID-19 has made the need more urgent to bring home-monitoring technology to ophthalmology. We were delighted to secure both investment and grant funding in 2020 to develop our product, secured with the support of the SETsquared team."
Other successes included Duel, a brand advocacy platform, who secured £1.8 million in funding to develop its brand advocacy tools, advance its patented curation AI and hire more staff.
Earlier stage investment successes included GenomeKey, a research and development startup searching for faster diagnosis and treatment of sepsis, who raised £192,000.
Steve Edwards, Centre Director of SETsquared Bristol, said, "We are proud that our focus on inclusion is paying dividends with incredible representation within our community of women and BAME founders. These results are a reminder of the strength of tech innovation in the South West, and of the opportunities to engage all future generations in the world of tech."