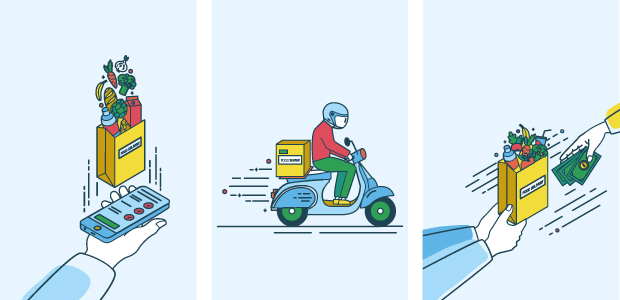 Smart packaging to reduce plastic waste
Member of the last Startupbootcamp IoT cohort in London, and featured in our upcoming July/August issue focussing on sustainability, Vesta Smart Packaging have a simple goal – to provide a really good reason for us all to use less plastic. 
The startup who is also a Launchpad finalist at the upcoming Subcon show next week, uses IoT technology to extend the intelligence of logistics networks right into the home. Vesta's smart containers know when they're running low, and re-order their contents automatically, to save you another trip to the shop and saves you on buying more packaging, which can damage the environment.
The idea is to stop you from running out of critical supplies, especially at critical times, with anything from coffee beans to detergent. But also in an increasingly busy and time-poor world, these smart packages lighten the mental load. All the things you need, when you need them, with none of the hassle.
On the other side of things, Vesta offers merchants and manufacturers the opportunity to build relationships with customers and increase loyalty in a trading environment where aggregation sites (mentioning no names!!) have reduced most product consideration to a simple price comparison.
But what has this got to do with plastic?
The vast majority of consumer goods are packaged for storage. Packaging must last at least as long as what its holding, hence all the plastic! By moving to refillable, durable and smart alternatives, Vesta can help merchant partners to change this – eliminating damaging single use plastics from global supply chains and creating efficient and sustainable business models for the benefit of all.
Based around an ESP32 development board and a combination of sensors inside the packet, Vesta's smart packaging transmits their content to Vesta's central system at a very low cost, as the board and sensors combine.
The platform and back end databases are all built in-house, although as they continue to grow they anticipate moving onto a dedicated platform to better handle a large number of queries.
Wireless transmission is the biggest challenge, specifically the lack of a clear, industry-wide path to adopting Low Power, Wide Area technologies. Consequently, Vesta are currently exploring a variety of options including WiFi, Sigfox, NBIoT and more to transmit the data they're collecting as quickly, accurately and cost effectively as possible.
Tom Mowat, CEO and co-founder at Vesta explained its USP: "We're looking to disrupt a very well-established business model. Our solution would allow manufacturers to work more directly with their end users and provide a better service. We've built machine learning algorithms into our platform which will make it a powerful predictive engine once it's being used at scale. The biggest change will come when we start getting more data into the platform, at which point we'll be in a position to add a wide range of new data-led services".
Q&A
When were you launched?
October 2017
How many people are working for the company?
Five currently.
Sum up what your company/product does in one sentence
We make smart refillable packages to improve business performance and cut single use plastic from supply chains.
Why is it unique?
We make (as far as we know) the most sophisticated connected self-reporting packages on the market. What makes us unique is that we work with our customers to help them reduce the amount of plastic they use.
What problem does it solve?
It helps to reduce the amount of plastic manufacturers need to use.
Do you have any clients using the product?
Yes.
What do they like about it? 
The innovative approach we take to cutting plastic in a way that is positive for business performance.
What are your growth plans?
We are raising seed funding to support growth beyond our initial client trials.
How have you funded the innovations behind your development? 
The team is self-funded at the moment.
What is the investment climate like for start-ups?
Challenging, but there is a lot of activity.
What government / quango agencies have you used? 
None.
What was most appealing about being part of the Launchpad?
It's great to see a contest based on innovations in engineering and manufacturing. A lot of start-ups are digital-only, so I'm looking forward to meeting the other finalists and comparing manufacturing notes.
What would it mean to you to win? 
It would be terrific visibility, a huge moral boost for the team, and I'd really like the chance to come back next year and show everyone how far we've come.
Who would be the dream advisor?
Jeff Bezos.