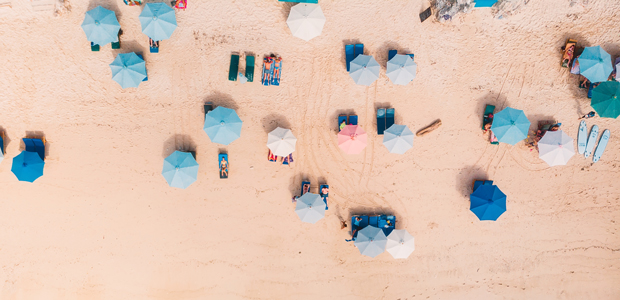 Skin Analytics: Identifying skin cancers
As a child growing up in Western Australia, Neil Daly was fully aware of the dangers associated with exposure to the sun, and the importance of covering up when playing outside. We have all of course had the experience of being sun burnt at some point in our lives and as such, it's not surprising that skin cancer is actually the most common form of the disease in the world.
It was when Daly moved to the UK that he began working in and around the healthcare system and noticed how chaotic it was and that how delayed access to medical care was dramatically reducing successful patient outcomes. Combine that with the onset of the Artificial Intelligence (AI) revolution and it began to dawn on Daly that by introducing AI into the patient pathway a real impact could be made in the way that medical conditions such as skin cancer were diagnosed and referred.
It was then, in 2012, that Daly started Skin Analytics and has spent a great deal of time since consulting with experts in the field of skin cancer including clinical researchers, dermatologists and GPs to produce a product with real clinical utility.
Originally funded through an Innovate UK grant and a collection of angel investors, the company has essentially developed a series of complex AI algorithms that allows a dermascopic image of a skin lesion to be taken on a smartphone (with the use of a dermascope) which is then sent to the Cloud and back, helping to identify skin cancers in a fraction of the time it takes currently, and at a significantly reduced cost. This saves the healthcare system money, time along the patient pathway, and ultimately lives. The device is also Medicines and Healthcare Products Regulatory Agency (MHRA) regulated.
The company's Deep Ensemble for the Recognition of Malignancy (DERM) AI, enables GPs to better identify skin cancers that need onward referral to specialists, and through lower referral rates the AI reduces the need for specialist appointments for skin cancer. The AI can also help to reduce the number of unnecessary biopsies and the overall treatment costs through earlier identification.
"Our AI can look at an image of a skin lesion and make a decision as accurately as a dermatologist," said Daly, "the principle being that if you can get AI to perform this task then it's a far cheaper way to identify skin cancer, and if we can make this technology available to people then cancers can be found much earlier and survival rates will increase significantly."
Daly added that by using AI it also ensures that the people who end up in hospital are only the ones that actually need treatment. "That is not happening right now," Daly added. "The truth is that skin cancer is a very difficult discipline and as such GPs tend to over-refer, which means you end up with people in hospital who don't need to be there, thus putting increased strain on a healthcare service already under pressure and that is already struggling to meet waiting times.
"There are only around 650 dermatologists across the UK, and they're busy. We can't get enough of their time in order to assess all the cases – so the patient pathway is getting longer each year as demand gets higher and dermatologists struggle to keep up. So we can relieve a capacity constraint that is really causing the healthcare system some challenges. Our solution is instant. A GP can upload an image of a lesson to the Cloud and the results will come back straight away."
AI is a new technology and the nature of the healthcare sector means that it's slow to adopt change, so Daly and his team have been working hard within the industry to show evidence that Skin Analytics can make a positive impact - getting dermatologists, GPs and the healthcare sector as a whole onboard with the ultimate aim of making the technology available to consumers. Daly used the parallel comparison of pregnancy tests and certain blood tests that historically were conducted within hospitals, then moved into the GP surgeries and are now at the fingertips of the consumer.
In the short to medium term however, the focus for Skin Analytics is integration within the health systems, with the biggest focus being the NHS. There are plans for an international roll-out but that of course presents its own set of challenges as each country's healthcare system functions differently and the company's strategy per country will change accordingly.
Compliance has also proved a challenge as medical device regulations were traditionally never designed in incorporate software, so many of the regulators are scrambling to catch up and change the way the regulations work to try and deal with software and AI. As a consequence Daly added that the company are constantly having to evolve and adapt its strategy as the regulatory hurdles change.
For Daly it's clearly been a labour of love, stating that if you are a healthcare startup it's because you are really passionate about what you're doing. "There are easier ways to make money," he joked.
"There's a whole bunch of overlaying challenges for a healthcare startup which mean the environment is completely different to how a normal startup would work. The startup world has an ethos of moving fast and building things iteratively and quickly. That just doesn't line up with the regulatory landscape in healthcare, so it's a real balancing act between the two."
So in startup terms the development cycle is relatively slow in healthcare and that means more cost. Daly added that you are also under pressure to build your clinical evidence to prove your solution actually works (which won't necessarily purely be a case of meeting the regulations), and you also have to make sure that the data you're collecting is protected and secure.
He added: "Requirements are over and above what they are in almost every other industry so we've had to do a lot in order to just get to the point where we have something to sell, so it's been incredibly challenging. In fact the business model for digital health technology is very similar to the old model of drug development where there are numerous barriers to entry and you have to pump in a lot of cash up front."
Of course it's one thing believing that a piece of AI works but it's quite another to prove it to the level required in healthcare. Daly added: "If you're using AI to recommend a dress to someone on a website for example, if that recommendation turns out to be wrong, it may be annoying but it ultimately doesn't matter and the worst thing that will happen is that it will just get ignored. However, if you make a mistake in healthcare it's a huge problem."
To this end Daly and his team have conducted an observational study as evidence around the accuracy of the AI and that will form the basis of the company's regulatory solution. The same study has also been run across seven NHS hospitals, in a live environment. "We plan to publish the evidence later in the year," Daly added, "and this will enable us to show exactly what the AI can do in comparison to a dermatologist and it will be the pillar of our strategy going forward."
With a grant from the Small Business Research Initiative (SBRI) and funded by the NHS, Skin Analytics has also expanded its focus from melanoma to also include non-melanoma skin cancer. Non-melanoma skin cancers are less dangerous, but they are also far more common than melanomas. And their diagnosis and treatment is placing a significant burden on the healthcare system.
Daly continued: "There are three main types of skin cancer. The most common is called basal cell carcinoma (BCC) which is a non-melanoma skin cancer. It is generally caused by the volume of UV exposure over your life and is the most common cancer in the world. It doesn't normally result in death but it can lead to disfigurement if it is not treated.
"The other main non-melanoma skin cancer is called squamous cell carcinoma (SCC). These are much less common but they can be more dangerous than BCCs. Again they are generally treatable.
"Finally you have what is a relatively rare cancer called melanoma which is a very aggressive form of skin cancer and is responsible for almost all the deaths associated with the disease. These are the Holy Grail for dermatology assessments - to find these types of skin cancers and make sure they are not missed. Unfortunately, this leads to the over-referrals that are flooding the healthcare system."
It's here that Daly explained the worth of the Skin Analytics solution. He added that a cancerous skin lesion will typically grow outwards on the surface of the skin before it then starts to grow downwards. Once that happens the cancer can attack the body's lymph nodes and will spread very quickly. Therefore, time is crucial.
"If you look at a chart over time, survival rates start at around 97% when the skin lesion is found to still be on the surface of the skin," Daly added. "However, once it penetrates the skin the survival rate starts to drop very quickly to less than ten percent."
The initial challenge for Skin Analytics has been to convince clinicians that AI had the capability to make decisions. That challenge has become easier over time as AI is starting to be used in a variety of different industries and applications, and people are starting to believe in it. 
Daly added that for a startup looking to break into a challenging area like healthcare it's important to firstly establish where the company sits in the regulatory landscape and what the obligations of sitting in that space are. 
More importantly it's vital that you work with clinicians from day one. "You need to let them know how you can actually help and establish what evidence you need in order to convince people that it works," Daly concluded. "You need to do this upfront because when you go out and try to raise money, you need to be able to show you have a realistic plan that can get you to the point where you can commercialise what you're doing, and of course in healthcare, the amount of money you're going to need is an order of magnitude more than a normal startup."