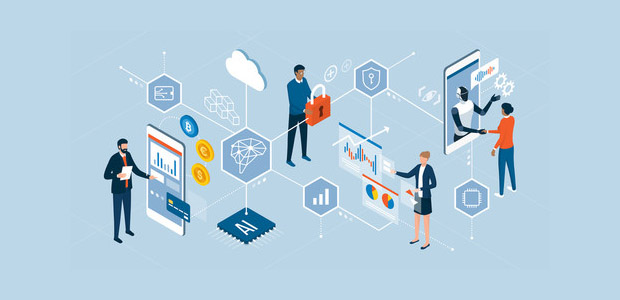 Six tech startups to watch in 2022
Digital Catapult, has selected six technology startups as the 'ones to watch' for 2022 at this year's Digital Catapult Awards. 
Digital Catapult, has chosen six technology startups as the 'ones to watch' for 2022 at this year's Digital Catapult Awards. These innovative small businesses are leading the way in the development and application of advanced and emerging digital technologies across the UK economy, and were selected as trailblazing examples of the strength and innovation of the vibrant UK tech startup ecosystem. 
Digital Catapult has worked with over 540 businesses this year, from which 60 were chosen for the Awards longlist. An illustrious panel of judges from across the manufacturing and creative industries whittled this list down to the 15 finalists, with six winners selected on the night. 
The Digital Catapult Awards celebrate technology startups who have achieved the most market traction, secured the most investment and have produced the best new product or service ideas set to accelerate the digital future. The winners' innovations range from AI-powered technology to optimise recycling processes, to fully immersive, workplace collaboration tools. 
189 companies have raised over £369.5 million in investment after being part of Digital Catapult accelerator programmes and innovation activities, highlighting just how successful small businesses and entrepreneurs have been as a result of Digital Catpault's interventions and support - from major programmes such as Machine Intelligence Garage, Augmentor, CreativeXR and 5G Testbed Accelerator Programme, to industry-leading projects like WeatherLedger, Made Smarter Technology Accelerator and 5PRING. 
Unveiled at the Awards was Digital Catapult's new acceleration framework for supporting UK startups and scaleups - FutureScope. Designed to support companies with specific expertise at different stages of their lifecycle, FutureScope will help early stage startups just entering the market, to those who are focused on pushing the limits of their tech capability, right the way up to later stage companies looking at Series A+ investment and beyond. 
Jeremy Silver, CEO, Digital Catapult, said "We're thrilled to unveil this group of six ambitious early stage companies that are having a positive, ethical and sustainable impact on the economy and wider society, as our ones to watch in 2022. 
"We are very proud to have been a part of the growth journey of these exceptional companies - they show how rich and talented the UK tech ecosystem is and we're proud to recognise their achievements. Digital Catapult has engaged with over 540 companies this year, so the task the judges faced in deciding which of our 15 incredible finalists took home an award was immense."
The Digital Catapult Awards brought together a wide range of guests from across the UK's digital technology community, hosted by storyteller, advisor, futurist and mentor Suki Fuller. 
Suki Fuller commented "It's an honour to stand here tonight and celebrate some of the UK's shining startup stars. The tech community has been through so much in recent times, and these are small businesses who have not only survived but thrived in the face of adversity. 
"Digital Catapult supports businesses right at the cutting-edge of developments in advanced technology - those making real world impact - and this event has been testimony to that.
The winners are: 
Ascalia (From Idea to Reality) 
Ascalia is using AI and IoT to help factories improve their efficiency - reducing resources and energy waste. It's AI-enabled quality control capabilities are improving overall quality inspection in the food industry, streamlining safety inspections.
Greyparrot (From Growth to Scale)
Greyparrot is moving us towards a circular economy by transforming the way we manage waste at scale. Its technology automates and optimises recycling processes using AI-powered computer vision to rapidly recognise, audit and sort large waste flows at scale, unlocking the financial value of waste.
Keyless Technologies (Game-changing application)
Keyless offer unmatched device security while reducing risk. Its technology enhances the security of organisations through a personal identity management platform that combines multi-modal biometrics and advanced cryptography.
Fracture Reality (Transforming Industry) 
Fracture Reality is encouraging more widespread use of mixed reality by building collaboration tools. Its solutions leverage virtual reality (VR) and augmented reality (AR) technology for teamwork across enterprises. Its virtual meeting platform, JoinXR, lets non-expert users browse, manipulate and discuss data such as building plans, product designs or 3D scans. 
Charisma (Responsible & Ethical Tech Pioneer) 
Charisma AI is leading the way in interactive storytelling, bringing audiences and characters closer together than ever. With the latest natural language processing technology, it uses the language of storytelling, with built-in features like emotion, memory, scenes and subplots to bring stories to life. 
Forest Tribe uses augmented reality (AR), 5G, haptics and AI to create bespoke immersive entertainment for live events that is inclusive, diverse and supports health and wellbeing. Its approach is purely artistic-led to create risk-taking and disruptive immersive experiences for new audiences, particularly those with complex learning needs. 
This year's Awards were judged by an eminent line up of industry experts and leaders in their respective fields: 
Ana Avaliani, Director of Enterprise and Sustainable Development, Royal Academy of Engineering

Kenneth Cukier, Senior Editor, The Economist, 

Sam Hunt, Programme Director, Festival UK 2022

Emma Mahy, Co-Founder & CEO, IoT Solutions Group, and Digital Catapult Awards 2019 winner

Howard Mitchell, Head of Innovation, HS2

Ian Poulett, Business Manager - Industrial Communication, Siemens

Louise Sheridan, Deputy Director of Strategy, Centre for Data Ethics & Innovation 

Vanessa Viana, Managing Partner, Capital Lab Ventures
You can re-watch the live-streamed ceremony in full on Digital Catapult's YouTube channel.