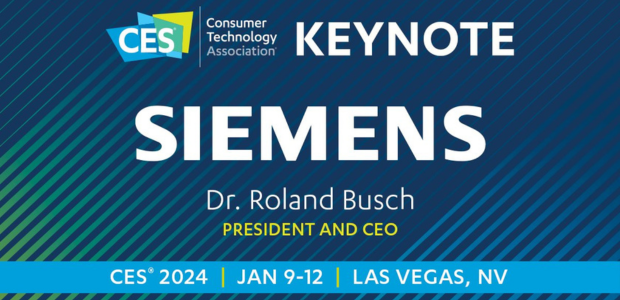 Siemens CEO to Deliver Keynote at CES 2024
Emphasising the power of interconnecting our tangible world with digital advancements, the Consumer Technology Association (CTA) announced Roland Busch, President and Chief Executive Officer of Siemens AG, as a keynote speaker for CES 2024.
Dr. Busch will delve into the profound potential that unfolds when we harness the digital world to improve the real one and advocate for a future that's not just innovative but also sustainable. Attendees can anticipate a transformative ALL ON experience on Monday, January 8, 2024, at 6:30 p.m. PT in the Palazzo Ballroom at the Venetian.
 
"Our technologies operate behind the scenes enabling everyday life—in the factories that create the cars we drive, in the buildings where we work, in the grids that feed green energy to our cities, and in the trains that connect them," said Roland Busch, President and Chief Executive Officer of Siemens AG. "I am excited to address the global tech community at CES 2024 and highlight how the latest digital technologies are enabling companies to transform our everyday."
 
As a company with a 175-year history in innovative technology, Siemens continues to evolve and flourish in today's changing world. Siemens has recently announced more than $2 billion in investments in its own operations and R&D as it serves economies across the globe. As the worldwide leader in industrial software and automation, Siemens' expertise in technologies such as AI, blockchain, cloud, edge computing, and digital twin software converge to create an innovative portfolio that is being used by businesses of all sizes to revolutionise industries, infrastructure, and mobility that surround us every day. Its vision extends into pioneering the forthcoming industrial metaverse.
 
"Siemens drives innovation across many of the products and services we use daily—from transportation, infrastructure, and industry to consumer goods, as well as food and beverages," said Gary Shapiro, President and CEO, CTA. "We can't wait to see how Siemens and its customers are shaping the future of digital transformation to create an inclusive and sustainable future."
 
Today, Siemens technology empowers customers to transform the industries that form the backbone of economies: industry, infrastructure, and transportation. With sustainability at its core, Siemens set an industry benchmark in 2015 by committing to carbon neutrality by 2030. The company's commitment to digital evolution was evident with the 2022 launch of Siemens Xcelerator—an open digital business platform created to accelerate digital transformation across diverse industries.
 
Dr. Busch joins CEOs from L'Oréal, Walmart, and Nasdaq as CES 2024 keynote speakers, reinforcing a shared commitment to societal impact through technology and human security. Attendees will get a glimpse into how Siemens continues to stretch the boundaries of innovation, reiterating its status as one of the world's leading tech companies.