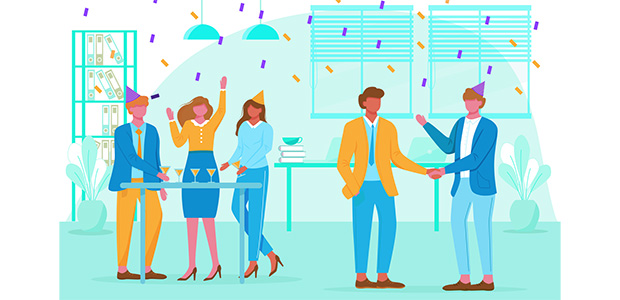 Seven ways to COVID-proof your office summer party
With restrictions set to lift imminently, allowing workers a return to the office, workplaces will no doubt be quickly planning their summer office parties. At Just Eat for Business, we've already seen a spike in companies planning their get-togethers to increase the social interaction and employee wellbeing we've been lacking post- work from home. 
Whilst the UK is inevitably entering a hybrid way of working, the increase of in-person employee interaction is still very much welcomed following a year of Zoom calls and lonely lunches. Recent studies, in fact, show how eager employees are for these types of get-togethers, with 92% of British workers commenting that the lack of socialising has had a negative impact on company morale. 
There is clearly an appetite for the type of pre-pandemic social activities in the workplace, as a further 77% of those surveyed are already planning on getting those ever-important work lunches booked in the diary. 
With many companies also allowing employees to leave early to watch the Euros games over the past weeks, it is clear that employers, too, wish for the return of that community-feeling in their workplaces. 
It is important, though, that government guidelines are adhered to, not only to keep a covid-safe environment, but to ensure employees can enjoy face-to-face activities again, without feeling anxious or unsafe. We recommend these 7 tips to ensure summer parties and employee get-togethers remain safe and employees feel comfortable, whilst still having fun:
Swap out the sharing platters 
While giving employees a range of options to share from may seem preferable, these should be swapped out for individual meals where possible. Allowing them to choose from a set menu beforehand, and serving individuals their own plates can reduce the risk of contact between guests and avoid contamination. 
Stick to a hybrid event 
According to our research, 63% of those surveyed are concerned about returning to their workspace post-covid. A hybrid event, whether that includes virtual activities, or sending packages to those at home, can ensure those who still feel uncomfortable in large social settings can be involved. 
Check if your caterer can supply for a hybrid business

 
To run a hybrid event, make sure to choose a caterer that can accommodate those at home, too, so nobody feels left out, or misses out on the in-person luxuries. For example, this could be as simple as sending out a package to employees at home of the meals served at the summer party. 
Limit numbers
For bigger companies, it is important to think about how larger groups could be split to limit numbers and crowding. Perhaps this includes stretching the celebrations over two days, or splitting groups into two separate areas. 
Stay outside where possible 
Whilst it can be difficult to find space out-of-office, outside parties are preferable to ensure fresh air and ventilation. For example, a marquee could be a great alternative to give both indoor and outdoor options, whilst ensuring flowing air. Or, stay outside and enjoy the summer heatwaves to come. 
Create a seating plan with tables of six 
If the event is inside, creating tables of six is a good way to split larger groups up into social 'bubbles'. This allows employees to sit with friends and socialise with others instead of mixing with wider groups outside of their bubble.
Increase hand washing opportunities
It is important that employees are still encouraged to continue regular hand washing routines, despite the social setting. Where there is no opportunity to provide sinks, ensure that hand sanitising stations are placed around the event area.