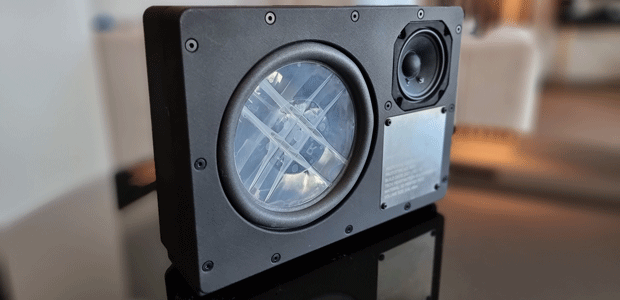 Self-powered portable speakers with infinite playtime unveiled at CES
Exeger, the Swedish deep-tech company behind Powerfoyle, last year announced their latest collaboration with Dutch audio-tech startup, Mayht to create the world's first light-powered speakers with infinite playtime.
The prototype speaker was showcased behind closed doors at this year's CES, requiring only natural (sunlight) and ambient (indoor) light to stay charged.
The partnership signifies the creation of a new category of truly wireless audio technology that offers eternal battery life. This incredible leap forward in innovation is achieved through the combination of Exeger's pioneering Powerfoyle material, which converts all forms of light into clean, endless energy and has the unique ability to be formed and shaped to blend seamlessly into both new and existing products without compromising design and aesthetics, and Mayht's Heartmotion speaker driver technology; a highly compact and balancing-core. By combining Powerfoyle with Mayht's technology, consumer electronics manufacturers no longer need to design audio products constrained by the limits of conventional speakers and can, for the first time, offer truly unlimited battery life.
The prototype of the new light-powered speakers, a reference design showcasing technology that brands can integrate into future consumer products, is yet another mark of Exeger's continued expansion within the audio industry; a sector that is set to grow by $28.37bn during 2021-2025.
"Exeger and Mayht have co-created an incredible product with the potential to change the way we listen to music," commented CEO of Exeger, Giovanni Fili. "Together we are setting a new standard in the speaker market with an endless listening experience from amazing sounding speakers," he continues. "Mayht is one of Europe's most innovative audio tech companies and I'm incredibly proud of the product we showcased together at CES2022."
"Exeger's investment into Mayht is helping us to further broaden the scope of the revolution we are starting in the speaker technology landscape," says Mayht Chief Executive, Mattias Scheek. "Co-creating this self-powered speaker with Exeger is one example of how our Heartmotion speaker technology can bring until now unimaginable, high quality, full-range sound experiences including full bass spectrum to the most compact everyday consumer electronics and automotive audio systems. Our vision is to make Heartmotion the new industry standard for speaker driver technology, making the best sound quality accessible to the masses."   
In addition to collaborating with Mayht to create a completely new segment of light-powered speakers with unlimited playtime, Exeger has participated in Mayht's most recent funding round to bring the concept to market.
Alongside Exeger, top-DJ and producer Martijn Garritsen, professionally known as DJ Martin Garrix, also invested as part of Mayht's funding round.