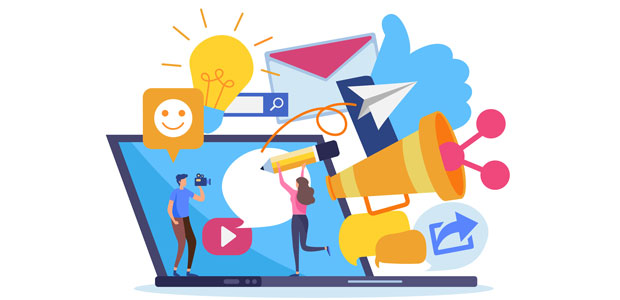 Seeking business opportunities during a pandemic
New data from global ticketing platform, Eventbrite, shows that British entrepreneurs haven't stopped training and networking because of the pandemic, with over 150,000 attending online startup events since the beginning of the first lockdown in early 2020.
2020 saw some 828,000 workers dropping off company payrolls between February and December and UK unemployment rising to 5% in the three months to November, but there has been some light in the darkness: 772,002 new businesses were created last year, an increase of 13.25% on 2019.
The launch of hundreds of  thousands of new companies provides a huge audience that may want to learn more and get their business right by using online training. Eventbrite hosted more than three thousand online events for startups and entrepreneurs between April 2020 and February 2021 in the UK alone, which were attended by over 150,000 people.
One entrepreneur who trained online was Iulia Costinescu, who started a Tech and Creative Virtual Assistant business, Golden Branch VA, during lockdown, after her events job was terminated; she attended a five-day, online startup course by PopUp Business School. 
"Being able to do the PopUp Business School course virtually, from home, was brilliant as it made the demands on my time easier, and I still got a huge amount of value from it in terms of getting my business up and running, with a wealth of actionable tips," Iulia explained.  "I also made lifelong friendships with a group of inspiring female business owners from throughout the UK, who I never would have met if the event had been in person.  To this day we continue to support each other via WhatsApp and Zoom." 
During lockdown, many entrepreneurs turned to online Eventbrite events to continue to educate themselves on areas such as preparing for business ownership, fundraising, writing pitches and public speaking. Attendees got involved in a wide range of online seminars, workshops, business breakfasts, conferences, networking, and informal coffee mornings.
Online events hadn't been commonplace in the UK before the pandemic, but the startup community wholeheartedly embraced them once in-person events were prohibited in November 2020 alone, British online events for entrepreneurs attracted nearly 25,000 attendees. 
Entrepreneur and Executive Coach, Muriel Kosovsky, who runs the Self-Coaching Circle, has been on the other side, holding several online events for entrepreneurs through Eventbrite. Muriel explained: "I've run several online events for business start-ups that have gone very well... The 'Leadership Mindset for Entrepreneurs' event had over 100 people from around the UK taking part in an interactive webinar. They learned useful and actionable leadership strategies that enhanced their productivity and confidence, as well as their ability to create clients and increase their revenue.  I'm still supporting business owners and professionals with my current 'Inside & Out Leadership webinar, which focuses on the leader's mindset and developing leadership skills to thrive in business.
"I thought nothing could beat face-to-face but new businesses that attended found that they were able to transition into working virtually and grow the depth and breadth of their network as easily online. I have had a lot of feedback on how helpful this webinar has been in terms of building the right mindset for leading a business, based on clarity, confidence and resilience, especially during challenging economic times."
Sabeha Mohamed from Eventbrite commented: "It's inspiring to see a community of business minded individuals continue to pursue their hopes and dreams in the face of a global pandemic. And we at Eventbrite are glad that we can help them keep connected with each other and enable learning and professional development during these challenging times.
"There's something for everyone online, from popular, big events from the likes of Virgin to smaller, more intimate events where people new to these might feel more comfortable speaking up and asking questions."
Here are two startup events on Eventbrite that could help new businesses get off the ground over the next few months:
Basics of Marketing - a guide for business startups (Friday 26th February, 2pm to 3pm) Rachel Newby, from Circle Square, delivers a free webinar covering the basics of marketing a business.
How to Raise Capital for Your Start Up Workshop (Wednesday 14th April, 12pm to 2pm) This is event is free to Seed Legal Companies and £11.37 to all others. Companies looking to raise capital can find out how to pitch, value their startup and get investment ready, a well as learn about areas such as agile funding and capital raising strategies.