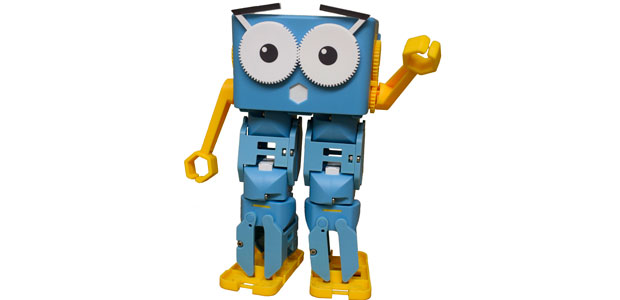 Scottish edtech team makes four new hires
Edinburgh-based robotics and STEM education startup, Robotical has bolstered its team with four new hires as it rolls out the latest version of its hero product, Marty The Robot.
The new additions take the Robotical team to 12 with the focus on building greater awareness of Marty - a characterful STEM education tool that brings learning coding to life as the most affordable humanoid robot on the market.
The recruitment drive brings in Natalya Ratner as Head of Marketing, responsible for aligning marketing strategy with business objectives, lead generation and growing the Robotical brand internationally.
Natalya joined the startup world in 2020 after a six-year stint with the Scottish Government. Following various roles within international marketing, Natalya was appointed Head of Digital Experience for Scotland's nation brand unit, overseeing a team of content and social media managers and digital strategists. Before that, Natalya honed her digital marketing craft in Scotland's biggest media agency, bigmouthmedia (later LBi), where she managed flagship clients British Airways, Condé Nast and Standard Life.
Michael Sinclair joins as Learning Experience Manager, overseeing Robotical's education offering, lessons and resources and ensuring alignment to national curricula and cross-curricular integration of Marty in schools.
Michael has been involved in education for over 20 years. He found that exploring new ways of thinking has encouraged growth and he has always endeavoured to stay ahead of the curve. Michael has taught in primary and secondary schools and has worked with a range of learners from primary to university students facing challenges with literacy, numeracy and maths. Michael has also worked as an educational writer and editor, creating and checking lesson content and item questions for publishing and edtech companies. He is a Co-founder of Connected Educator Appreciation Day.
Siobhan Duncan takes on the role as Lead Developer. With a BEng in Computing and Electronics and a MRes in Robotics and Autonomous systems from Heriot Watt University, Siobhan is currently completing her PhD from the Edinburgh Centre for Robotics.
Passionate about outreach, she is committed to getting the next generation enthused about a career in robotics, with a focus on trying to encourage more young women into STEM. Her personal highlight was her robot's appearance on BBC's Tomorrow's World and she has organised activities at many events including the Edinburgh Science Festival, Heriot Watt Year of Robotics, Doors Open Day, Biggar Science Festival, IET Eng Fest, BBC Children in Need Car Fest, and both the Scottish and UK Parliaments.
Brano Pilnan also joins on the tech side as Software Engineer and takes care of Marty's software, hiding away the complexity that would otherwise keep learners from entering the exciting world of robotics.
He has a MInf from the University of Edinburgh where he used Reinforcement Learning to help a dog-like robot learn how to run by itself during his dissertation. When not coding or otherwise playing with electronics and computers (rare), Brano can be seen cycling, hiking, or skiing.
With a second batch of Marty V2 due to be available from the end of February 2021, the team, who are based in Leith, Edinburgh, are focused on promoting the benefits of the robot to educators around the world looking for engaging solutions in teaching coding to children from primary school age up to the university level.
Dr Sandy Enoch, Founder and CEO, said: "It's an exciting start to the year for us with the imminent arrival of our second batch of Marty V2 and with our new recruits joining our team. We are thrilled to welcome Nat, Michael, Siobhan and Brano - each of whom brings the right blend of skills and attitude to give us a top team well placed to help us realise our ambitions for Marty."
After successfully launching Marty V2 in 2020, Robotical has ambitious plans to quadruple its annual sales in 2021.