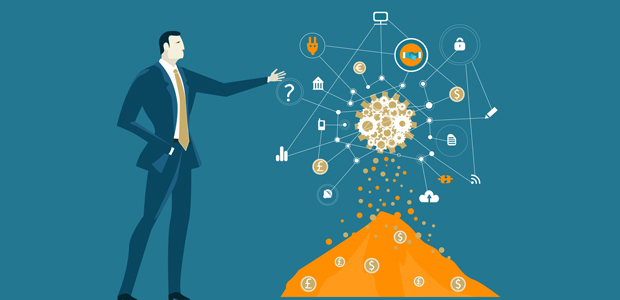 Scaling your business from startup to enterprise
Modern day advancements in technology and resources, as well as a much wider range of funding options, mean taking an idea from initial concept to startup has never been easier. One thing that you can't create a shortcut for, however, is understanding the fundamentals of scaling a business - and getting it right. 
Startups in the early stages of growth find themselves in an exciting and fast-paced environment. I often compare this type of working environment to sports, such as football, where players, regardless of their designated position, possess a similar range of skills and can do a job at both ends of the pitch. 
When scaling a business, however, and the number of players increases, the sport changes and the positions need to be more specialised. In a sport like rugby, for instance, you may find that a winger will struggle in the front row of a scrum, much like a software engineer would picking up the phone to win new business. 
To demonstrate this transition and the fundamentals of scaling a business, I've broken the process down into four key buckets—pipeline, leadership, infrastructure, and customer empathy.
Pipeline
The crucial point here is the difference between hitting your numbers and focusing on pipeline. When you go from zero to a £5 million business, priorities can shift on a day-to-day basis. To make the next step, it's about synergy across teams such as marketing and sales, to construct a demand generation engine that can funnel leads and provide multi-quarter visibility. 
The UK startup market is strong, with many impressive breakthroughs, particularly in the fintech sector with the likes of Revolut and Monzo. What isn't talked about as much is that 60 percent of new businesses fail within three years, with 20 percent going under within 12 months.
To avoid this, the objective is to go into every quarter with a substantially larger pipeline than your sales goal—e.g. your target number. To charge ahead and only focus on closing business can result in stalling out. It's a concept that can be hard to implement if the working culture is solely sales-focused and the lines blur between roles and responsibilities. 
Leadership
When you're a startup, it's all about being lean. If a founder or CEO doesn't have to hire a leadership team, they're often content. This mindset has to change to scale a business. The critical point after the pipeline is having an incredible leadership team between the CEO and the all departments. I'm still amazed at how many founder CEOs don't understand this. 
Recruiting great leaders helps implement a strong culture and ensures that different departments focus on their specific goals. This structure, for example, helps prevent your customer success team from becoming another sales team, focused on 'meeting the number', forecasting and lead generation rather than customer adoption and success, which is where you need them focused in a scaling technology company. Strong leadership should be seen as one of the most important investments a CEO makes, and one most likely to help push you towards a £100m business. 
An example of rapid expansion in the UK is from the renewable energy provider, Bulb, which has seen a surge in value over the last three years. It has increased its value by 318 times since 2016, according to the online investment platform Syndicate Room. This type of expansion could not have been done without hiring a strong leadership team to foster a positive company culture while ensuring departments achieve their separate goals. 
Infrastructure 
When growing your team and bolstering your pipeline, a strong infrastructure is needed, as the foundation doesn't change from startup to enterprise. There will always need to be a management of CRM systems, pipeline reporting, forecasting tools and more. 
The sooner technology is used to automate and implement these processes, the easier it is to standardise and scale the business, ensuring old tech doesn't become a roadblock. Research from Harvard Business Review showed that only 16% of C-suite leaders have actually moved beyond experimenting with AI for their business, proving there is opportunity but still education needed in this area.
Advances in AI and machine learning should be capitalised on to streamline the processing of orders, instead of only adding human resources. The objective is to ensure a business's solutions work effectively for its customers. A small group of employees can make a solution work for 10 customers, but when this scales to 2,000 customers using your solution, it is paramount that the experience is seamless, from quote to the quality of the output. 
Live data visualisation platforms also ensure individuals across the company can access synchronized, current data—saving time on monthly reports that use legacy data to forecast sales pipeline. Innovation and the correct application of technology result in productivity and time saved. It frees up time for more business-critical decisions to be made and helps grow your business faster. 
Customer Empathy 
The most successful startups take off because of product-market fit. They are solving a real customer problem, and doing it in a way that provides a benefit for the end user. At this stage, the founder truly understands the customer's needs, and can empathize with their challenges. Decisions about how to build products, position offerings, and support customers are tied to the founder's customer intuition.
When the company is small, and the team members have their hands in multiple aspects of the organization, it is easier to socialize feedback, share use cases, and tell anecdotes about what's working and not working with prospective and existing customers. Essentially, you've got a closer watch on the pulse of the customer.
Once the company starts growing, new people are brought in to run different aspects of the business, roles and responsibilities are distributed, and the direct line of communication from founder to customer becomes intermediated.  Department leaders start to make strategic decisions while customer feedback and input become siloed. Employees no longer have the empathy and deep understanding of their customers' needs, emotions, and experiences as they once did when the company was smaller.
As a company scales, it is important to continue to rally your employees around the perspective of the customer, so everyone in the organization can make more informed decisions. Employees should be encouraged to develop customer intuition and empathy, the core tenants that the company was founded upon. 
According to Deloitte, customer-centric companies are 60% more profitable than companies that don't focus on customers. In order to build a customer-led business, it starts top-down, and requires buy-in and support from leadership.
To successfully scale a business, you must match opportunities with structure. By implementing a strong strategy in pipeline, leadership, infrastructure, and customer empathy, you will give yourself the best opportunity to overcome the inevitable challenges. Done well and you might just surprise yourself with how quickly the business grows.