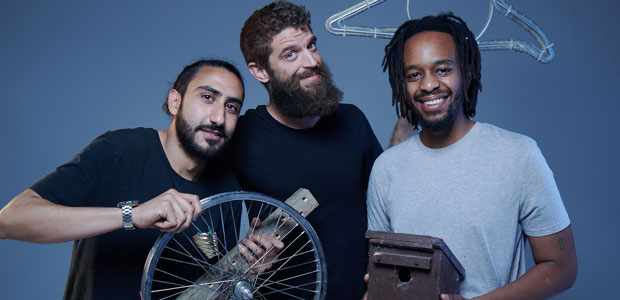 Santander Universities funding to nurture creative business talent of the future
Student and graduate entrepreneurs are receiving a £40,000 boost through Kingston University's longstanding partnership with Santander Universities to launch and develop their startups this year.
The partnership focuses on enhancing education, employability and entrepreneurship outcomes for students and the latest round of funding will support the most promising business ideas.
It is the third year running that the University has secured the funding which will equip students and graduates with the vital enterprise skills they need to get their new ventures off the ground.
Over the next year, the funding will support two schemes - the FastTrack and the Nest - which are part of Kingston University's Enterprise Education Programmes. Four final-year students from any discipline will be funded on the FastTrack programme and ten of the most promising graduate entrepreneurs will receive bursaries to secure full membership of the Nest scheme.
The funding will allow the students and graduates to access a wide range of expert advice and professional input into their business ideas and startups which they otherwise would not be able to afford, Dwain Reid, Kingston University's Student Enterprise Manager, said.
"We are delighted that our partnership with Santander Universities is continuing and that we have secured another year of funding for places on our enterprise schemes. 
"The advice, support and feedback on these schemes is worth thousands of pounds and is invaluable in helping our entrepreneurial students and graduates transform their creative ideas into feasible new ventures and become the business owners of the future." 
FastTrack gives students a living wage income while they use the resources and support available to turn their innovative idea into a viable business plan. The programme provides one-to-one mentoring, teaching across a range of startup topics, the tools to identify early customers, and the opportunity to apply for a £10,000 investment and entry to the Nest scheme.
Nest is a membership programme where entrepreneurial Kingston University graduates get expert and professional support to run their fledgling business and take it to the next level. As a member of Nest, graduate entrepreneurs enjoy access to University facilities, one-to-one mentoring, sessions with the University's Entrepreneurs in Residence, and legal, accountancy and marketing clinics to drive their businesses forward
Equally valuable are the catch-up sessions with fellow Nestees where the young entrepreneurs give and share feedback and ideas on how to develop their enterprise and tackle any challenges.
Startups that were supported by the last round of funding include 121 Collective, an architecture and design business set up by three Kingston University Master of Architecture graduates in South West London. Now a team of eight Kingston University design alumni, the 121 Collective is working on a diverse range of projects, from converting old properties into medical facilities in France to transforming the abandoned Tolworth Allotments Society building in Kingston upon Thames into a sustainable community hub.
Being involved in the Nest scheme was critical to the success of 121 Collective and its journey to becoming a full trading company, CEO and founder Salah Krichen said.
"Our mentor Paul Shaw gave us invaluable advice and guidance while access to the legal, accounting and marketing expertise bridged the gap between our design skills and our business knowledge. We also found valuable members of our wider team, such as our accountant, through Nest," Salah said.
"Regular advice, insight and input from the community - our fellow Nestees - has also been phenomenally supportive in this difficult year. We feel inspired and supported by them, and, because everyone had such different skills and perspectives, our catch-ups helped us to solve problems and improve our products."
Another startup which benefited from the Nest programme is Ahlan Kids, founded by Zahraa Akoob, who graduated from Kingston University with an MSc in International Business Management. Ahlan Kids is made up of a team of academic researchers, teachers and creatives who produce engaging learning resources, such as books and other materials, which combine core Islamic studies with the UK early years curriculum.
Since setting up her business, 34-year-old Zahraa, who lives in West Wimbledon in London, has sold more than 1,000 books and received enquiries from across the globe. The expertise provided by Nest was crucial in turning her idea into a viable business, she said.
"Receiving the Santander Nest bursary made starting my business possible. Without doubt, membership of the scheme gave me the confidence and skills to launch my startup and develop its growth," Zahraa said.
"Working with a mentor was a huge help in bridging the gaps in my business knowledge and the regular catch-up sessions with fellow Nestees offered fantastic practical advice and support every month. I think it's a brilliant opportunity for any graduate with an idea for a business."