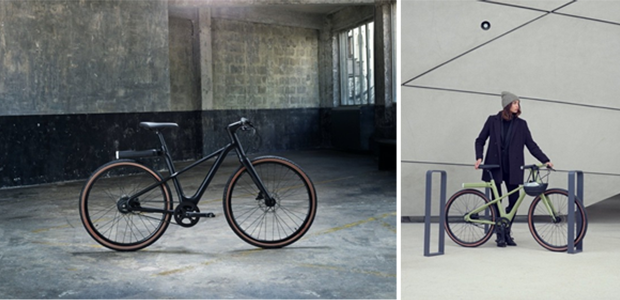 Round of funding accelerates Angell's development on smart bikes
Angell was founded more than three years ago on the premise that Europe's major capitals would be free of individual combustion vehicles by 2025. Angell's mission is to improve day-to-day life in cities by designing, creating, and distributing future mobility objects for commuting, fitness, and leisure.
In 2019, Angell launched its first smart bike: Angell. With its Ora Ïto design, its lightweight, and its embedded intelligence, Angell is used daily by thousands of users in more than eight countries.
The fundraising will allow Angell to focus on three objectives:
The commercial launch of Angell / S
Angell / S has been designed to be lighter, more comfortable, and easier to handle. Its sleek "gooseneck" frame is easier to ride over and accommodates all sizes from 1.55m to 1.85m. Angell /S will be available in three colours (Matte Black, Silver, Green) from August 1st for firm orders on www.angell.bike at a price of €2,860 (available for pre-order at €2,690 until 31st July). From July 20th, a hundred ambassadors will be mobilised to test Angell /S throughout Europe. Series production, operated by Groupe SEB, will start this summer so that the first Angell /S can be delivered in early September.
Acceleration of its expansion in Europe
After putting more than 2,000 electric bikes on the road in 2020, Angell's European expansion will be accelerated in S2/2021 and Angell will be present in 10 countries and 80 cities. A network of 120 ambassadors offers future users the opportunity to test Angell in real-life conditions.
The development of a European-wide maintenance network
After opening its central workshop in Paris and developing its network of guardians in France, Switzerland, Belgium, Germany, Spain, and Italy, Angell will launch its course centre in Q4 to recruit more repairers and assistants for its user community. Indeed, Angell's ambition is to offer a premium service of maintenance and assistance at a European level and to pass on all its experience in managing a fleet of VAE with high added value.