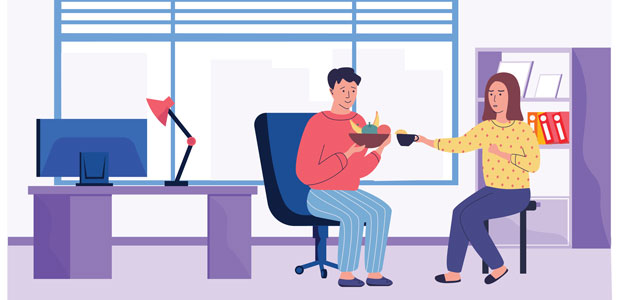 The role of tech is changing demands and creating better food experiences
Companies are beginning to realise how important good food is in attracting talent and creating healthy workplaces that look after their employees. A recent study revealed two-thirds of respondents believe an organisation which prioritises their health and wellbeing would make them more likely to stay in their current role, so healthy food and beverage provisions should not be overlooked.
Not only this, but new technologies are quickly changing the workplace facilities environment, with digital transformation leading the way for enhanced customer service, drastically reduced operations costs and streamlined processes.
The challenges facing workplaces
The pandemic has been a driver for change, pushing businesses to think differently about restrictions and challenges. As a result, the demand and application of digital solutions have been fast-tracked.
Around 82% of UK employees admit to not always taking their lunch breaks, with frantic schedules frequently given as the reason. For businesses, the test isn't just to build a culture that encourages employees to take their breaks. It's also to help their teams meet their nutritional needs in ways that support their post-COVID schedules and desired ways of working.
Innovative solutions
For workplaces that struggle to deliver on-site food solutions, like offices with restricted food preparation facilities, FoodTec is one of the answers to this problem. From grabbing a sandwich between meetings to snapping up a quick coffee before a big presentation, it permits staff to refuel when they're in a hurry.
Modern systems, like MicroMarkets, enable businesses to deliver great food experiences, using the freshest food and are growing in popularity. Organisations can provide delicious and nutritionally balanced meals to even their busiest employees.
MicroMarkets are compact, self-serve stores providing fresh, healthy food and drink 24/7. Automated and requiring no staff, they rose in popularity as they could easily be made COVID-compliant for businesses unable to offer remote solutions, especially in industries with shift-pattern working.
Prioritising safety and efficiency, we believe distance selection technology, and smart fridges will become commonplace in our new flexible working world. For example, distance selection coffee machines are designed to give employees touch-free access to their favourite hot beverages.
The intuitive design replicates a traditional coffee machine, replacing mechanical pushbuttons with hygienic, touch-free selection technology. Employees can select their drinks by hovering their fingers over the screen – up to 2cm away – so, it's completely contact-free.
Distance selection technology means staff continue enjoying delicious drinks with the peace of mind of staying safe against the spread of viruses and bacteria. Some businesses have also use intelligent inventory systems that monitors product control, precise inventory and transactional algorithms.
Increased efficiency and empowering businesses
Integrated approaches to workplace strategies, facilities management, and technology all hold promise and businesses can gain useful insights by examining internal data. For example, data is analysed using telemetry in MicroMarkets, which identifies what food is being purchased. This can be used to gather important information about customer/employee behaviour, purchasing and eating habits and trends.
This information assists with other tasks like purchasing decisions, menu creation and which product lines should be increased or discontinued.
It's not just employees who profit from food technology. Presenting an adaptable, speedy, and efficient process in the office also empowers businesses. From combatting staff shortages to decreasing operational costs through self-service options, the wider business benefits can be felt at all levels.
Producing appetising and fresh dishes, which are easily accessible prompts workers to eat more on-site, rather than heading out to grab lunch and snacks from other eateries. This offers teams a chance to build stronger relationships with colleagues.
A study on team building in cafeterias showed significant positive correlations between eating together and team performance and cooperative behaviour was twice as high among team members who ate together than among those who don't.