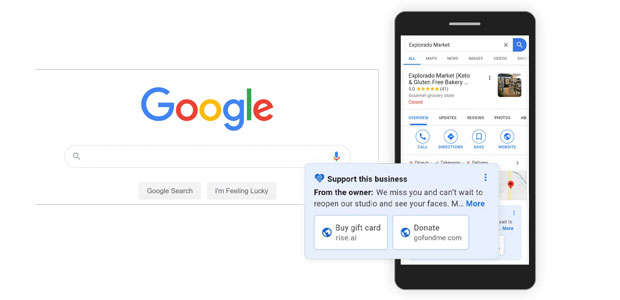 Rise.ai partners with Google to help businesses offer digital gift cards
Israeli startup Rise.ai, which offers AI-driven customer re-engagement solutions, has been selected by Google to help businesses offer digital gift cards through their public listing on Google My Business (GMB). The agreement with Google is Rise.ai's strategy to enable small and medium businesses to survive and even thrive during the COVID-19 crisis and beyond.
The integration will enable businesses to add a 'Buy Gift Card' support link to their Google business page. The gift card option will appear every time a customer looks a participating business on Google Search.
According to a recent survey by the Connected Commerce Council in cooperation with Google, small businesses without a pre-existing e-commerce presence were twice as likely (31% vs. 15%) to have temporarily stopped operating during the COVID-19 crisis.
Small businesses that were using e-commerce tools pre-crisis are 5.5x (11% vs. 2%) more likely to project increased revenue in 2020 compared to 2019. Seventy percent of those surveyed reported that digital tools were helpful, with fully 30% saying that they were essential during the ongoing crisis.
Google is not the only tech giant which has partnered with Rise.ai recently. In June, as part of the growing demand for Rise.ai's re-engagement solution in the US and over the globe, Rise.ai was selected by Facebook to integrate its gift card solution on Facebook and Instagram. The new partnership has already been helping many small and medium businesses and enterprises (SMBs/SMEs) over the globe boost sales, loyalty, engagement, and traffic.
"Since COVID-19 started to affect the market, we see tremendous need for advanced digital gift cards and store credit solutions like the one we are offering on Google My Business platforms," said Yair Miron, CEO and Founder of Rise.ai.
"The fact that Rise.ai was selected by Google as a partner for offering digital gift cards is one the strongest votes of confidence that our solution can get, and will allow us to help unprecedented number of small and medium businesses."
To learn more:
The solution - https://rise.ai/sell-gift-cards-google-my-businesss
Help article ("how-to") - https://help.rise.ai/en/articles/4119382-sell-gift-cards-through-google-my-business