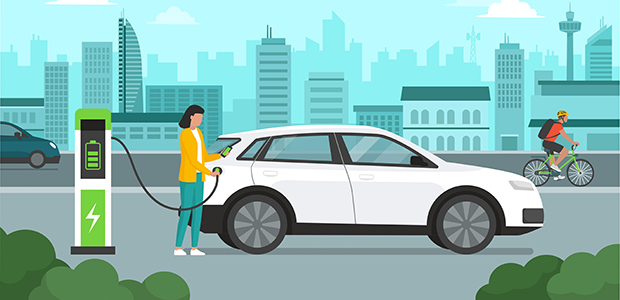 The revolutionary shift to EV is imperative but what about recycling?
Automotive giants like Ford, Porsche, BMW, Mercedes and many more are announcing their move to battery electric vehicles (BEVs) often referred to as EVs. The UK government is also signalling its intent to encourage BEVs by promising £450m to be spent on boosting public charging stations by 2030 to reach their 300,000 target.
The shift to BEV is underway, but production and recycling will have to be symbiotic for this to work. The question of battery recycling continues to be a prevalent one, and effective waste management is the only way BEVs can have a positive impact on the environment. While industry titans are leading the way, the move to BEVs offers massive opportunities for startups creating innovative and efficient closed-loop supply chains for electric batteries.
The latest data from the Society of Motor Manufacturers and Traders (SMMT) shows a total of 10,417 new BEVs were registered during February 2022, which is almost 18% of all-new car registrations in the UK. This is not just a market spike. The UK has committed to no sales of new internal combustion engine (ICE) cars in the UK by 2035.
BEVs are here to stay. Technological advancement in the field has made the aims of this kind of legislation viable and achievable within the timeframe. Developments like the rapid decline in price of batteries by 89% in real terms between 2010 and 2021 (from $1,000 to $132 /kWh respectively) and the rapid increase in energy density are pivotal innovations in the adoption of BEV batteries.
Manufacturers of these new technologies must find a way to refine the supply chain in order to keep up with new demand for BEVs helped along by consumer interest and government legislation.
The past is impressive, but the future is more exciting; the use of renewables to produce and run BEVs will make them even more environmentally friendly than they already are – by some counts BEVs halve the carbon footprint compared to gasoline vehicles. More innovation in this field could improve performance of vehicles (just look at the new Tesla Model S Plaid).
There is also the constant development of new battery chemistries, providing hope for a reduction in the use of critical metals (high potential for disruption in their supply) and the improvement of certain aspects of a battery's attributes e.g. faster charging, or higher energy density.
But this massive increase in BEV battery production will also create huge demand to mine metals and minerals, an industry already facing strains in the short and medium term. 55% of known reserves of graphite, a key component of many Lithium-Ion batteries, are located in Russia and China, complicated by international affairs. 51% of known cobalt reserves are located in the Democratic Republic of Congo, complicated by internal conflicts.
Not only is it becoming more difficult to source new metals and minerals, but it is also becoming harder to purchase material capable of being produced into a battery. For example, Lithium, one of the key batteries in many BEV battery chemistries, is now 80% of the cost of a new battery. On top of this, if you manage to discover new mines, the average lead time from discovery to production of a mine is just under 17 years.
There is a solution. The importance of recycling and waste management of BEV batteries has recently come into focus; recycling batteries could meet about 30-40% of the anticipated material demand for lithium, nickel, manganese, cobalt, and graphite in passenger BEV demand by 2035.
There are multiple R&D projects from startups, industrial companies, research institutes at universities (Warwick and Birmingham universities, to mention a few) across the world focused on improving and refining the battery recycling process to increase efficiency, move to more sustainable materials, and bring down costs. However, much of this innovation is still in laboratory scale and it is not yet clear how much of this new technology is or will be  scalable.
The next 10 years of R&D in the waste management field will reveal new and improved recycling technologies.
Much importance has been placed on the production side of development. It is now time for recycling to be put into the spotlight. In order to use the 300,000 charging points the government plans to have in the UK, technology advancements and research into the right methods for recycling will be imperative. Building an automated, scalable and sustainable BEV battery waste management solution is a critical requirement for a circular economy and a significant global market opportunity over the coming years.
Innovators will, in a very short time, realise the value of their solutions as well as the potential to export and scale their operations worldwide. Global tech startups have already begun the process of investing in solutions in battery recycling; some have already made great leaps in the recovery and reuse of LIBs (Lithium-Ion Batteries) bringing us closer to the proposed EU recycling target of 70% of LIB's by 2030.
Tech startups, such as Gigamine, will form an essential part of the BEV eco-system and will help catalyse the journey to net zero emissions.