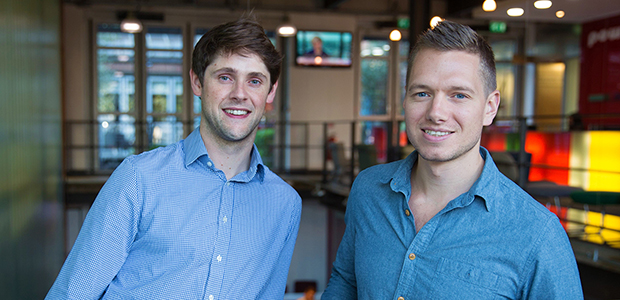 Revolutionary, righteous and renewable
Evidence has shown that consumers trust their energy supplier about as much as they do city bankers or politicians – a damning indictment for the industry. However, in this issue's Founder Focus feature, we speak to Simon Oscroft, Founder of energy supplier So Energy, who has dared to challenge the status-quo and whose company uses the latest technology to operate as efficiently as possible, keep costs to a minimum and pass those savings onto customers.
During his time working in London on an energy trading desk, Simon came to realise that UK customers were getting poor service from the traditional 'big six' energy suppliers in the industry who, a decade ago, still held a 99% share of the market. Fast-forward to 2014, that dominance had waned to 91% and, although still a more than significant slice of the pie, that eight percent reduction in market share over four years underlined to Simon that they must be doing something wrong.
Simon picks up the story: "The massive, monolithic big six had been failing customers. We felt that we could provide energy at a much cheaper, fairer price, increase customer service and, with one eye on the future, also provide renewable electricity, and so help customers do their bit to solve an increasing problem for everyone; climate change.
"Myself and my co-founder Charlie, knew we could do something that contributes in a positive way. Not just from the perspective of being green – but also around providing a better service and lowering customers' bills - all of those things are really exciting and is not an opportunity that comes along every day."
Starting out
Simon and Charlie therefore made the decision to form their own company. No easy undertaking, and much of the pair's early groundwork centred on delving into the economics of what it meant to be a supplier. While their background was in wholesale trading, and as such had a good understanding of customer billing, Simon admitted that it is a very complex sector.
"We needed to make contact with the kind of people that we needed on our journey," he continued. "Whether that be creative agencies to help build the brand, people to help build our website, or systems experts to make sure that we could bill our customers accurately and had the right systems to communicate with other people in the industry."
Once those foundational blocks were in place, it was full steam ahead in terms of raising funds, putting into place the wholesale hedging arrangements and making sure the company could buy energy forward, which is something that not all new suppliers do.
As part of this process So Energy secured a wholesale trading agreement with CF Partners, an energy risk firm, who also invested in the company. This enabled So Energy to hit the ground running and ensured they could start supplying customers as early as November 2015.
The rise of the challenger brand
We have seen significant disruption in the banking sector with the rise of the challenger bank over the last decade (Starling, Monzo et al). To a degree the situation in the energy industry has been much the same. Simon explained that during the 2010s the landscape shifted as people's lives became increasingly dominated by the internet and were therefore exposed to possible alternatives. He added: "It used to be that people just stuck with their energy supplier, however, as soon as people became more au fait with doing things online, whether it be looking at reviews of other energy customers, or using price comparison websites, the customer journey started to change."
This driver enabled smaller suppliers to come into the sector and gain market share relatively quickly and without a big marketing budget. However, unlike the banking sector Simon explained that over the last few years the barriers to entry within the energy industry have increased and so it is becoming harder to get into the market.
"Around 25 suppliers have exited the market in one form or another over the last two and a half years," Simon added. "Essentially the regulator wants to make sure that there's more stability in the market, the suppliers are more financially robust and are serving their customers in the right way."
He added that there has generally been a high inverse correlation between the suppliers that have left the market and their service levels. It stands to reason that the suppliers who are performing badly from a customer service perspective, also perform worse financially. This means that their customers are less likely to be loyal. Something for which Simon believes there is no excuse.
"If you're supplying your customer, and billing them accurately, efficiently and on time, you're providing a good customer journey and they will therefore, need to contact you less, meaning you don't need customer service staff or people to answer the phone or fix bills etc. So, good service actually cost you less."
USP
Because the market is challenging, competition is fierce, and barriers to entry are (now at least) high, new entrants into the energy sector need to offer a fundamentally different proposition to what is already available, and it's here where Simon believes So Energy's service offering sets them apart.
"We're the only energy supplier to be top rated by Citizens Advice, and we are also a Which! recommended provider. No other energy supplier has done that. We've done everything very sustainably. We've not raised any more money since we launched the company, so all our growth has been self-funded. Achieving profitability last year was a huge milestone for us because, for a relatively new entrant, it's something that we see as unique in our sector."
Going forward, the ethos for So Energy will be focused on the energy transition and helping customers to be greener. The company makes sure that all the electricity it supplies to customers comes from renewable sources and has made agreements with electricity generators across the UK.
They provide Renewable Energy Guarantee of Origin (REGOs) certificates to confirm that all the electricity generated is renewable. Each year, So Energy gives these REGOs to Ofgem to show that the company is 100% renewable. Some of the places where So Energy sourced its energy last year include:
Ness of Quoys: One of the first tidal power stations in the UK. When fully built, the 400MW project is expected to generate enough predictable and emissions-free electricity to power 175,000 homes.
New Stone House Farm: This project consists of 39,138 solar panels and is located near Wendlebury, Oxfordshire. The electricity produced is enough to power over 1,750 homes and save up to 7,200 tonnes of CO2 emissions.
Llanbabo: With 34 turbines the wind farm covers an area of 300 hectares, but the turbines themselves only take up one percent of that land producing enough electricity to supply 20,000 homes. The land around them is still used by farmers for light grazing.
"Over the coming years we'll be going one step further - putting solar panels on customers' homes, and using batteries for energy use in order to be less CO2 intensive on the grid, etc. That's where we want to be." Simon continued.
When you consider some of the facts around renewable energy, and the changing attitudes within society, surely it's only a matter of time before renewables are viewed as a must have for the energy consumer, and it's clear So Energy want to be at the centre of that. For example, one hour of sunlight on the Earth's surface generates enough energy to meet the world's energy demands for a whole year. Indeed, the World Economic Forum has forecast that 139 countries in the world could be 100% renewable by 2050, and the UK's solar PV capacity is currently growing at 30% year-on-year.
Customer attitudes
Over the last five years the usage of renewable energy has increased dramatically, and across a much wider demographic of society, as previously it tended to be the domain of the wealthy. "People are more influenced by the green agenda than ever before, and there's some good data on attitudes towards climate change which have positioned us really well," Simon added.
He also explained that, while price is still important, the emergence of services such as Trustpilot and Which! have meant that customer service has become just as dear to the hearts of consumers. "Since 2017 Citizens Advice have published quarterly ratings and, on Money Saving Expert, if you try and switch supplier via their website, they auto-allocates seven points out of 20 to customer service. That means we index better than any other supplier on that price comparison website, which is great for us, because it means people are making better decisions, not just picking short-term options based on money.
"We're at a crossroads globally where a lot of new technologies are coming to market. All of these have got to be better for the environment and we have a role to play in helping consumers pick the right one, while also making sure that they're getting value for money and good service."
Simon went on to explain that as a nation we face inherent energy market structures that don't always encourage the right behaviour on the part of the supplier. The regulations mean that they don't necessarily price fairly and are not financially sustainable.
"This is quite challenging," he continued: "We've seen energy suppliers who have not been fair, not been providing a good service and not done it in a financially sustainable way. That makes it a harder environment for us because all energy suppliers get tarred with the same brush. I find myself spending a lot more time working with the regulators to try and make sure that we as an industry are doing the right thing by customers and making sure that our customers can trust us."
Simon went on to add that very few people in the So Energy customer service team have ever worked in the energy sector, and although this was a daunting prospect at first, he was quite clear that So Energy didn't want to inherit some of the legacy problems that could been seen within some of the traditional suppliers in the industry.
He added: "We wanted people that cared primarily about good customer experience, not necessarily those that had the sector knowledge. You can build that later, but you can't always learn how to do what's best for the customer - that is more inherent."
"We're also making sure that our people share the same mission perspective - having people on board who are mission driven and passionate about saving energy, making greener energy, or making better solutions for customers. We are not necessarily talking about sector experts - what we want is people that are driven to succeed. So it's important to hire the right people, and that doesn't mean people who are experts in your chosen sector, but people that share your core values - having your people aligned to the mission and to what you're trying to do over the long term, is key.