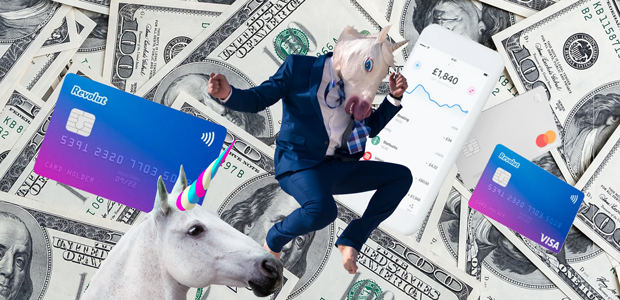 The Revolut Story: Lessons Learnt from a Unicorn
The story of Nikolay Stronsky, Founder and CEO, Revolut is a pretty incredible one, in just four years he has seen a rapid amount of success, with the company now being worth $1.7bn. So how did he do it?
Michael Stothard, Editor at Sifted spoke to Stronsky one-on-one at the recent innovation festival, Unbound London, and asked him what his words of wisdom were for people out there just starting up.
Stronsky answered with his top three pieces of advice:
Always hire great people – 90% of your success is in the team.

You and your team need to be extremely hardcore and extremely flexible. Be flexible, not everything is going to work so don't be afraid to be ruthless.

Go for it or things won't always show – be willing to take the risks and they will pay off.
Stronsky explained his mission is to build the world's first electronic bank – and as soon as possible. "We are currently moving over to the US, as we have a lot of partnerships over there."
Stothard asked: "What lessons have you learnt over past couple of years and what do you plan to do differently over the next few years of growth?"
Stronsky explained that he believes you don't need to put up a fight against growth. He said: "There has been a culture shift over the past few years and that has really helped us to grow."
Culture changes every day, and Stronsky said he was grateful for this as it needs to for businesses and people to progress. His next move for Revolut will be to progress further in Australia, he explained: "The Australian market again will be a change, but we already have a number of customers in the country."
Revolut is a platform that offers the full package. Stronsky commented: "For me building one product was never an option, it doesn't make sense and becomes very boring."
But it makes sense to have everything on one platform he explained, as it is simpler to be able to offer customers more, and with having it all in one place you can also provide more efficiency.
Stothard then asked: "Do you lose the essence of being a challenger bank if you offer everything? That's what big banks do now."
Stronsky assured him: "I'm sure if this problem exists in the future we will be able to work through it. We're such a small company at the moment – big ones don't feel a threat at the moment."
Fundraising for Revolut was a big, long process, as it is for most startups. Stronsky added: "The plan is to start looking at fundraising and raising more money at the end of this year."
Being a strong leader is hard, especially in a startup or a new company, so Stothard asked Stronsky what is the key to success when it comes to leadership?
"You need to know how to create a team, and then shape a team – they are two different things. But most importantly be in a team, that means the leader is included in the team, treat your team how you would want to be treated yourself," Stronsky commented.
He then spoke about whether there is a right or wrong way to do that: "I don't think I know what the right skill set is, there are so many skills that work well. The only thing I really think is important, is to be hands on."
He added: "For me personally, it's a benefit of being auspicious and hands on."
Cryptocurrency can trade on the Revolut platform, and Stronsky commented: "I think cryptocurrency has a future, but it is a slow process with regulations in a lot of countries. I do think it's going to be a huge market. If we strike the right bells between tech and using cryptocurrency and the right protection for those using it, then it could be really big."
Finally, Stothard asked the dreaded question everyone seems to ask now: "What will Brexit mean for Revolut, especially if there is a 'no deal', how will that impact you?"
Stronsky answered: "If you plan properly then it shouldn't affect you. But obviously there are certain risks, so it is hard to say. Maybe it will be harder to raise money in the UK, maybe the economy will slow down? Who knows."
But does this mean the US and China markets will become bigger for Revolut?
Stronsky stated: "I hope Europe can trump US and China. But it needs to be unified to do this. This is a continent with so many countries with so many different languages so why wouldn't we succeed? There is such a big platform here, we just need to use utilise it properly."
Revolut is a digital banking alternative for instant payment notifications: free international money transfers and global fee-free spending.