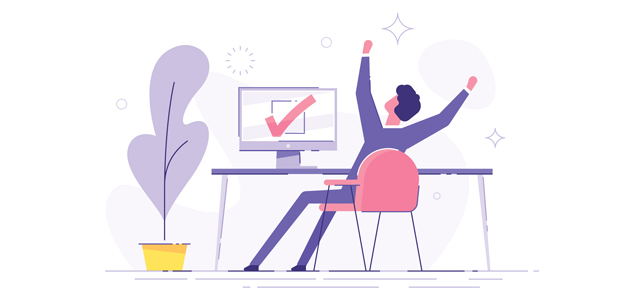 Research reveals the wellbeing initiatives to boost your employees' happiness
After a testing year, it's more important than ever to support your team's mental health.
It's no surprise a healthy and happy workforce is proven to be more productive, resilient and engaged. However, our recent research found that longer working hours and poor mental health have had a negative impact on employee's wellbeing.
From providing access to health services to promoting a work-life balance there are lots of simple steps businesses can take to boost the happiness levels of their employees.
New research by Bupa highlighted five wellbeing initiatives employees have reported to boost their happiness and wellbeing.
Provide access to health services
Health matters. Helping colleagues look after themselves, and providing trained support when it's needed, can have a big impact on people's wellbeing.
Almost half of UK employees (46%) believe the health services offered by their employers have improved over the past year – a key wellbeing gain of 2020. Similarly, our Workplace Wellbeing Census has revealed 82% of employees hope their employers continue to offer health and wellbeing support as we look beyond 2021.
Business leaders should continue to focus on supporting the wellbeing of their employees as we look to the future. Ensuring employees have access to both mental and physical health support services such as, Employee Assistance Programmes (EAP) and GP appointments – both in person and remotely. As a result, businesses will see greater productivity, reduced employee turnover and absences – all which account for a successful business environment.
Prioritise your work-life balance
With the line between home and work becoming blurred over the last year, for many it has become harder to switch off. 41% of UK employees have reported they would like to see a greater work-life balance.
As an employer it's important to encourage your employees to strike the right balance between work life and home life. This will also help prevent any work-related health concerns associated with working longer hours such as stress.
To help support your team with striking a positive work-life balance let your employees know that it's okay to take a break from work. A five-minute break away from their desk can help people destress and refocus, while helping them finishing work  on time allows colleagues to unwind. It's also important that managers encourage their teams to spread annual leave throughout the year.
Create a positive work environment
High stress and pressured work environments can lead to work-related health issues, such as burnout and presenteeism, which often leave your employees feeling exhausted, fatigued and unmotivated by their work.
However, encouraging a positive work environment in which employees feel supported and valued can have a positive impact on productivity and happiness levels.
40% of UK employees have reported they would like to see wellbeing initiatives focused on boosting staff morale. Wellbeing days, workshops and team social events are all ways businesses can promote a positive work environment, especially now restrictions have eased.
Provide mental health support
Just as we support colleagues with their physical health, it's vital that we consider their mental health too.
According to our research, businesses have taken a positive step towards supporting employee mental health over the last 18 months. Programmes such as line manager training and appointing mental health champions  have allowed businesses to prioritise employee wellbeing.
32% of employees admitted that they would still like to see a greater emphasis on mental health support in the workplace, and simple steps can help you achieve this.
From progressing mental health initiatives, to small actions such as regular check-ins and catch ups, there are lots of steps' businesses can take to place an increased emphasis on employee wellbeing.
Embrace a diverse and inclusive culture
Businesses that embrace diversity reap so many rewards, including a greater understanding of customers, ideas generation and a talented workforce.
While many businesses are taking steps to improve workplace diversity and inclusion, we must strive to put diversity at the top of the agenda. We found that [1]14% of UK employees would like to see more policies introduced to promote and protect diversity and inclusion in the workplace over the next 12 months.
There are many ways businesses can promote diversity in the workplace, such as educating managers in diversity and inclusion matters, hiring leaders who understand the importance of these values and helping employees to feel comfortable to express themselves and their values.