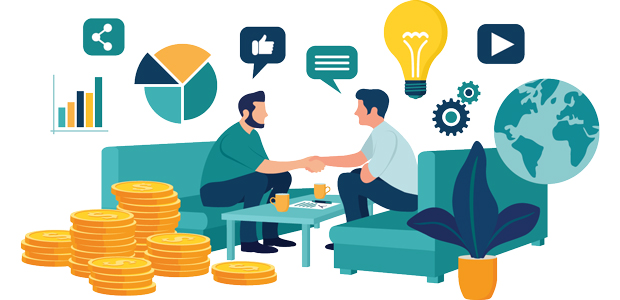 Rebuilding colleague and customer relations in the hybrid arena
As a result of the pandemic, working from home has become, by default, the new normal. As many organizations are weighing up a partial return to the workplace – at least in a hybrid capacity – now is a good time to reflect on the efforts made to encourage positive interaction amongst teams throughout the WFH experiment. For many, this will involve rethinking how the office, and the new digital tools adopted over the past 18 months, fit into their business.
For a significant number of firms, one concerning trend that has emerged is that some of the 'stop-gap' technical solutions adopted to attempt business continuity have fallen short. In the worst-case scenario, this has meant that the foundations of what makes a happy and productive office has been eroded. As dynamics have naturally shifted, employees have found their interactions scattered across a surfeit of digital channels, while customer service has been on the downturn.
Indeed, according to recent research from Soffos.ai, almost two in five (38%) of UK business leaders said that their employee relations have become strained as a result of taking on too many communication tools for in-house conversations. The respondents emphasised that this has caused interruptions, confusion and reduced productivity amongst employees, while a further two in five (39%) said that their customer service has also declined due to an over-reliance on inadequate technology.
That is not to say that the implementation of new technologies has been all negative; in many ways, these solutions have been a lifesaver for businesses. However, it is difficult to disregard the consequences that this shift from in-person to digital has had on workers, customers and clients, who have long been accustomed to face-to-face meetings and discussions.
So, how can businesses build back better and restore these broken bonds?
Businesses must acclimatise
It goes without saying that organisations have had to grapple with a very steep learning curve over the past 18 months. However, now is the time for firms to reflect on lessons learned and start preparing for the future of work.
Naturally, some businesses might want to opt for more sophisticated technologies; particularly in the learning and development (L&D) arena, where they will now have a responsibility to provide employees with a more blended model of training. According to that same Soffos survey, 38% of organisations claimed that the uptake of new digital tools has had a negative impact on the successful delivery of their L&D initiatives. Furthermore, a similar number (36%) said that their employees had expressed a desire to return to the days of collaborative learning, such as in-person workshops or training sessions.
In terms of customer relations, more than a third (36%) of business leaders said that their organisation adopted ChatBots to help field customer queries throughout the COVID-19 pandemic, but that these technologies left a lot to be desired. In fact, two in five (39%) of the decision-makers surveyed said that their quality of their customer service declined, despite the implementation of such platforms.
Looking to newer, more effective solutions
In business, as in life generally, the mantra 'less is more' often rings true. Take the example of workplace communication tools – when businesses prioritise the quality of the solution adopted over the quantity of products, they will likely find improved results. This will also streamline workflows and help employees to connect more meaningfully with each other, with fewer opportunities for miscommunications.
In the case of L&D, organisations should look to revitalise their strategies by utilising genuinely useful online platforms – particularly those powered by Artificial Intelligence (AI). These solutions can create truly bespoke training plans for each employee, as well as providing crucial business intelligence, which can be effectively harnessed by training managers to learn more about their employees, teams, and the enterprise as a whole. This can be particularly useful when identifying knowledge siloes most used by teams, common misconceptions and identifying areas of strength and weakness, for more targeted intervention.
Conversational AI can boost customer engagement
In terms of customer relationships, organisations ought to rethink their use of standard ChatBot solutions. While these technologies can be useful in certain contexts and minimise the workload of customer support workers, they almost always fail where more complex assistance is required.
As such, businesses should consider making newer conversational AI (CAI) technologies part of their investment plans. Unlike ChatBots, these platforms can 'understand' natural language, semantics, and intention, which means they can comprehend more complicated queries, ultimately resulting in fewer frustrated customers. Likewise, these tools can learn autonomously and need less manual human input to function, making them an efficient addition to any customer service team.
In the final analysis, businesses have reached some significant milestones throughout the pandemic, and it is clear that hybrid work is not just feasible, but now, an essential part of working life. To progress further, organisations must think seriously about how they can build upon the technologies implemented to smooth this transition; which will make for a happier and more connected workforce.