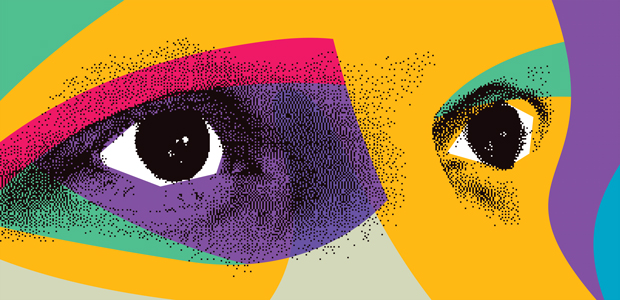 Reading between the eyes
It can be hard having your startup business, and wanting to go for it, but at the same time still running a business to earn a living. That is exactly what Rod Baber is doing, currently running a climbing business which he loves and enjoys doing, he is also keen to pursue his startup, Read Between My Eyes.
He explained: "During COVID I had a lot of time to focus on Read Between My Eyes, as not many people can go climbing during a pandemic, but I guess I am lucky in that sense that I can jump in and out of the two."
Read Between My Eyes is a new space for wellbeing, a platform that aims to take away all the existing ways current social media makes it hard to be you. Rod explained: "We value being different and accepting who we are. By doing this you will inspire others to be their authentic selves and find amazing things about how you see. After all it's not what you look like, it's how you look."
The idea behind the startup is a touching story, as in 2009 Rod's daughter who was just ten months old contracted chicken pox and overnight lost her sight and ability to move.
She was rushed to hospital in Bristol to help keep her alive, and now at ten years old she cannot see or move, but Rod shared she is happy, which is the most important thing.
Whilst in hospital Rod explained that you have the support of other parents and staff empathise a lot with you. "You have a lot of support around you and you are able to share experiences, but when you leave hospitals, it seems like you are on your own a lot. I went downhill."
He said: "Out of everything she lost, it was her sight that I found hardest to accept. I then searched far and wide for ways to improve her life, to get her to see, to get her to hold a spoon, to get her to say just one word."
Rod thought if he could connect and share with others how he was feeling, it would help his wellbeing. He expressed: "But I saw on social media it is so hard to be real. In today's society with social media and an obsessive online culture, our digital facades are over taking our real-life personas. People are being washed away by the complexity of wanting to look better."
 Around the same time an old man gifted Rod his camera equipment after Rod helped him across a mountain pass. Rod said: "I started taking photos of people's eyes and faces across the world, both young and old, sighted and blind. I asked everyone I photographed three questions: What is the best thing you have ever seen? What is the worst thing you have ever seen? What do you really want to see? It became clear we all look and see the world in our own light. Amalie still has beautiful eyes."
Read Between Your Eyes was born, as a place to free people, let them be themselves, freely and share their wellbeing journeys.
Rod shared: "I had realised that it is not always about ourselves and our own experiences, but helping others through shared experiences. We can all learn from the purity of the young and the wisdom of the old. True sight and the way we see things comes from the inside and tells us who we really are."
Through his journey Rod has come across a number of people who have become a part of the business and helped along the way, including Professor Tim Marsh who introduced Rod to the wellbeing pillars, and Rob Kemp, who helps with user experience and simple messaging system for the startup.
Rod told me: "We are currently creating the second MVP and creating a freemium site that should be up next week. The thing is, a platform like this is so important to some people as there is no anecdote or pill to make someone happy.
"But at Read Between Your Eyes we are valuing differences to allow people to be themselves, and help them on their wellbeing journey."
Rod was clear that he didn't want to include advertising on the site, and he originally had wanted the site to be free. "We have shot ourselves in the foot really, so we maybe now looking at having a premium service as well as the freemium site. We will keep it low though, it will be a third of the price of other similar platforms, and it will be available at the touch of a button on the app.
As with any startup there has been a number of challenges for Rod, funding is of course difficult for everyone, but also finding the balance between working on Read Between My Eyes and his current job. "We have just taken on a digital marketing person, and we have just got going with our social accounts and newsletter, so we are growing – just slowly."
Read Between My Eyes is looking and aiming for a soft launch within six months after finding funding. "We have just started working with a web developer, and the next big step is finding a coder. At the moment one of my climbing instructors is working and learning coding, so has been working with us on that a bit. You can spend so much time making a site pretty, but if it's not doing the right thing it is not going to attract the right people," Rod laughed.
On running a startup, Rod expressed: "I wouldn't say its stressful, but it's definitely more difficult than climbing Everest, because you don't know what your climbing."
It is safe to say, Rod has been on a bit of a journey himself, and that is why he wants to help so many others on their journey. He stated: "I finally came to accept my daughter for who she was and not what she had become. The journey led me to accept none of us can be perfect and why should we want to be. My daughter taught me the real values of being different and we are all unique which makes this world exceptional.
"If she can teach me things, that then I can help others with, then she will be pleased and so will I. She still smiles and that is all you need."