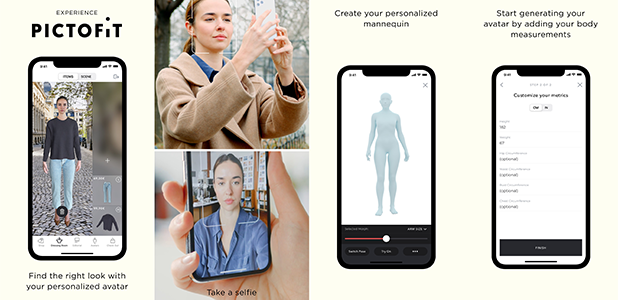 Reactive Reality announces the launch of PICTOFiT Shopping
The augmented reality platform which allows shoppers to virtually try clothes on their own personalised avatars via their favourite online stores.
Reactive Reality the augmented reality (AR) company enhancing e-commerce platforms with its virtual clothes fitting technology, has announced the official launch of its PICTOFiT Shopping mobile and web apps.  
From today, retailers can download PICTOFiT Shopping free of charge from the Apple app store, as well as use PICTOFiT Shopping from any browser. When doing so, they will see how Reactive Reality's technological offering could significantly enhance the shopping experience for its customers, leading to boosted sales due to higher confidence levels when purchasing items, and increased brand loyalty.
PICTOFiT is seamlessly integrated into a retailer's app or website and is achieved by utilising the company's Software Development Kit (SDK) and carried out in such a way that the existing UX design and brand identity of the platform are not only kept completely intact, but also expanded and improved. Users can then create personalised avatars that closely match their appearance and measurements, browse through fashion products, try different combinations onto their avatar in the virtual dressing room, and experiment with virtual backgrounds.
Shoppers can opt for the level of personalisation that they prefer, with a concern for privacy being at the heart of PICTOFiT. Consumers have the option to take the anonymous avatar and personalise it only with their own body measurements; others may take the more advanced option of using their smartphone's camera capture to create an avatar that matches their appearance closely. Reactive Reality's technology can show intricacies within an outfit, such as having a shirt tucked in or out, the level of transparency of clothing, and how an item looks layered on top of another.
For retailers, this innovative and exciting way for customers to shop and virtually try on clothes is a significant step forward in the industry, and one that will transform the way in which consumers interact with online stores. The advanced technology turns existing product photos into smart, photo-realistic AR assets via its PICTOFiT Content Service within a matter of hours - something that previously took days to produce.
Reactive Reality's PICTOFiT technology provides consumers shopping online with an accurate sense of whether clothing will suit and fit them well, which in turn gives them greater confidence in their purchases. It also boosts brand engagement by leading them to have a lot more fun shopping online. Companies that adopt PICTOFiT on average boost sales revenues per user by up to 500%, with users spending 441% more time on these websites in comparison to those without, according to Reactive Reality's customer data.
"We are thrilled to be able to announce the official launch of our app, PICTOFiT Shopping, on mobile and web today," comments Stefan Hauswiesner, CEO and co-founder of Reactive Reality. "We know that the global pandemic has considerably accelerated the fashion retail market and we want to help retailers keep up with the demands of consumers who are looking for new and exciting ways to shop online. Understandably, some consumers still may not feel confident enough, or able to, venture to physical stores yet, so our tech, which can be integrated into any web store or shopping app, offers the perfect solution for both parties.
The current webshops' flat and static images make it hard for online shoppers to envision what a garment will look like in reality, resulting in a customer either having to buy the same item in multiple sizes to ensure it fits, or losing interest entirely. PITCTOFiT Shopping revolutionises the way consumers interact with online stores, and we are excited to see even more retailers implement our white-labelled solution in the future."
How Reactive Reality is providing an all-in-one solution for retailers
At its core, Reactive Reality is tackling a key paradox in e-commerce, which is that while it has become vastly more efficient, cost-effective and popular in recent years, consumer satisfaction with buying online remains at a very low level. E-commerce sales may be at an all-time high, but a global survey by Contentsquare shows that only 15% of online shoppers are happy with the online shopping experience, with almost a third of respondents saying that they associate online shopping with emotions such as boredom, frustration, and even anxiety. Reactive Reality helps to solve this problem of customer dissatisfaction by providing a useful and highly immersive virtual fitting experience, bringing excitement to previously monotonous e-commerce websites.
AR virtual fitting has traditionally been beyond the budget of most retailers, having required multiple technology providers to create and integrate the technology across the entire e-commerce journey. Reactive Reality simplifies and centralises this process by providing an end-to-end solution that is unrivalled in terms of realism and scalability. This is achieved through a combination of patented Artificial Intelligence (AI), photogrammetry, and image-based rendering, with Reactive Reality's algorithms transforming conventional product images into photorealistic AR assets in a matter of minutes. The company's innovative tech also has potential future applications beyond e-commerce, for example in product placement, video conferencing, or animation