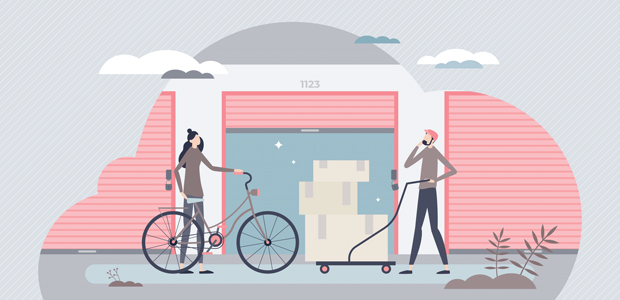 The questions to ask when finding local storage facilities
There are many reason for people to require storage for their items. Whether you're moving house, needing somewhere to store your shop's extra stock, or just want somewhere to put valuable and sentimental items when you don't have room at home, storage lots can be incredibly helpful. Finding somewhere safe to put your things isn't always the easiest thing to do though and choosing the right place can feel like a struggle. We've put together a short list of the questions you should be asking before committing to a decision on your storage, and why these questions are so important.
What Does Self Storage Mean?
First of all, let's get a good idea of what self storage is. While garage spaces and lockups have been a thing for a while, they haven't always been the most secure spaces, and storing your valuable items in them has never been the smartest thing to do. Recently though, secure storage services have been popping up around the country, providing customers with peace of mind when storing their possessions away at a distance from their property. There is also some great variety in sizes from smaller locker-sized storage up to massive lots the size of tennis courts. They can also be hired for varying lengths of time and can become a near-permanent space for you if you so require.
Is It Secure?
Security should be the utmost important aspect of your self storage space. Making sure the area has sufficient security measures in place to prevent theft or damage to your items. CCTV recording and on-site staff are essential for providing you with a sense of peace as to the safety of your possessions. We highly recommend discussing security measures with whichever self storage place you rent. You'll also want to make sure that access to you self storage is strictly monitored and controlled, ensuring that only you are able to get into the area and that your identity is verified to prevent anyone pretending to be you from entering.
Is It Easy To Get To?
There's not much sense in paying for a storage facility across the other side of the country. You should do your best to find local storage facilities like one of Safestore's storage centres. They have over 120 storage spaces nationwide from London to Glasgow so the chances are, your business will be located nearby one of them. Make sure you choose a storage space that is easy to get to by car as you may want to access it quickly and efficiently. 
How Much Space Is Available?
While most self storage places do offer a range of different sized lots, you should make sure that you find out how much space is available. It's one thing being able to fit all of your items inside, but if it's difficult for you to get in once you've stored everything then it might be a problem if you're trying to find a particular item within a strict timeframe. Be smart with how you store your items here and you'll find it much easier to manage your storage space in the long run.
How Much Does It Cost?
Affordability also plays a large part here, as you'll be paying rent for these services. It's still best that you don't jump at the cheapest option here, as it's important to ensure that the storage service you've chosen has all of the other essential features mentioned above. There's not much sense in paying for storage which has no security measures other than a padlock in place as you may end up being the victim of theft. Either way, it's important to shop around and find something affordable for you, finding a healthy balance between cost, security, access, and space.