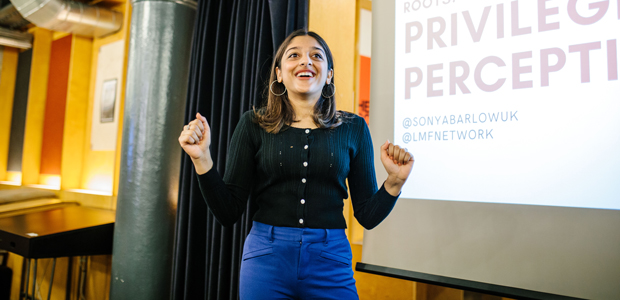 Queen of Hustling to present at Hustle Awards 2021
With the annual Hustle Awards event planning in full swing, we are excited to announce that Sonya Barlow, award winning entrepreneur, founder of the LMFnetwork, diversity business coach and motivational speaker, as her efforts are focused on bridging the skills gap and creating inclusive cultures.
We wanted to introduced our keynote Sonya to you all and allow you to get to know her a little ahead of the Hustle Awards!
"Strategically Winging It" is her famous tagline as Sonya leads the consultancy practise of LMF Network, providing bespoke services globally including inclusion workshops, diversity strategies and change management. 
LMF Network is a global enterprise network specialising in digital workshop delivery and business coaching to upskill professionals, universities and startups. Since launching in May 2018, the network has facilitated over 110 workshops globally, upskilled over 5,000 people, nominated for three national awards and engaged with over 20,000 online.
Sonya has delivered two TEDX Talks; a handful of European keynotes; over 210 skills based-workshops, and partnered with global companies such as; Google, Santander, Vodafone, Oxford University, Institute of Coding, GoCo Group, Barclays, Financial Times and PWC.
In 2020, she was named as one of the Most Influential Women in Tech (Computerweekly), Winner of the Women in Software Changemakers (Makers and Google), Top 50 BAME Entrepreneurs (TechRound) and Future Shaper 2020 (Marie Claire).
During COVID in April 2020 alone, LMF facilitated 20 client workshops and 25 webinars. The webinars gained 768 attendees where 85% left feeling upskilled. Based in London, LMF were able to engage audiences from Sri Lanka, Australia to Guatemala and Kenya.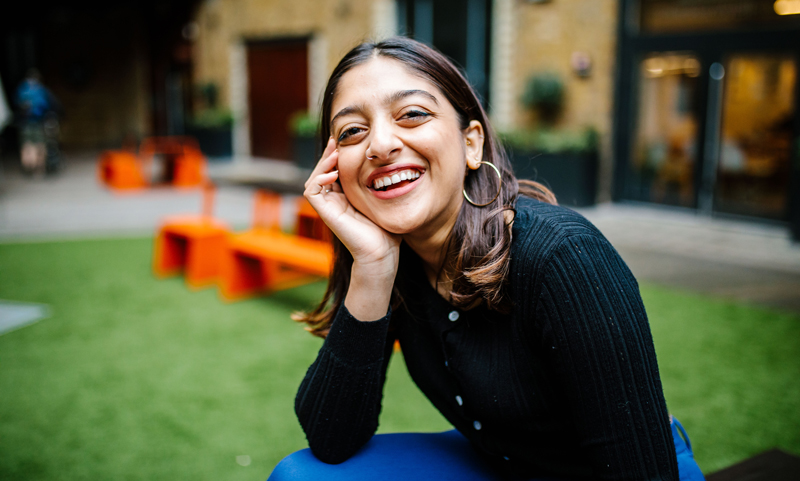 Sonya has been featured on our 'Women in Business' series of the Cereal Entrepreneur podcast where she spoke about her previous experiences, specifically with previous Toxic Workplaces, (to which she has now launch and anonymous survey - which you can view here) and how the Like Minded Females network was formed.     
Talking social media, being an influencer is about changing the lives of individuals, it is not about the thousands of followers. She talks branding and expanding the network as an entrepreneur, letting other people's visions support your goals. Branding should be separate from you. Leading with value. Listen to the episode here.
In June 2020 Sonya launched a 6-month pilot virtual mentorship programme. The objective of this programme is to upskill the talent pipeline by providing them with quality workshops, a role model mentor and a community in which they can thrive. With less than 40% of the workforce identifying as women and less than 20% BAME, LMF leads initiatives to upskill future talent in order to truly create diverse workforces and inclusive cultures.
Finally and most importantly, in 2021, Sonya will be a published author sharing her debut handbook on entrepreneurship, business & becoming your own boss called Unprepared to Entrepreneur (which you can pre-order here now).
Can't wait to hear from Sonya at the Hustle Awards? Us too! Make sure you grab your tickets here.