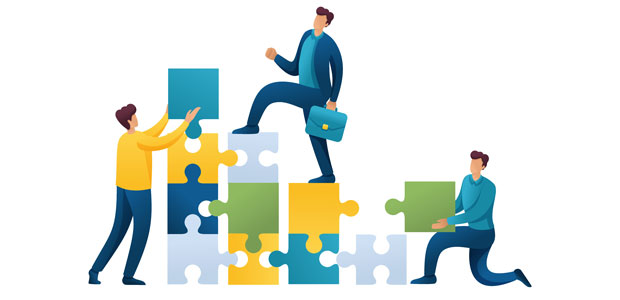 A Quarter of Brits have launched their own business
Coutts, the wealth manager and private bank, has released the findings of its inaugural Coutts UK Entrepreneur Index (CUEI), outlining the level of entrepreneurialism in the UK as well as the desires and barriers that they have faced when starting their business.
The Index reveals that in total, one in four Brits (23%) has launched their own business, meaning they can officially call themselves an entrepreneur. A further 16%, or around one in six, said that they will launch their own in the future - underlining the importance of entrepreneurialism to the UK's economy.
Greg Kyle-Langley, Head of Entrepreneurs at Coutts, said: "Entrepreneurs have long been a central part of not just the British economy, but our culture and identity. As a bank that has been supporting entrepreneurs both as our clients and commercially for over 300 years, we wanted to not just highlight the entrepreneurialism of the British people, but shed light on exactly what the barriers are facing those starting or wanting to start a business in 2020."
Perhaps unsurprisingly, the biggest challenge, and the number one factor that held people back from launching their own business - was a lack of access to capital and struggles with their own financial security. This was the case for over a third (36%) of British entrepreneurs. There were, however, some more striking results. For a quarter (26%) of those polled, simply not knowing how to launch a business was a major challenge, and for one in five (19%) a lack of confidence in their own ability was what put their business dreams on hold, something Kyle-Langley believes is 'important to highlight'.
"Starting and scaling a business of your own is exciting and enormously empowering. It's also scary for many because it's definitely not the safe option - but that's the point.
"Our colleagues in the NatWest accelerators help give people the guidance and confidence to get going. And once those businesses are motoring, we can draw on the power of the Coutts network to help them go faster. Our Investment Club is home to some of our most financially sophisticated clients who invest in some of the growth-stage UK businesses we present to them.
"And what really separates what we do from other private equity groups is the opportunity for those founders to connect with the many, many successful entrepreneurs across Coutts who can share their knowledge and networks. The doors that open can be life-changing for the people we work with. Access to people who have been there and done it is so important.."
Indeed, the CUEI highlighted that one in 10 (10%) British entrepreneurs admitted a lack of role models was a notable challenge and held them back from launching their business - something that was particularly notable for those aged 18-34, where the figure jumped to 20%. Younger entrepreneurs (age 18-34) were also more impacted by criticism, with this being listed as a reason for their business launch being held back for more than one in five (22%), compared to a 12% average.
The CUEI also demonstrated some fascinating regional insights, with those in Northern Ireland seemingly more entrepreneurial than anywhere else, with over one in three (34%) of those polled declaring they had started their own business.
CUEI Regional Breakdown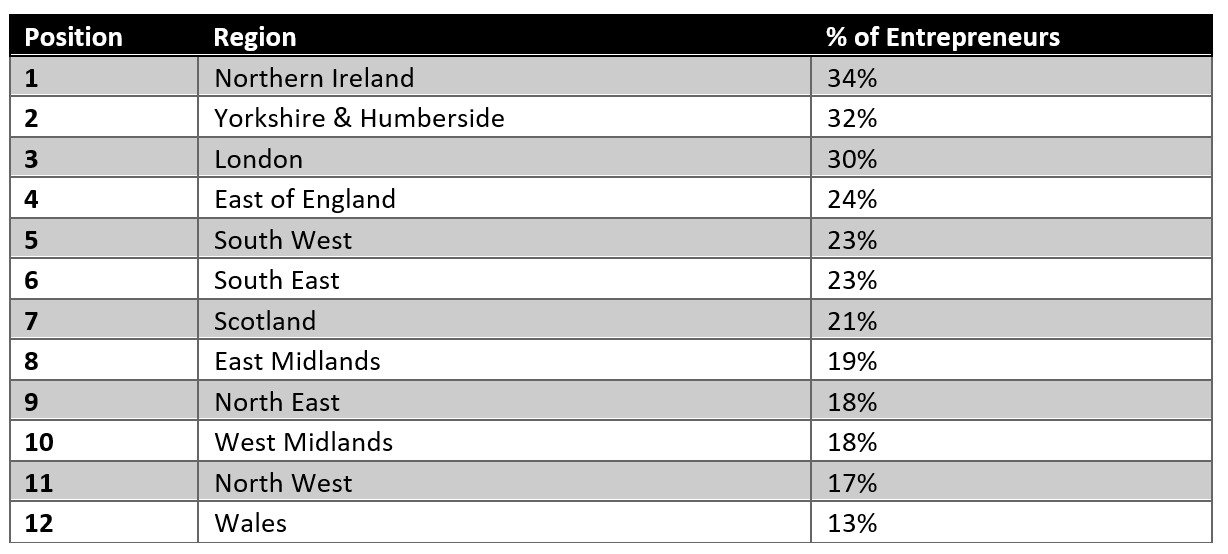 Greg Kyle-Langley, Head of Entrepreneurs at Coutts, said: "Our entrepreneur experts are based all around Great Britain, so we're connected to local communities and we know what's important to those business owners. Across the nation, levels of entrepreneurialism are high and through our regional network, and the work we do with our NatWest colleagues through the accelerator hubs, we are excited to be helping to build the companies of tomorrow."