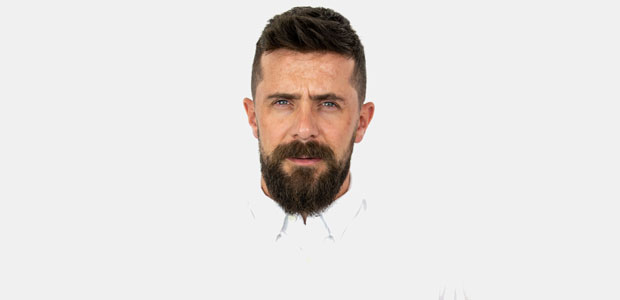 Q&A: Matt Jones - Founder of MESOA skincare
Matt is no stranger to building successful companies and developing national brands. Before hitting 40 years of age, he'd created, grown and sold a multi-million-pound marketing company, picking up the Great British NatWest Entrepreneur Of The Year award three years in a row along the way. Not afraid to take on a new challenge, Matt set his sights on tackling the male skincare industry head on, with the launch of MESOA For Men. We caught up with Matt to learn more about him and the journey. 
His personal background and story
Matt spent a long time during his youth under the care of the social services.
"I was what was then referred to as a 'problem child'. I had a turbulent childhood, my father left my mum after 20 years of being married to a 16-year-old that worked for him in our family delicatessen, which destroyed me, sister and my mum.
"I fell into drugs, stole, cheated, and lied, and at 16, I ran away to the Army after watching an army TV commercial of boys blowing tanks up. I thought that was me. I needed an escape. 
"During my time in the forces, once the operational, training and tactical side slowed down, I fell back into old habits. At the weekends, I was coming home and going out clubbing, and what I ran away from to join the army, I was back in, I started to retake drugs.
"We were about to embark on an operational tour, and like all other tours, nine times out of 10, there was a random drug test. My SGT Major asked everyone on the drill square that morning to come forward if anyone had taken drugs over the weekend.
"Many people didn't stand up and own up. I did. I remember the feeling of being incredibly ashamed and standing out front on the drill square, a place where I once felt very proud standing in my tunic.
"That same day I ran away from the barracks and went AWOL. The Army caught up with me a few weeks later, and I spent the next four months at Colchester Prison, the army prison. During my months in Colchester Prison, (the notorious Glass House, also known as MPCT) I thought enough was enough. I couldn't continue living my life in this constant cycle of blame, guilt, drug-taking and playing the victim.
"After I left Colchester prison, I was dishonourably discharged from the forces, a stain on my record. Thinking about my next move, I thought back to that Army commercial I watched all those years back in the YMCA. I wanted to create commercials like that, as the Army did provide me with opportunity, skills, and confidence. I wanted to create commercials that had the power to influence others for the better.
"I did some research and found the advertising agency that held the account for the Army. I called them and explained that I wanted to come and work for them because of the TV commercial I had watched. The person I spoke to asked If I had a degree – (I didn't finish high school, let alone have a degree). I explained that I didn't have a degree, but I was a trained killer, hoping she would see the humour in my reply. (She didn't) she told me to go and get some experience by working within the media industry, so I did, and that is where my entrepreneurial journey began."
How did you first get into business?
Matt worked for media giants such as Newsquest, GCap Media, Global Radio and Titan Outdoor, selling advertising directly to businesses all over the UK. He was an entrepreneur. "I would work with clients to plan out their advertising campaigns. I loved the responsibility of planning campaigns and budgets for my clients, and I was good at it.
"I started to work with advertising agencies all over the UK. I began to see behind the curtain how they made their money, earned higher commissions, could access all media platforms, managed the biggest clients, and were in control of the creative. The advertising agency model excited me.
"While working for Titan Outdoor, I had a client in Cardiff who owned serval businesses. We started to chat about my current role and plans for the future, I told him about my plans to open my advertising agency one day because of the millions I was billing directly for the media owners, and I believed I could offer a superior service, he immediately offered to invest. He offered to run all the finances and operations; all I had to do was do "what I do best" and sell. How Naive. I was 28, still too much of the salesman and not enough of the businessman. Nevertheless, I accepted his offer and launched my first Advertising Agency. Rubix Advertising. "Advertising doesn't have to be complicated."
Talk to me through that journey and what you learnt from growing your first business?
The business launched on the 15th of April 2009 - it had a small office in a Regus office in Cardiff Bay. For the first few months, everything was fine. It was creating campaigns for many brands, and Matt was building this challenger startup agency that was getting noticed. Then, after a few months, his business partner asked for his investment back, totally out of the blue. It wasn't arranged this way. He was a solicitor and a lot older than Matt.
"It turned ugly between us and caused so much pressure and stress that I couldn't operate under pressure or his constant demands, and as a result of his pressure and my naivety, I paid him his money back, and the business went under."
Matt said he learned so many lessons. "Where do I start?
"I learned to never go into business with someone without proper due diligence, and not just on their professional accolades, but as individuals and personalities. I thought I would have a business partner, someone I could learn from. Instead, I let some in who were only in it for the money and only the money. He saw me as the cash cow.
"No matter your role within your business, if you're the owner or co-owner, always have a strong understanding of your finances, money in, money out, and a weekly/monthly P&L (management accounts). If in a partnership, always have two signatories.
"Find yourself a mentor. Someone who can teach you how to run a business. You need a solid understanding of cash flow, contractual law, process, procedures and infrastructure. The man who thinks he knows everything is a man who will learn nothing.
"Be incredibly frugal, and don't commit yourself to any expense that isn't crucial to the running of the business. If it is not crucial, sleep on it, and then again, ask yourself, do we need this? Likewise, if it is not going to improve the bottom line, the reality is you don't need it."
You have started up quite a few businesses, some have worked, and some haven't – how did you pick yourself up and start again?
After Matt lost Rubix Advertising, he was at rock bottom.
"My car was clamped outside, debt collectors at our door, no money coming in and debt up to my eyes. It was a scary, scary time. It did hit me hard. I started looking for a job in the media industry, but all the while, I had this voice in my head telling me to take the risk and launch again.
"It would've been a risk. I needed to start earning fast. I had two little boys that needed feeding and a house that needed paying. I was moments away from starting a new job, but this voice got louder and louder, telling me I could still do it. Reminding me that I hadn't lost my skills, and now more than anything, I had even more excellent skills, no longer just the salesman, more of the businessman. I launched S3 Advertising on the 30th of June 2011."
Why do you think it was important you did so, so quickly after this?
"If I were to have taken the media job, I would've been running away, not facing up to the lessons I had learned and berrying my head. I would've seen the loss of my agency as a failure and not a lesson. How often do we hear the words failed or failure? I decided to listen to my inner voice and flip the narrative from failed to lesson.
"And I am so glad I did. I got back on the horse. It wasn't easy, with lots of knockbacks and negativity to deal with, but fast forward eight years, and I employed over 100 people during my years at S3. I won the award at the Drum Independent Agency Awards for Advertising Agency of the year. (Looking at over 33,000 agencies in the UK!) I also won the Great British Creative Industries Entrepreneur of the year at the GBEA Awards in 2016, 2017 and 2018, had offices in Cardiff that won the second coolest office in the UK, offices in London, working with the UK fastest growing challenger brand and I grew the business from a 200K Turnover in year one to £10m in year eight.
"I sold my agency to the management team in 2019 and from the sale proceeds I have been able to provide for my family. If I had never gotten back up and launched again, I wouldn't be where I am now. Never Quit."
Where did the idea for MESOA come from and what led you into the male skincare industry?
Matt used to suffer from dry skin, and he knew or thought he needed a moisturiser to help combat the dry skin he had on his forehead, so he headed into town. Matt was unsure as to exactly what he needed or where he would get that. He said: "I remember walking past a shop window with a skeleton and a motorcycle in it. The skeleton wore a white doctor's coat, and the window said skincare products, so I headed in.
"I was greeted by this overpowering wall of seemingly similar white pots with tiny writing. I stood there thinking, what the heck do I need... Then I heard the pitter-patter of the sales assistant as she walked over and asked what I needed.
"She asked if I needed a night cream, a day cream, an oil eliminator, or an under-eye gel. I didn't know what I needed, so I picked up a product off the shelf, paid and got out of the shop as fast as possible. When I got back to the office, I looked in the bag and what I bought wasn't what I needed.
"This got me thinking about how many other guys are suffering from their appearances but possess little education on how to care for their individual skin types. If I couldn't ask for help when asked a question about my skin concerns, no wonder I couldn't ask for help about my mental wellbeing.
"I couldn't be alone. I knew I wasn't the only man to suffer from skin conditions and struggle with my mental health. I wanted to understand the market, the scope of the opportunity, and the potential of the male skincare industry.
"It was April 2018, and we were in the due diligence process of selling S3 Advertising. For over a decade, I have worked with DTC clients, from challenger brands to start-up brands, concept to execution, sales funnel building and direct acquisition.
"I knew what I needed to do; I used my skills and experience, formed a research team using my agency staff, as we would on any other client brief and got to work.
"After months of research, we found that as many as two in three men have little education in caring for the most significant organ, their skin and hair. What also was evident when researching our competition was that there was no one offering guidance or tutorials, or step-by-step guides, with information on what product was right for them and how to use them.
"We continued to ask questions to a panel of 10,000 plus men, which, when magnified, is a sample in the millions. 70% of the men we spoke to were using shower gel all over,five in ones! 74% of men had ever used an exfoliator, and 81% had their skin and hair products bought for them.
"A massive 60% of men have or are suffering mentally with no outlet or route to help.
"The way we look has a massive impact on how we feel. I knew there was a market and an opportunity, but I needed to develop products.
"From all the research, I knew I needed to create a routine that everyman could follow, three simple steps. Wash, Exfoliate, and Moisturise are three easy steps to better skin. Our Three and Easy: Face Routine was created. I sourced the best chemists in the UK, and developed products using essential oils, organically sourced, that produced amazing results."
After a year of formulating, Matt had my first product range. 
"I left S3 Advertising on the 24th of October and hard launched MESOA Skincare on the 25th of October.
"We survived the pandemic, which was so challenging. We developed 23 additional products over two ranges, redeveloped our website, introduced a subscription service, and now have over 20,000 customers.
"Our community pages are ranked in the top two percent of Shopify pages globally, reaching men in the thousands. It's a place for all men to learn and express themselves from everything cosmetic and mental health-related with no stigma attached."