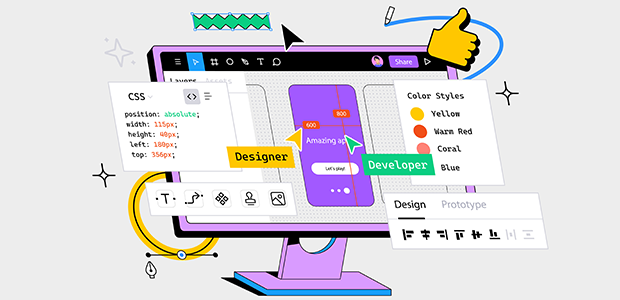 A Q&A with CEO of Penpot
Penpot is an open source design and prototyping platform for product teams. Startups got the chance to conduct a Q&A with CEO Pablo Ruiz-Múzquiz.
Introduce me to Penpot and your role at the company
In 2011, I co-founded a consultancy company called Kaleidos, a great hybrid between a technological partner for startups and an incubator for employees' ideas.
But I've always been interested in open-source technology, so during the pandemic, we decided to pivot our attention to building and launching an open-source product company. And that's when Penpot was born – an open-source, collaborative design and prototyping platform.
We're headquartered in Madrid, where I am CEO and co-founder and work with a talented, passionate team of around 30 people who have helped to spur the rapid growth of the company in a short amount of time. 
What's your mission for the company?
Our mission for Penpot is to bridge the gap between designers and developers.
When we started building it, we were really determined not to create something that would be 'just another tool' in the product design process. We wanted to create tools that designers will use and love but that will be equally embraced by their developer counterparts — an audience that other design tools, like Figma, have largely failed to engage.
To put this in perspective, when we surveyed 30,000 Penpot users last year we found the split between designers and developers was nearly identical: 35% identified as designers and 34% as developers. While that hasn't changed much in 2023, we're experiencing a growth in the number of product/project managers (3% to 5%) and founders/VPs (4% to 6%).
Added to this, it was incredibly important to us that Penpot was open-source and supported open standards, giving designers more direct control over their IP and assets. This has been crucial to the rapid growth of Penpot's community, which includes not just hundreds of thousands of users but thousands of contributors to the project.
What are some of the biggest milestones you're most proud of?
I'm incredibly proud of how far we have come in just a couple of years. We went from the alpha stage in February 2021 to general availability in February 2023, which is immensely fast growth. Penpot signups spiked by 5,600% to 100,000 users last September in the weeks after Adobe announced it would acquire Figma.  And since we launched general availability this February, our community has grown by 66% to 400,000 strong. More than 80,000 teams are now running on Penpot - including Mozilla, Accenture, ByteDance, IBM, Google, and Microsoft.
It has become obvious that one major driver for this acceleration relies on how Penpot is improving existing workflows between designers and developers without adding more tools into the mix. In 2022, we raised $8 million in Series A funding and earlier this year another $12 million, and we will use this in part to build out more tools that can be used both in the cloud and in self-hosted and local environments.
To that end, it was exciting to launch a whole suite of new collaboration tools at our inaugural Penpot Fest in June. We're giving designers and developers tools like Flex Layout that they've wanted for years, and entirely new features like Grid Layout that they might not have imagined were even possible to have in a design system. All our announcements received a lot of great attention from our community, and it was amazing to witness the "gathering of the tribes" – bringing everyone together at the event.
Why do you believe open-source tech is so important in your sector?
Designers and developers have traditionally worked in silos and often must move between tools to achieve what they need to in projects. We wanted to give them complete freedom. No design and prototyping tool that truly aims to engage with developers can do so without being open source and allowing for any deployment strategy (SaaS, self-host, desktop). What's even better, designers can also enjoy our open standards stance on top of open source, so that for the first time, they can truly own their work and enjoy a future-proof IP for themselves or their organisations.
Our success would not have been possible without the 400,000 and growing designers and developers (and the growing ranks of product managers and founders) who have joined our community and contributed with code, design and templates to making Penpot a powerful tool.
How do you think AI will impact the design/developer world?
We strongly believe that AI is going to hugely change the design/developer process but there's still a lot of exploration needed – the current models we have are not equipped to understand highly structured data. Creating AI that can support the underlying workflows for building and deploying designs - not just generating fun new images from simple prompts - is a considerable challenge that will be difficult to solve.
That's why we just announced our five AI open challenges with the broader open-source design community at Penpot Fest. Fuelled by our company-wide AI hackathon a few months ago in April and with the help of AI/ML company Neurons Lab, we devised these challenges as a way to frame very concrete 'what ifs' that make use of existing data.
We also announced our partnership with the incredible Tokens Studio team, who share our vision for a harmonious ecosystem that connects design and software development. With them, we are going to be developing an AI engine for design systems that will push the boundaries in design-code workflows. So, watch this space!