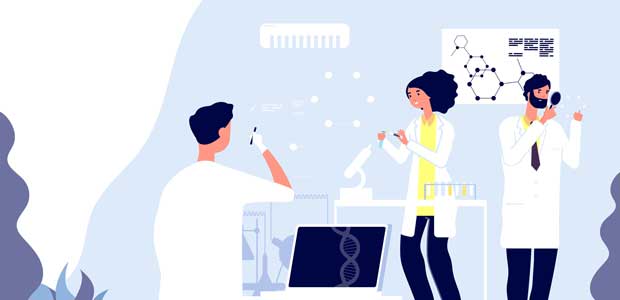 £1m funding for startup accelerating drug discovery with AI and quantum
Kuano.ai, a software platform for rapid, cost effective quantum modelling of enzymes, has raised £1m in seed funding from ACF Investors, o2h Ventures and a syndicate of Cambridge-based angel investors. The funding will accelerate the company's growth as it moves further towards commercialisation.
Kuano combines quantum physics, Artificial Intelligence (AI) and medicinal chemistry in a unique approach to transforming the discovery of therapeutics focused on enzyme inhibition.
Enzymes represent the largest class of drug targets, with over $40bn of pharmaceutical sales attributable to small molecule inhibitors of enzymes. The market is seeing considerable demand for enzyme inhibitors, which can provide improved drug potency, selectivity or reduced susceptibility to resistance.
Kuano is meeting this need through its novel, proprietary software platform for rapid, cost effective quantum modelling of enzymes. Kuano uses these models in combination with AI and chemistry approaches to design optimised inhibitors with improved properties for use in medicines.
Kuano is using its platform to advance its own pipeline of novel therapeutics targeting unmet medical needs, as well as in collaborative programs with leading academic and commercial partners. This includes a recent research collaboration with Alzheimer's Research UK University College London Drug Discovery Institute to identify inhibitors for treating degenerative neurological disorders.
The £1m in funding will go towards expanding the technology team and the further development of Kuano's platform and asset development, including its own range of novel therapeutics. It will also be used to create a data bank for use in its work with academic and commercial partners.
Dr. Vid Stojevic, Co-Founder CEO of Kuano said: "With this investment, our investors have affirmed the strength of our technology and its commercial potential. Building upon years of research, this funding will drive the development of our platform, facilitate the rollout of our own range of therapeutics and expand our team.
"As our recent collaboration with the UCL Drug Discovery Institute has shown, we are beginning to have a potent effect on the pharmaceutical industry and I am looking forward to the many ways in which we can make a decisive contribution to medicine worldwide."
Tim Mills, Managing Partner of ACF Investors said: "Kuano is a great exemplar of the strength of deeptech in the UK. Harnessing the step change in capability delivered by quantum analysis techniques and advanced machine learning and pushing the boundary of medicinal chemistry, Kuano's platform has the potential to transform the discovery of enzyme inhibitors and create significantly more effective medicines.
"We are delighted to be supporting Vid and the highly experienced Kuano team on their growth journey. With a targeted range of therapeutics and a platform with enormous commercial potential, Kuano is set to make a major impact in the delivery of future therapeutics."
Sunil Shah, CEO at o2h Ventures said: "We are very pleased to back Kuano in this venture.  Being able to more accurately understand and predict subtle changes around enzyme's active sites could unlock faster opportunities to push inhibitors for difficult drug targets through discovery and development. 
"Vid and Dave using their knowledge of quantum physics and Parminder with her previous big pharma and biotech drug discovery experience make a great team to both develop the platform and advance the drug assets from this.  I am very much looking forward to joining the board and supporting this venture."