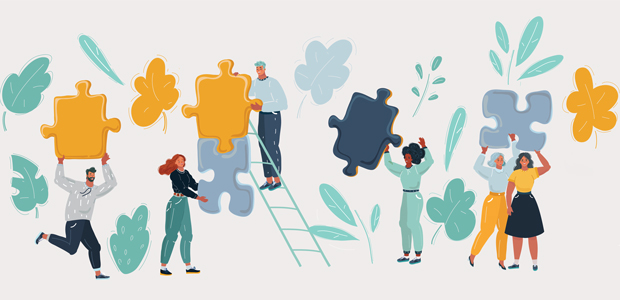 Providing startups with 360° support at minimal risk
GrowthStep, a one-stop partnership service for startups, has launched in the UK to provide startups in today's challenging economy with the support they need to focus on carving out market potential and growing their business with often limited resources and budgets. 
Founded by startup industry veterans, Jay Singh, Connor Tagg and Danny Daley, GrowthStep partners with startups to act as a true extension to their business. GrowthStep's elastic team of experts bring a truly flexible approach to today's current work environment, lending support to startup partners in those areas needed most, which can be a crucial component when it comes to launching and sustaining a viable business model.
Having worked in numerous startups for more than a combined decade, the three GrowthStep founders saw a gap in the market where startup businesses often had the ideas and products for success, but lacked the resources, budget and expertise across specific areas – from marketing to product strategy – to grow their business in a successful and meaningful way. 
"We quickly recognised the gaps where we needed support and expertise to really set up our business for success," said Marco Ross, CEO of Raindrop, an early-stage fintech in London which will seek to simplify retirement savings for the self-employed. "GrowthStep has been a valuable partner to our business from day one, going above and beyond to drive our design, brand and UI/UX strategy. They understand the challenges and the risks we face every day because they too are living and breathing the challenges of a start-up themselves."
"We chose to work with GrowthStep initially because the founders had a great track record in growing startups," said Tim Porter, CEO & Founder of Kare Knowledgeware. "GrowthStep has helped us plan and execute our digital strategy and process to increase the number of inbound leads we receive. They work with us as if they were part of the team and we would certainly recommend them to companies looking to grow."
GrowthStep has also secured several key partnerships which will help empower and better enable its startup partners. Part of the new company's offering is also to help its partners interview and hire full and permanent employees for their growing teams when the time is right. To enable its partners with the best access to talent, GrowthStep partners with La Fosse Associates. La Fosse partners with tech startups to offer executive search and recruitment services from board level down, and are uniquely positioned to support startups from seed to exit stage.  
In addition, GrowthStep has also recently partnered with Next Level Business, a growth-focused accountancy and advisory service that is disrupting the world of finance. Next Level Business shares a similar vision to GrowthStep in helping to arm companies with the knowledge and tools they need to drive business growth, and can offer chartered accountancy support to GrowthStep's startup partners. GrowthStep is also a HubSpot for Startups partner, which gives its partners access to a suite of software, resources and support, including the ability to collaborate with a global network of accelerators, incubators, and VC firms. 
"This is really a very unique, and exciting time to be launching a business, particularly given the huge disruption and change we are all experiencing," said Jay Singh, MD and co-founder of GrowthStep. "At GrowthStep, we feel really passionate that now is the right time to step up and enable the UK's growing startup community with the support they need in a way that aligns with their business and go to market strategy. We are a startup founded by a team with pure entrepreneurial blood – we act as an 'out-of-house' team to our partners to allow them to focus on what matters while we take care of the execution."  
GrowthStep enters the UK market backed by a strong team of 10 with expertise across marketing and automation, PR and branding, UX/UI design, content development, digital and social media management, product strategy, engineering and devops. Focused on results and transparency, the new company takes a customer-centric approach, validating decisions in live environments to help its partners create meaningful first impressions, differentiate from competition, develop trusted customer relationships, and execute powerful business strategies.