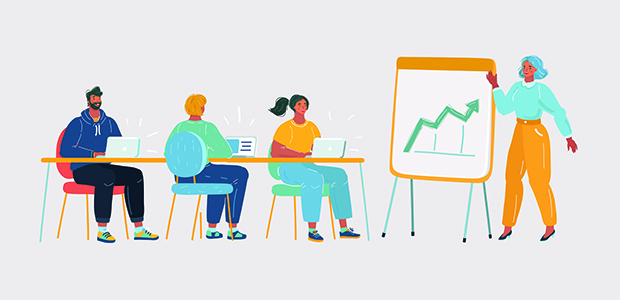 Providing the fix to a broken system
In the UK educational technology (or edtech), is currently significantly under-funded, compared to a market like the US. Despite this, London-based company The Profs is shining through and making great strides when it comes to enhancing the offering of one-to-one education. Startups Magazine caught up with Founder Richard Evans.
Despite emerging from the London School of Economics (LSE) with a first-class degree in economics, Evans felt a little disenchanted and disengaged with the lack of personalised learning during his time as a student – a view shared by many of his peers.
The distribution of education tends to gravitate towards an average level, as does most classroom, lecture-based teaching. Therefore, Evans originally began to provide one-to-one tutoring services to help individual students and friends – whether they were top students unable to achieve their potential, or weaker students who felt they were being left behind. By late 2014 the number of students on his books had expanded so he took the decision to formalise the process and reach out to other tutors.
This was certainly Evans' Eureka moment and was eye-opening when he discovered how many students were looking for tuition. He added: "The industry was at a real turning point - university tuition fees had trebled, while class sizes were on the rise. So, suddenly demand went through the roof. What we're really trying to do is reform what we believe to be a broken lecture-based model of education."
Evans went on to explain that the lecture-based model of teaching was scalable 100 years ago when it was cheaper to put a large number of people into a classroom. With the advent of technology and online however, it's now much more scalable to help people on an individual basis – so The Profs are aiming to show higher education that one-to-one education can achieve better outcomes and it can be done at a fraction of the cost.
The company are now offering tuition in around 1,500 subjects and have worked with around 10,000 students over the last five years.
Teaching problems
It was clear to The Profs very early on that there is a clear need for one-to-one relationships along the teaching journey. And as Evans explained, the assumption is that a tutor is just about education and the value of education is purely based around academic content. In fact, many students place greater value around mentoring and coaching.
He commented: "Academic content is of course helpful and offers a structure, but if a student is chasing a fantastic career in banking, journalism or PR for example, having someone who's already been through it and who can tell them the pitfalls, the mistakes to avoid, and identify the path of least resistance, certainly resonates with students."
Key to The Profs' business model is the quality of education provided. The company has experienced meteoric growth - 100% year-on-year, and in the early days it was 100% month-on-month - so Evans explained that there was a temptation to just accept anyone who was interested in being a tutor, in order to meet demand.
"However, we actually allowed our growth to slow down in the beginning so that we could make sure that every person on our books could be personally interviewed by a founder of the company so that the quality of our network remained high," he added. "Throughout our high-growth period our quality scores measured by Trustpilot continued to increase – from 9.5 when we started to 9.8 now. That was a real challenge, but I said from day one that no matter how much we grow, our quality is always the key. If we have realistic ambitions to make big changes and fix the current lecture-based system, then we need to make sure were providing the quality to do so."
Offering to students
The Profs' core business (50%) is providing tutoring to university students, whether that be under- or post-graduate. The other 50%, is split between school level and professional education – supporting people undergoing professional qualifications.
Evans explained that there is a huge demand for adult education, which makes even more sense when it's one-to-one, because if adults are in full-time employment, they may not have the time for a full-time inflexible classroom-based higher education course.
Evans continued: "The great thing about being six years old as a company is that we've finally got some students that we picked up at school level, some with very low grades, who are now going on to become doctors and lawyers, due to the help that The Profs have been able to offer them. So, we've been with them every step of the way."
The Profs are based in London but with the advent of online tutoring, have actually helped students in over 50 countries. "The online element is so important," said Evans. "If you are a university student in Durham studying electrical engineering, there aren't many electrical engineering tutors in the whole of the UK, let alone Durham (outside of the university), so you need access to a wider pool of educators."
The Profs have also co-created an free online white board called BitPaper which is used all around the world, and greatly mitigates travel problems for tutors, meaning they ultimately receive a greater percentage of their fee, and widens the net for students looking for a tutor.
Breaking the elitist myth
A challenge for The Profs has been to sell the most complex form of higher education to, what is traditionally, one of the poorer sectors of society i.e. students. The Profs is a marketplace, first and foremost, so tutors set the rate that they want, and students set the rates they can afford, so every placement involves some form of negotiation to get the price that's right for everyone.
Private education has traditionally been seen as very elitist, as it's paid for education. "That's a conversation that we don't want to shy away from," Evans continued. "Education is the silver bullet – it's the key to all social change. The question is who pays for it? And how do you disseminate it? We're doing it via one-to-one tuition."
Evans added that one-to-one tuition is not just about helping the more affluent families, which is how it's been perceived in the media, and a lot of research has been done in this area. The new CEO of the educational charity, Sutton Trust, has recommended that tutoring is a good use of government pupil premium, which has been huge for the industry, as it highlights that tutoring could drive positive social change if the Government help fund it.
"As we're seeing more charities, governments and initiatives funding tutoring, in the same way that they fund schools, we're seeing a more positive impact. So, I think the biggest change in tutoring recently is from a more social perspective and that's very exciting, and we're proud to be involved, having successfully launched our first widening participation pilot at a Cambridge Colege."
Expansion
The Profs won the Daily Telegraph's most innovative exporter of the year in 2018, during which the company moved to an international operation without ever leaving its London headquarters. "Everything is run from our central office and you can speak to a member of our 15-strong team, 24/7. We do have goals and aspirations to grow internationally but first we really want to lock down the UK market and make the changes needed in education nationally," Evans added.
Evans has targeted 2020 as a landmark year – the company is on track to at least double the number of tutors and students they work with, and are looking to be the dominant player in the tutoring space which is a highly competitive market.
The Profs has not received any funding so Evans stressed that the only way to survive in the long-run is to focus on quality, and the USP of The Profs is being the best, adding: "This is evidenced by industry awards, our partnerships and certainly by our reviews. We've been the highest rated tutoring company on Trustpilot for the last four years.
"That quality comes down to the educator – having access to academics, ex-industry professionals, managing directors of financial institutions etc – that's the calibre of individual we're talking about. And of course, our niche is that we specialise in higher and adult education, which is difficult for competitors to get into because the number of people you need that meet that quality standard in your network is difficult to achieve. There's a lot of people out there who could teach maths and English GCSE for example, but far less could teach advanced law or electronics engineering."
A steady hand at the tiller
Evans was named in the Forbes 2019 30 under 30 list so has given a number of talks around entrepreneurship and growing fledgling businesses. He commented: "For anyone looking to start their own business, there are only three questions that you need to ask – does anyone care? Does anyone care enough to pay? Do enough people care enough to pay?"
Evans added that these are the only questions that matter, and many companies lose sight of that. Ninety-seven percent of startups don't make it past the first three years as they miss those fundamental three steps. As The Profs has been unfunded, the company was forced to focus on this and has been the key to establishing a successful business.
"I've made many missteps along our journey," Evans concluded, "that's all part of the process. My advice to entrepreneurs is not to confuse a misstep with a mistake. A misstep is when you get something wrong; a mistake is when you repeat it.
"I've made many decisions that weren't necessarily optimal, but on only a few occasions have I made the same misstep twice – if you knowingly repeat the same misstep again and again, that is a mistake and a problem. But don't be afraid to make missteps because you learn from them - they have taught me so much and have helped me make the right decisions further down the line."