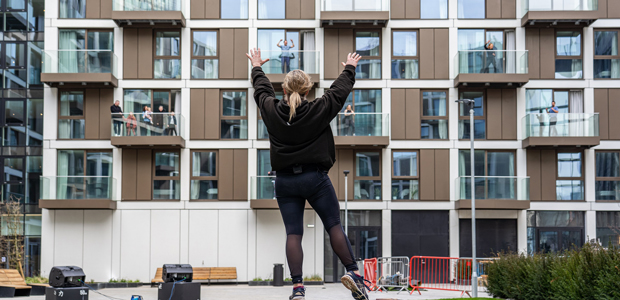 Proptech startup grows client list by 120% in the last 9 months
Spike Global, a UK-based PropTech company, has grown it's client list by an impressive 120% in the last 9 months, despite market difficulties. Alongside new clients, Spike is also expanding into new developments from existing clients including Wardian London, EcoWorld Ballymore's residential led development in Canary Wharf.
The software company that provides a resident portal app, Spike Living, which is white labelled and tailored for each client, creates an easy to use, customer friendly communication tool allowing residents to interact with their neighbours and the management team whilst connecting them to amenities and services.
Spike Living creates communities whilst improving operational efficiencies. Although popular before the COVID-19 crisis, the need for such software has become even more apparent over the last six months.
During March and April, resident facing apps saw a sevenfold increase in volume of posts, shares and interactions across community outreach, social forums, clubs and events. Communities were able to continue interacting and developments were able to continue functioning throughout lockdown, due to the software. This trend of increased engagement has continued post-lock. It has become clear that community is going to play a big part moving forward.
Jeremy Heath-Smith, Founder and CEO of Spike Global commented: "Lockdown has had profound impacts on the property sector. Not only did it have to respond to changing government policy, employees working from home and restricted movement, it had to find a way to function and communicate where traditional means had been removed. Delivering adaptive, responsive solutions that help our clients through these ever-changing times is our priority and our technology has proved invaluable. We're delighted to welcome our new clients and help them through these unprecedented times and beyond."
Spike's technology brings together resident engagement and building management, designed with both the end-user and the management team in mind. The software is intuitive, simple to use, and engaging.
James Sidlow, Senior Development Manager at Renaker Build commented: "In selecting our app partner we reviewed various proposals in an attempt to find a partner that would provide the day one features we required but also a partner that would be flexible enough to respond to specific changes and additions to the offer. We have been pleased with the way that Spike has been able to achieve this. The offer of an app to residents at Deansgate Square was really important to us.
"We needed the app to provide efficient solutions to back of house functions such as parcel collection and amenity bookings but also help forge a community whilst allowing us to promote tailored offers and services from external suppliers to our residents. We have been really pleased to date, we continue look for ways to evolve the offer with Spike and are looking forward to rolling the offer out across our wider portfolio."
Spike also offers a tenancy management software solution plus their recently launched workplace portal.