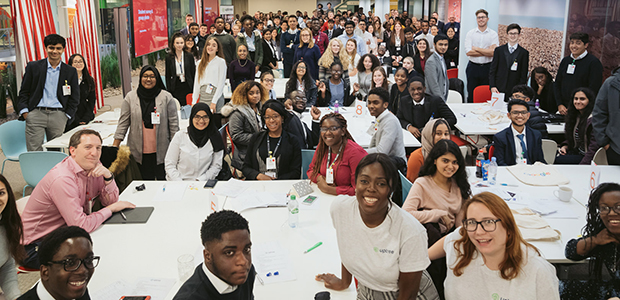 A professional network for young people
Uptree has not only been designed as a professional careers platform and network to help young people get started in the world of work, find work experience, apprenticeships etc, but also to democratise the entire careers education process. The work Uptree have been doing also won Tamsin Dewhurst the Founder of the Year award at our very own Hustle Awards 2020. We caught up with her to find out more.
As a former teacher of geography, Tamsin has seen first-hand the imbalance of access to careers education and work experience opportunities, especially for young people from low income communities. "This was a massive issue when I was teaching," she said. "One part of the problem is how unequal access to information is. The second part of the problem is around connections and who people know - the better connected you are, the more access you will have to work experience opportunities etc. I believe in a level playing field where every young person has access to the opportunities to progress their career, based on their talent and potential, not on their connection and background.
"Our mission is to democratise education, be the leading careers education and work experience platform, and champion diversity, inclusion and equality of opportunity for all. And through our platform, we will enable every young person to showcase their potential and access the world of work before they leave school."
Tamsin founded Uptree five years ago to address this problem at scale. Fast-forward to 2021, the platform now partners with secondary schools all over the UK and can name the likes of JPMorgan, IBM, Google and PwC as its partners who are now able to inspire, attract and hire a workforce that is more representative of the communities in which they operate.
She added: "Last year, we were delighted to win Startups Magazine's Founder of the Year award. It was a lovely recognition for our team, and all the hard work that they've put in. Recently, we were also named as runner-up in the WorldSkills Network of the Year award, at the WorldSkills Diversity Inclusion Heroes Awards."
Three-fold benefits
Students sign up to Uptree while they are at school. They create a profile to showcase their skills and create a record of their achievements. Through the platform they also complete careers courses, view relevant industry content, learn about careers, and register to attend unique networking events and opportunities with Uptree's partner corporate companies.
The focus is on offering real opportunities for young people to build their confidence through online learning and skills, building their professional network through events and work experience. Uptree posts partner job roles on its website for early careers and has a regular newsletter sent out to students every week detailing available opportunities.
This all amounts to significant benefits for all three parties involved. For students they receive CV and job application support, encouragement and help in taking the first steps into professional life – they get connected with employers, learn about different career pathways, acquire different employability skills in industries that they may not have heard of before, and are generally inspired.
Uptree's work experience days and networking events help students meet potential employers face-to-face and discover what it is really like to work somewhere (these are all hosted online at the moment due to COVID-19).
The companies themselves are granted access to the best young and diverse talent across the UK. Uptree is supported with outreach programmes in hundreds of schools across the UK, enabling employers to reach the untapped potential that currently exists and reach thousands of students. Running an effective outreach programme in-house requires specialist expertise and extensive resources, and so Uptree essentially becomes an extension of a company's outreach and recruitment team.
The company has a UK-wide network of motivated, enthusiastic students, many from low-income or BAME backgrounds, and as the platform works directly with schools, it means specific groups can be targeted more effectively.
Companies are able to showcase their employer brand to a much wider network of students and make their talent pipelines more inclusive as a result. Uptree also helps with the delivery of unique events, work experience programmes and in creating those tangible next steps for in a student's career.
The schools themselves, are able to raise awareness around different careers, and inspire their students to aim high with global companies. "I think the strong employer brands that we work with has really helped create a comprehensive careers education programme, giving students access to unique opportunities," added Tamsin.
Today's school leavers face a plethora of choices, but not every school has the resources to help each student find the route to their dream career. Many schools today are stretched in terms of resources and so Uptree offers to do the heavy lifting when it comes to careers guidance. The company is funded by its industry partners and so offers a free careers programme to meet students' needs.
Funding and feedback
Uptree completed a small Angel Seed Enterprise Investment Scheme (SEIS) in December 2017, and then a larger seed round in January 2019. "We're already at a point where we're breaking even," Tamsin continued, "so we're currently deciding which direction to go in. We want to grow the team even more and to improve the product and marketing which could lead us to raising more money. However, at the moment, we're doing really well with organic growth and I want to focus on ensuring that we're delivering an excellent service to all of our partners, students and schools."
Uptree's target ages are students, aged 16-24, but the core element is 16-19. There is an alumni network currently accessing Uptree's content and Tamsin's aim is to extend the services even further to university students. She continued: "We just started developing some resources and content for 14-16 year olds, so our goal is really to support students from 14 to 24 to cover the whole careers education process when students are making key decisions about their future career.
"It's really rewarding to see students who have benefited from our platform, and many of them are now working at our partner companies, so we've got a really incredible group of engaged ambassadors and alumni that are praising what we do which is really lovely."
Uptree has grown quite considerably over the last year, despite COVID, receiving national newspaper recognition, and with new hires in the pipeline the team will soon number 15 individuals passionate about young people and levelling the playing field of education. "It's really important everyone aligns with our values," Tamsin added. "That's been really strong throughout our journey and has really helped us to build a strong culture and purpose."
Competition and USP
You obviously don't have to do too much digging to find an online careers platform, and so Uptree is certainly not without its competition. However, where Tamsin believes the company really stands alone is the diversity and inclusion element of the business, and in helping its clients build a workforce that is more representative of the communities in which they operate. Around 85% of Uptree's London-based students are from ethnic minority backgrounds, and that figure is around 75% across the rest of the UK.
"It's really attractive for our partners to be able to reach that different audience," Tamsin added. "One of our core values is 'young people first' and employer brands really want to be associated with that ethos - together we ensure we're doing the best we can to help them achieve their goals."
Challenges
For much of Uptree's infancy, Tamsin was ploughing a lone furrow – which is tough for any entrepreneur, and the reason why many seek a co-founder sooner rather than later. Tamsin added that in those early days, when she was receiving rejection from potential investors, it was difficult to have that self-belief that she was going to succeed and is something she admitted having to learn over time – and is still learning now.
"I guess I overcame that with sheer persistence to keep going," she added. "I think overcoming those rejections have made me stronger overall – they have made me more resilient, for which I'm really grateful.
"There's definitely been mistakes that I've made along the way, but each mistake has contributed to where we are today. Those really challenging times have been a massive learning experience. You have to take risks in order to grow, and inevitably some of those are going to be the wrong decisions. However, we learned from that and it's led us to where we are now."
As so much of Uptree's work is focused around delivering in person events, the COVID-19 pandemic has obviously presented its own challenges, all while Tamsin was juggling her leading the Uptree team with being a working mother.
"My son hasn't been able to go to nursery, so he has taken priority. This has meant leaning more on the team and accelerating my hiring plan to bring in the people that we need to support me in the role quicker and free up my time."
The business has transitioned the networking and face-to-face element of the business online using Zoom, and from a business perspective, has actually worked in Uptree's favour. The pandemic has rapidly accelerated online learning as students and schools are now far more open to it than they ever were before, which has helped Uptree accelerate the digital side of the business.
Looking further down the line, Tamsin highlighted that she is definitely in it for the long haul, concluding: "Uptree is a long-term journey of constant improvement rather than a short-term unicorn type startup. Thinking in terms of slowly, but constantly, building on something and improving over time, whilst trying to enjoy it and create an amazing team environment, is more important to me now."