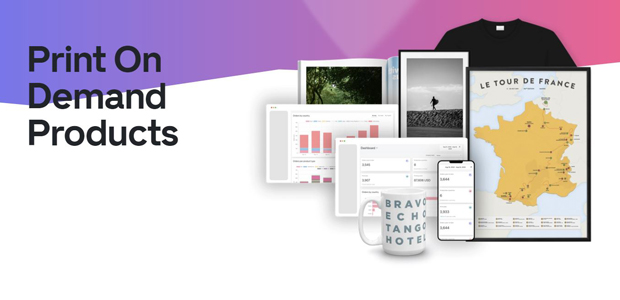 Print-on-demand platform creates local solutions for international e-commerce
Gelato, the Norway-born print-on-demand solution which allows SMEs, creators, and a new generation of e-commerce entrepreneurs to localise the production and delivery of customised products to customers based in any location in the world. 
With the global e-commerce market expected to top $4.2tn in 2020 and reach more than $6.5tn by 2023 according to Shopify's Future of e-commerce Report, Gelato has become an essential partner to sellers of all shapes and sizes that wish to build and engage with an international customer base. In summer 2020, Gelato made its API available - for standalone use or integration within Etsy and Shopify stores - in order to support the pandemic-linked acceleration in e-commerce entrepreneurialism (according to a Growth Intelligence report, 85,000 UK businesses launched online stores or joined online marketplaces between March and June 2020) and to ensure efficient order fulfilment on design platforms including Canva and doodlespot.
Already adopted by e-commerce store owners across every continent, with its fastest growth in the US, UK, Germany, Australia, and Asia, Gelato has established itself as a market leader by providing an end-to-end solution for producing and delivering customised products: activating the first global network of on-demand print services (previously only available to large corporate clients), as well as logistics companies, based in the locality of the recipients of printed goods. The results are delivery and trading processes which are more eco-friendly, efficient, and cost-effective.
Prior to Gelato's foundation in 2007, the production and delivery of customised goods - whether artworks, posters or apparel - proved inefficient, costly, and eco-unfriendly: typically relying upon items being produced, packaged, and posted from the location of their creator (or, alternatively, necessitating engagement with untested and unknown foreign suppliers). With more than 1,300 companies now enabling customers to build individualised products across 17 industries, according to The Configurator Database Project, the impact of Gelato's solution cannot be understated.
Providing new e-commerce solutions and opportunities during COVID-19
The impact of COVID-19 on the global economic climate, as well as changes to working practices, has enabled Gelato's API service to benefit and grow 100% quarter on quarter this year. From a procedural standpoint, the platform has enabled eco-conscious companies to localise production and, in doing so, reduce carbon emissions, achieve faster delivery, as well as support local businesses. Gelato has also played a central role in facilitating new, decentralised marketing practices and the rise in home-based ventures born from the rapid rise in remote working.
The groundwork for Gelato's growth and success was laid down by OptimalPrint, which was established by Gelato's CEO and Founder, Henrik Müller-Hansen in 2007. As a Europe-wide seller of personalised greeting cards and photobooks, OptimalPrint grew to require a network of trusted international printers: the network created to support it would become Gelato. Today, OptimalPrint continues to be a consumer brand powered by Gelato.
Gelato's latest API solution was already in the making, powered by 14 years of experience and global expansion. However, its launch in 2020 has been accelerated and fueled by the e-commerce boom during the current COVID pandemic. The software enables this new generation of entrepreneurs and e-commerce store owners to sell, produce, and deliver high quality customised products anywhere in the world, without the hassle of managing orders, inventory or international shipping, or needing to invest in expensive machinery. By removing these barriers to entry, e-commerce sellers are able to focus on choosing the goods from Gelato's product catalogue they wish to sell, apply their own designs, and decide how they are displayed on their online stores to optimise the customer experience. When a customer makes a purchase,  the order is automatically transferred to Gelato for fulfilment. The platform also gives control to the end-customer, who can browse a sellers' online shop and customise and purchase a unique and personal product. Because products are placed on demand, sellers only produce what they sell, reducing both waste and cost.
Henrik Müller-Hansen, Gelato CEO and Founder, commented: "Through the power of local, our mission has always been to open global markets to creators and companies regardless of their location or size. Through our current network of more than 100 production facilities spanning 30 countries, our customers can conduct their business in a smarter, faster and greener way by minimising distribution costs, delivery times, and CO2 emissions. This makes for a global e-commerce industry that's better for the planet, people, and local businesses."
Empowering Extraordinary Entrepreneurs In The 'New Normal' Era
Gelato's simple solution that enables small startups to scale up, and global businesses to maintain productivity, has been a lifeline to thousands of e-commerce companies.
Local production for global companies across a resilient network of more than 100 print partners in 30 different countries makes Gelato less vulnerable to border disruptions and delays which can severely impact scaling e-commerce businesses. Gelato allows global and local businesses to fulfill the needs of customers with:
Fast, reliable delivery

- Local production across a network of more than 100 print partners around the world enables Gelato to deliver products anywhere in the world within an average of 72 hours.

End-to-end fulfilment

- Enables businesses and individuals to focus on selling products without getting bogged down with logistics, billing, and shipping. Gelato manages every step of the order from print production and order management to customs and shipment.

A platform designed for entrepreneurs, scaled for enterprises

- Businesses and individuals can connect an e-commerce store, such as Etsy or Shopify, to Gelato's API directly or from an e-commerce platform, enabling them to directly sell their products to customers worldwide.

A choice of thousands of products

- The ability to add designs to a rapidly expanding range of customised products like t-shirts, hoodies, wall art, frames, mugs and photobooks. This rapid product expansion is enabled by Gelato's machine agnostic network, which can be connected to HP Indigo, Canon, Ricoh, Kodak, and Konica Minolta machines amongst others.
A solution which is good for the planet - Because the products are made locally and on demand, shipping distances, carbon emissions, and waste are reduced, by printing only what customers require. Gelato continuously works to ensure a sustainable, responsible, and fair production. This is the case for Gelato customer, Mapiful which was able to reduce carbon emissions by 67%.