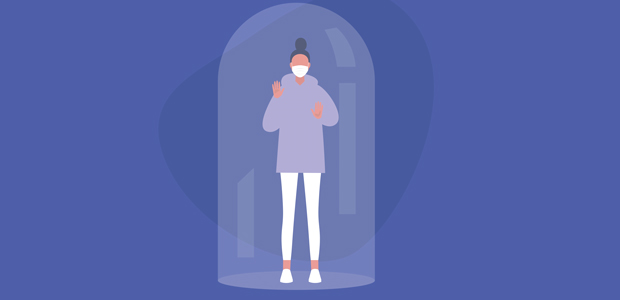 Pox by proxy
Over the last month I have been developing an article about how mental health can be affected by social media, and what this means for you and your start-up. However, there's something on my mind, and I suppose I must bite the bullet and talk about Coronavirus.
Considering that it currently dominates the world's media (and quite rightly so, even though we probably don't need the panic-inducing articles and reports), I can only apologise that it's once again appearing in your newsfeed. Nevertheless, let's press on and see what exactly this might mean for start-ups.
At the time of writing I am on the cusp of sending the first issue of MAN_AGE to print, and I am overwhelmingly happy that year and a half of hard work is paying off. This new chapter symbolises growth, resistance and persistence – things that are at the core of entrepreneurship. As I begin distributing copies across the UK, and hard work gives way to more hard work, I surely aim to keep momentum, more than ever. Whatever could get in my way?
Enter a global pandemic.
I strangely became concerned about having the copies delivered from the printers. What if they come with a free sample of the Coronavirus? Madness, I know, but the thought certainly arose. I figure that the abject panic seen on the news, displayed best by the Toilet Roll Royal Rumble of 2020, had somehow worked its way into my psyche.
There's being careful, and there's being paranoid. The seemingly absurd reality of a package delivered containing the virus had been, for a brief moment, entertained. The real core of my worry, I suppose, is that it's out of my control. Unless, that is, I postpone ordering them.
A more practical concern is that I am currently delivering workshops to a school, working with young lads to understand how to traverse mental health's tricky landscape. Activities have now been postponed, otherwise I couldn't later visit an immunocompromised family member, who needs shopping and company. Sure, I could have washed my hands and tapped elbows to say hello, but the government's current "herd immunity" tactic – a term Health Secretary Matt Hancock has since tried to distance them from – means that journeying and group workshops with teenagers will not be a good idea, right now. The school themselves don't know day to day if they'll be opening.
Making or braking: When your start-up slows down
The fact is that we're all going to be affected by it, one way or another, and so will your startup.
Perhaps you're a tech start-up, in which case working remotely is something you already do, and meetings can be done via Skype or Google Hangouts, and having one eye on Netflix will be like a "working holiday". Other companies may learn that a vast majority of modern work can be achieved remotely, and that staff can be trusted to complete work on time, unsupervised. I'll be holding my breath over the coming months, but not because of that.
Maybe, however, your sell a product or service, in which case you're going to need to mitigate loss. After all, if producers of Corona beer AB InBev can lose an estimated £132m due to the unfortunate namesake, because people will continue to be people, then the upcoming weeks of self-isolation will also have a tremendous effect on you and other small businesses. I've already seen it happening.
I know someone who has had to understandably postpone months' worth of workshops across Europe. A local meals on wheels service for the elderly are struggling to source enough ingredients due to panic buying, and are concerned about contact with their frail customer base. Another inspirational entrepreneur I know, who delivers outreach programs to the elderly, is also concerned about contact – and will suffer income loss as a result. Even my barber has noticed that fewer people are around for haircuts…
Mental health issues and toilet tissues
Business woes momentarily aside, how can we get through the upcoming furore with health and happiness at the fore? You and your business are intertwined, so it pays to look after yourself.
Limit your exposure to the news: Seems like a strange one but set a time each day to catch up on developments for just one hour, and only through a trusted source such as the NHS. Overexposure to speculative, panicked and unsourced information can have an impact creating anxiety and depression. Be aware of what doesn't help and rabbit holes (figuratively speaking).
Limit your social media: It seems obvious that watching people soapbox, argue and shout their perspectives loudest might not be the best thing to do, but… we are human, and it's easy to get caught up. Use social media to contact friends and family, and to socialise oneon-one. The newsfeed and hashtags are more often places of misinformation and panic.
Stay clean: Again, an obvious one, but not shaking hands and regularly washing your own (or using hand sanitiser) is important. The worst places will be public transport, so avoid where possible. Staying clean should be standard, but we know not everyone does it properly. Don't panic, don't be paranoid, but do be responsible for yourself.
Stay connected: You will likely be alone for some of the coming months, and perhaps for stretches at a time. Make sure you reach out to people, daily. And don't just message! A short call every evening to someone personal will make a world of difference for everyone involved. Include talk about something other than the virus.
Avoid burnout: I spoke extensively on burnout in my last article, but it's worth reiterating here. You'll want to do the best your startup, and do what you can to mitigate loss or a slowing down of progress – you may feel a lot is out of your control – but don't overwork yourself, as this will compromise your immune system. Be kind to yourself, and "work smart not hard".
The focus on your mental health will be paramount as we all self-isolate. Do spend significant time away from screens, eat healthy, drink plenty water and exercise where and when you can (the NHS lists home exercises here). Don't let the four walls around you become a prison and keep regular online contact with friends and family to check on another. And remember, you can go outside provided you remain two metres away from anyone – there's the garden, the park or the local woods for a healthy dose of nature. It reads obvious, but it's too easy to forget.
Self isolate, but don't self sabotage
These next few weeks may feel like a jolly holiday to those guaranteed income by full-time contracts, and they will lap up the opportunity to finally read that book or binge-watch that show. If you have a business, however, it becomes a terrifying time that might make or break your activities.
Keep calm, keep working (maybe tackle those receipts you haven't had time to do), and remember that modern technology allows you to carry out a lot of activities online. Get speculative. Secure future business. Apply for start-up loans and grants from companies such as Uncapped or UnLtd. Be honest with yourself, because there will be something productive that needs doing.
Also, be sensible. Expect a disruption to cash flow, and approach sales forecasts with realistic expectations. Marketing can be word of mouth, through social media and other creative outlets, to absolutely no cost. Others will be also be in the same boat, so communicate with clients, suppliers and partners and find out how you can work together to mitigate loss and reduce disruption.
I would love to be able to offer specific advice for you, but unfortunately the nature of start-up companies means they're essentially a collection of unique approaches to various problems, offering the market innovative and targeted solutions. That means you have the skills to get through this. However, it is important to know that there may be support from your government.
Budget relief
For those in the UK, it has been announced on gov.uk (published 11th March) regarding "businesses with fewer than 250 employees, [that] the cost of providing 14 days of statutory sick pay per employee will be refunded by the government in full. This will provide 2 million businesses with up to £2 billion to cover the costs of large-scale sick leave."
"If you are concerned about being able to pay your tax due to COVID-19, call HMRC's dedicated helpline on 0800 0159 559," it also says.
And if you're truly concerned, being a very small business, "There will be a £3,000 cash grant to 700,000 of our smallest businesses, delivered by Local Authorities, and worth a total of £2 billion." More information about how to apply for any of the above can be found here.
Remember, in the worst-case scenario, there is absolutely no shame in signing-on for the few months ahead, should you need to. We're all in the same boat here, and I'm certain anyone will understand that the rent needs paying. This is a global pandemic that is affecting airlines, beer companies and thousands of entertainment venues, and so any difficulties you face are crucially not your fault. Do what you can, when you can, and feel free to comment below with how the Coronavirus is affecting you.
I truly hope you stay safe, and that you and your family come out the other side unscathed.