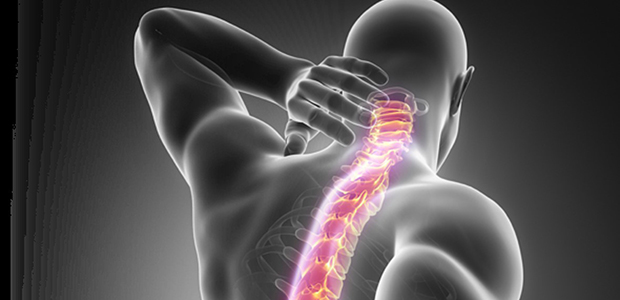 A posture product that'll make you sit up and take notice
I'm sad to say that I have reached a certain age where I've started to make noises when sitting down and standing up (the ravages of time catches up to us all I'm afraid to say). However, I can at least take solace from the fact that I'm most certainly not alone. 
Eighty percent of adults will experience some sort of back pain; it is the number one cause of disability worldwide; and approximately $100bn per year is spent on posture related treatment. These figures are not helped by modern lifestyles which often dictate that we spend a significant amount of time sat down hunched over a computer or TV screen. Worryingly, figures have shown that even one in four children are now suffering from back pain prior to age of 15 and that number is rising significantly.
Despite these alarming statistics there is still no one trusted brand when it comes to posture. One company hoping to tip the scales where that's concerned is Australia and South Korea-based startup Posture360 and its B2B focused posture corrector shirt. We caught up with CEO and Founder William Choi to find out more.
Choi has been in startup investment for over ten years. During which he invested in a company called BackJoy (along with the early Founders of Crocs), and eventually saw a gap in the market to develop sensor technology to go into such functional devices (having also been inspired due to his South Korea office being based in Pangyo Technovalley - Korea's Silicon Valley). One such product offering was a posture shirt designed to tackle the global problem of back pain caused by bad posture.
Choi saw an opportunity to develop a posture shirt and started to develop a team of smart engineers which resulted in the acquisition of posture wearable company, Namu Technologies - the inventors of the Alex Posture Coaching Device. Choi picked up the story: "They already had developed a patented wearable that addressed posture and because they were a team of talented engineers in need of a sales and marketing boost after their initial successful launch, it was obvious there was a good fit and the synergies would be more valuable by working together."
So, for last two and half years Posture360 has been developing its posture corrector shirt, with the help of doctors, and integrating its posture algorithms and sensors. The sensor is located in front of the shirt which is connected to an app, enabling people to measure their posture in real-time and become more aware of their postural habits and patterns.
A gap in the market
As a back pain sufferer himself, Choi's inspiration for Posture360 has also been partly born out of a lack of available solutions on the market. "There are products out there which are just standalone that claim to correct posture, but they're not backed by science and there's no data collection," he said.
On the other side of the coin there are also wearables that feature decent software, that can be connected to an app, but the hardware is cumbersome and invasive. There are also FDA approved posture products, but they tend to be big and bulky and used in a controlled environment, either at the clinic or at home (and these devices can also be expensive).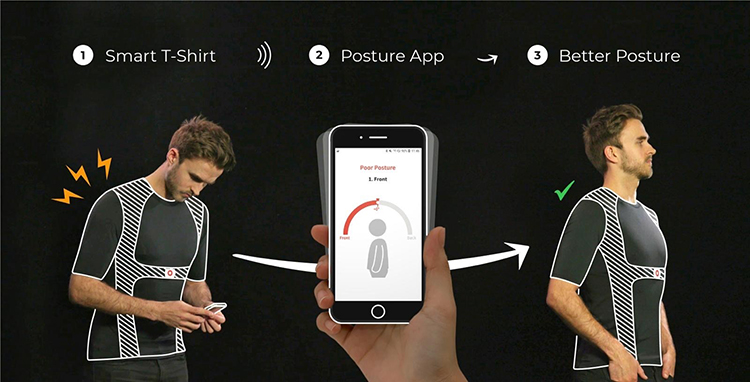 Posture360 aims to bridge that gap in the market between functional products and lifestyle data analytics sensors, with its smart posture product that is fully integrated with its technology platform and data collection network; patented innovation around customised balance, optimal posture and natural alignment; all validated by third party experts.
Choi added: "Designs for the Posture 360 app and iOS are now complete. The shirt is also done. All we need to do is finalise the marketing and content, as we have strong distributors already willing to take the product and add it to their existing line of wellness and posture products. The coronavirus situation has presented Posture360 with a unique opportunity to engage with users in the 'new normal' and look forward to launching our smart products this year and contributing to the new home economy."
The techy bit
As far as the technology is concerned Choi explained that it's not Posture 360's intention to reinvent the wheel. The sensor essentially features a simple accelerometer (similar to those found in a FitBit or Garmin). Then the company's posture algorithms will be used to detect signs of bad posture (rounded shoulders for example).
All the information is downloaded to the app in real-time, and then stored onto its secured cloud platform, so users are able to see their past history by the day, week, month, and year. "When you first download the app you are asked to calibrate the sensors to your own postural zone. So, anytime that you move out of that, it will give you a notification to get back into your safe zone," Choi added.
"The notification feature is important, as it reminds you to sit up straight and to become more aware. But what's also really cool is the fact that the shirt is itself a posture corrector, constructed in a way that as soon as you wear it you instantly feel the difference and prevents you from slouching, and keeping your shoulders aligned. It's also comfortable and breathable to wear it all day under any shirt while at home, office, or even working out."
This is again an important consideration. Notifications and data collection are great, as it makes the user more aware of bad habits. But the user also needs to act on that information in order for any improvement to be made. So, by having a shirt that actually helps you get into a better posture, it enables the neurology within your body (the muscle memory) to kick in, so you're increasingly likely to assume the correct posture next time.
Sales channels and applications
Early on Choi decided to keep the company as a lifestyle business. This means that Posture360 will not focus on FDA approval, (although this will be acquired further down the line when funding and time allow). "I want to make sure that we reach the retail side in terms of our business model, because that is our lowest hanging fruit, and generates immediate revenue," he added.
Although retail is key sector for Posture360, the really big push is on their B2B model, where the company is involved in different vertical channels such as insurance, healthcare, and sports for it's SaaS (Software as a Service) platform.
The insurance industry receives many claims related to back pain, yet the majority of those claims are rejected. The reason is because it is almost impossible to prove that the pain started due to a specific job. Choi commented: "When it comes to back pain, there's no measurement or price that you can place on the time when you're healthy to the time you reach pain.
"What insurers really love about our product is it enables them to set benchmarks where customers would get a discount on their premium, for example, if they reach certain milestones over a certain period of time. It's great for the insurance companies because they're able to start to see different patterns, but at the same time, it promotes better health for their clients, so it's a real win-win."
When it comes to clinical applications, often doctors would recommend different exercises to patients post-surgery, in order to aid recovery. However, most of the time, the patients simply don't do them. "Once they start to feel better, they go right back into their old habits," Choi commented. "So, by the doctor recommending our solution, they would be able to go onto our SaaS platform and monitor patient data".
This in turn increases patient care and satisfaction. Going to the doctors takes time, and of course, nobody really wants to go. In addition, the doctor is usually under pressure themselves and will only be able to see each patient for a short time. So patient care is limited. Choi added: "By allowing the doctor to have access to patient data and enabling them to send a report, the patient feels cared for, while at the same time it reduces the number of visits to the doctor."
That in turn reduces costs for the hospital. And even though Posture360 is not currently FDA approved, it can still count among its customers the largest orthopaedic hospital group in South Korea and various private clinics. 
In the sporting arena, the NBA and other sports leagues where Choi has direct relationships in the US is a key target market, due to the sheer number of athletes that experience back pain. However, the most exciting growth sector for Posture360 in the industry is e-sports - right now the fastest growing sport in the world.
Choi continued: "The average age of retirement for these e-sports players is 21. And the primary reason for this is back pain. We consider ourselves to be their digital posture coach, and by employing our solution, collectively with their managers, we are able to analyse player data to see at which point they were in good and bad posture. This all happens in the background while athletes are being 'trained'. Every angle counts in sports, and for the players. it means they are able to extend their season and careers."
Investment and pitching advice
When funding the company Choi raised an initial $1m (around $250,000 of which was his own cash in the bank alongside investors money) in a seed round.  Choi was then on the verge of heading back to Canada and the US to do a Series A, when he was approached by several contacts in Australia to invest $1m dollars with a 2x uplift, over a ten-month period.
"As a result, we rolled everything up to Australia," he added. "I would say that the company was born in Korea but raised in Australia. As a Canadian, Australia is familiar Commonwealth territory, not to mention it sits in the Asian time zone. Australia is also a great test bed before we hit the bigger markets of the UK and the US."
Therefore, as we're focussing this issue on investment and pitching, Choi has some interesting insight in this area. As much as you may believe in your product, he stressed that ultimately investors will invest in the founder, team, and the vision. He also highlighted the importance of maintaining a cool head adding, "Don't be greedy and fight too much on valuation. If you want to truly change your company, scale, and grow the value of the business, the only way you can do that is if you work together with people. If you're confident in your abilities, focus on being a leader and visionary. Everything else will follow."
"And this means not fighting valuation or selling yourself short either. It's a fine balance. Of course, you know how much your business is worth, but at the same time, 100% of nothing doesn't get you anywhere. Ultimately, you also want to make sure you're getting into bed with the right investor as they become partners for life."