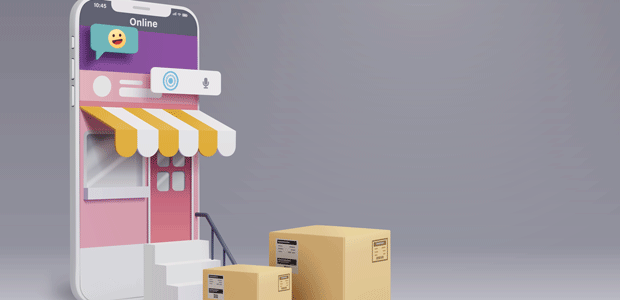 Post-pandemic shopping: one in four now make majority of purchases online
: More than a quarter of Brits now make the majority of their purchases online - an increase of 18% when compared to shopping pre-pandemic, according to new data. 
In a survey of 4,000 international shoppers, in seven different territories, it was found those living in the UK were most likely to have changed their shopping habits over the past few years.
Global business messaging provider Esendex surveyed customers in the UK, United States, Australia, France, Germany, Italy and Spain to discover what the retail landscape looks like in 2022. More than a quarter of Brits (29%) now make more than 80% of their purchases online, compared to 11% pre-pandemic.
In the territories surveyed, France experienced the least change, with an 8% increase in customers making the majority of their purchases online, compared to 2020, closely followed by Spain at 9%.
Wider statistics from the survey show that those living in the UK, France and Italy are the least patient when it comes to customer service. More than half of the respondents from these territories admit they get frustrated if they have to wait more than five hours for a response - highlighting the demand for an always-on culture.
Chris Gorman, Head of Professional Services at Esendex, comments: "We wanted to do a deep dive into the customer of today, post-pandemic. At the heart of what we discovered is that there's been a real shift in shopping habits, in the way people are making purchases, and wanting to get in contact with their favourite brands.
"The lesson here is for businesses to ensure they build an omnichannel presence so that customers can stay in touch - and get in touch - with companies via the platform(s) they prefer. Businesses should also look to invest in different ways of improving their customer service response time, through email autoresponders, live chat and chatbots, for example."
The findings of the survey have been published in a report which aims to give businesses a better understanding of customer expectations, alongside actionable tips to improve response times.
Despite call centres being a traditional means of communication between brands and their customers, this is now the preference for under half of the UK population (43%); shoppers would far prefer email, or to contact customer service via SMS or WhatsApp. The US was the only territory where more than 50% of shoppers would rather get in touch with a company via phone.
In a similar vein, almost four in five (79%) UK consumers would consider purchasing a product from a company as a result of a marketing message received via text or WhatsApp, with notifications of a sale, one-time discount or alert that an item they wanted is back in stock, most likely to lure them in.
Top Tips For Catering To Online Shoppers' Needs
Statistics show that 73% of people use multiple channels during their shopping journey. What's more, those that use four or more channels spend 9% more with a business, on average, when compared to those who just use one channel. Here are some tips for making online shopping a smooth process for customers.
Go omnichannel 
Think about your audience - which channels are they most likely to be receptive to? A customer survey could come in handy here, so you can hear first hand rather than guessing by trial and error. The idea is to be as visible as possible so that you can maximise the chances of a customer seeing your brand. One channel worth considering is SMS, which has an open rate of 95%. Through SMS, you can send prospective and current customers the latest information on your products/services, with links directing them to whichever page you wish - accessible within a single click!
Make it easy for customers to get in touch
Similar to the above, it is very important to make it as simple as possible for customers to contact your customer service department, should they need to. SMS can be utilised here too, alongside email autoresponders, live chat and chatbots. Try and make it clear from the offset when a customer can expect to hear back from you as research shows that more than half of Brits admit they get frustrated if they have to wait more than five hours for a response from customer service.
Provide a range of payment options 
Research shows that Brits abandon over £20bn worth of goods from their online shopping baskets each year. Payments provider Mollie found the absence of Paypal, Apple Pay or Klarna (buy now, pay later) would most likely put shoppers off completing the checkout process, with 93% of those that have neglected a minimum of one cart in the last six months citing a lack of preferred payment method at the checkout as to why.
Another common reason for cart abandonment comes down to shipping costs and options (i.e., expensive or long delivery times), so it's worth ensuring your business stays competitive even if it cannot offer free shipping. 
Make the website mobile-friendly
In 2021, it was estimated that 72.9% of ecommerce sales came through mobile devices. Online shopping statistics for the UK show that, by 2024, UK customers will spend around £105 billion through their mobile phones - so it's not hard to see why businesses should be investing in making their site as user-friendly as possible. A site that is too slow to load or is missing functions such as a search bar or filtering options, is likely to frustrate a customer and encourage them to shop elsewhere.