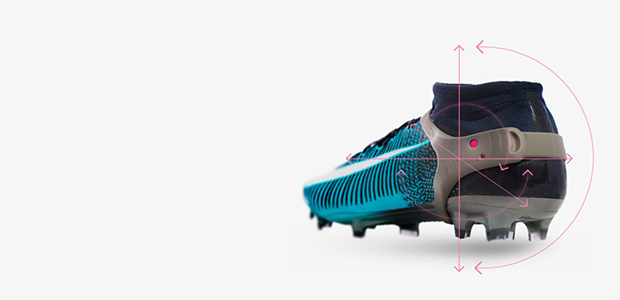 Play smart – connect your game
If you're an avid watcher of sport, like I am, you'll know that there has been great strides made over the last few years regarding the integration of data and technology – whether it be the ongoing debate of the Video Assistant Referee (VAR) in football, to the humble sports watch that tracks your steps and distance whilst running.
However, for an individual athlete or coach the amount of data that is now being generated can sometimes be overwhelming, confusing, and transferring that data into meaningful and useful information can be difficult.
One company is seeking a solution by introducing an athlete performance tracking platform that is specifically designed for football at every level. Utilising a smart motion sensor on a player's boots, it presents insights on technical, tactical, physical, load and gait analysis, for the players and coaching staff - from academy level to professional players in the highest tier. We caught up with CEO Guy Aharon, to find out more.
"We wanted to bring methodologies from the world of decision making, in real-time, to convert data into information - because information is a set of tools that helps you to make smarter decisions."
Fit for the market
In 2017, when Playermaker was first brought to market, the initial task was to convince the ecosystem that tracking athletic performance from the foot, by wearing a strap below the ankle, delivers the most accurate and valuable performance insights. Achieving this objective required persistence and collaboration with teams and players who shared the company's vision.
Finding the correct niche in the market was always going to be a tricky task. Targeting just an individual sport narrows the market somewhat. In addition, aiming for the high-end professional sector, limits the market still further, yet developing the product more for the recreational market could come across as more of a gimmick that a meaningful tool.
"What we have decided to do is first focus on the biggest sport in the world - football," Aharon added. "But not just that; we have decided to focus on the common ground that all sports have, and this is the footwear, and to make that connected – to build an aftermarket solution that everyone can put on their boots which provides collected data that can be converted into information and afterwards into actionable insights. And essentially this is Playermaker - we are connecting sports. We are creating a whole new vertical of connected footwear."
Indeed, as recently as September Playermaker won the Sports Technology Awards for the Best Sports Equipment or Wearable Technology. It is currently being used in around 16 countries, and has just secured a $10m funding round with a Singaporean VC. Guy added: "It was designed to be stronger than bone. It has been validated and tested by ourselves and third parties to make sure that it doesn't disturb the player, that it is comfortable, and safe."
The tech
Playermaker utilises advanced AI and machine learning technology to accurately measure foot-ball interaction, and the location of the sensor on the boot is vital for the accurate measurement these interactions. It allows the sensors to measure all data like technical ability, physical ability and gait parameters of a player.
The sensors can measure any movement of the foot including rotations of the ankle or contact with the ground. Data is gathered and processed on the spot, due to the sensor being attached directly to a player's boot. With a real-time machine learning algorithm, every step and every touch of the ball counts. Playermaker's 6-axis motion smart sensor is built with a gyroscope and accelerometer that samples movement events at 1,000 times/sec.
Guy explained: "What's unique about the tiny sensor we use is that it provides power and computation, but it's economic. We took off-the-shelf, very affordable components and we wrapped them in a very small package. This allows us to run AI analysis in real-time on the sensors. So there is no need for infrastructure or installation – you can use it whether you're in the first XI of a Premier League team, or if you're an amateur recreational player in a Sunday League.
"Were the only company in the world that has super accurate data in relation to the foot's interaction with the ball - how many touches, what was the kick velocity, etc and around this we have a whole world of technical data."
The two pillars of Playermaker
Guy explained that the Playermaker wearable has two key capabilities. This first is around player development and how players and coaches can better understand what they are doing and how they can do it smarter to improve their skills from game to game, or from training session to training session. Guy continued: "We're providing coaches at all levels with the information that will allow them to improve i.e. pass completion information, tackling metrics."
The second significant pillar is associated with injury prevention. Since the sensor is mounted near the footwear, it is able to capture a player's gait in a very advanced, accurate way, that will help collate a history of the player, to make sure that they are game-ready or to monitor the rehabilitation process after injury. "We can actually tell a player if they are kicking the ball too hard during their rehabilitation process for example, which could dramatically lengthen their recovery time."
Playermaker tracks information over time, and makes sure that the teams, coaches and support staff have a common ground with a single solution that speaks for everybody. Coaches, for example, care less about the injury prevention aspect of the game, whereas a physio will not be involved in tactical decisions. Playermaker combines them all so everyone can find value.
Market penetration
Guy explained that thus far, Playermaker have been fortunate to have a very healthy in-bound business, where its capabilities have spread via word of mouth, and players and coaches do not want to be left behind. He added: "We are currently investing our resources in education and around the benefits of Playermaker, and we believe that our growth and penetration into the market is happening very nicely organically."
The two biggest markets are the UK and North America where a significant percentage of the top teams are using the solution. Many of the US colleges are using Playermaker, but it can also be found throughout Latin America which a hotbed of passionate technically talented players, and they see it as a tool to locate and develop talent.
It is also prevalent in Scandinavian countries, where there are limitations in terms of outdoor training due to the cold weather. Guy added: "Until recently they couldn't track data because they had no access to GPS, but with Playermaker they have a whole new world of information and data."
Competition
As mentioned previously, sports tech has exploded in recent years and is a competitive marketplace. However, Guy sees the main USP of Playermaker being the fact that it is personalised and basic. "In order to use Playermaker all you need is footwear and a leg! We will take all the information, digest it for you, and give the information back to you in a way that is clear and easy to understand.
"Not only that but we have built a system that is rigid, reliable and credible enough for Premier League first team players, but even as a Christmas gift for your child, with the exact same sensor and the exact same technology. We have built a tiny, smart sensor which is economical in terms of computation and power, which means it can be used everywhere and by anyone." This is important as Guy added that Playermaker is hero-driven, meaning the wearable has the same appeal as the shirts and boots that the top players are wearing.
Feedback
"We are a very disruptive technology, so we're very happy and fortunate that many of our users, like Norwich City, Atlanta United or Millwall, want to show off that they are using Playermaker," Guy continued.
Playermaker has found that the market was thirsty for innovation. And during the first lockdown period, when players were apart from their team and training was not as regular, it meant the timing was perfect.
"Players were away from their teams and they needed a way to train remotely. Being able to monitor players while they were at home when you cannot have the entire team training was ideal. The fact that you can train the academy and the first team with the same technology, no matter where they are, is fantastic.
"We chose to be very active during the lockdown period - we released two new features to the product - a portable charger so you can take the sensors with you, and a dashboard that allows coaches to train their players wherever they are in the world. When the top players returned to their clubs it was obvious that Playermaker had become part of their lives. We see the COVID period as a sort of time machine that we entered and it decreased the time it took us to reach our goals, and to get into the markets and achieve the numbers that we wanted."
The future
Around seven of the top ten teams in the Premier League are using Playermaker and the company has, for good reason, set its headquarters in London. "We soon realised that the capital of football around the world is the UK, and my Co-founder Yuval has now moved to London and is based there," added Guy.
"All of our global operations are in the UK. I believe that all the world looks up to the UK industry ecosystem, in sports, definitely in football, as setting the global standard. We decided that the UK would be the first place for us to provide this innovation, and I believe that this was a smart decision. Once we had Premier League, Championship, and Division One teams using Playermaker we could then go all over the world and nobody questioned it, because most of the world's best players are playing in England."