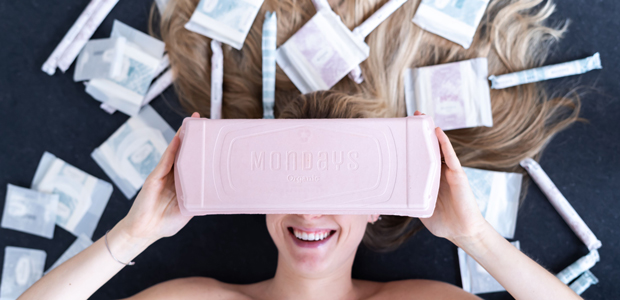 Plastic free periods made easy
The modern consumer is demanding a future in which the products they use leave no trace on the planet. Brands who can't meet this demand will see their customer base move towards those who can deliver products that are in line with this vision. 
Mondays, a range of plastic free period products made from organic cotton, is a shining example of a brand responding to this changing world. The brand was born from frustration at the lack of plastic free period products available on the market, and exasperation at the enormous impact the existing options were having on the planet.
Launched in 2019 by female entrepreneurs Nancy Saddington and Elisabeth Dewey, Mondays aims to help women who are often caught short every month and forced to buy traditional products.  
Mondays is available as a subscription, helping women to be prepared, as well as being available to buy as a one-off purchase. All delivered to the door for added convenience, but with no plastic in sight.
Nancy Saddington, Mondays co-founder, said: "The problem with traditional brands of period products is that they contain plastic, which takes hundreds of years to disappear. Traditional tampon brands include a thin veil or film of polyethylene and or polypropylene (plastic) around the core and the string is polyester, while traditional menstrual pads are even worse, incorporating plastic in the core, which is made of super absorbent polymers. The leak-proof base of traditional pads and the packaging are also both made of plastic.
"These plastics aren't easily biodegradable and can remain in the environment for around 450 years. To put this into context, if Jane Austen had used a traditional disposable period product, it would still be around today. Coupled with the fact that women use an estimated 11,000 disposable period products over their lifetime, and we've got a real problem on our hands."
To combat the estimated 200,000 tonnes of waste generated by plastic period products in the UK every year, Nancy and Elisabeth set out on a mission to change the industry.
Mondays produces reliable tampons, menstrual pads and panty liners made from biodegradable, chemical-free and organic cotton. The packaging is 100% plastic free, even removing the plastic tear strip from the delivery boxes and replacing the usual plastic backing found on menstrual pads with compostable Mater-Bi backing. 
And if that's not enough to convince you to switch, below are some of the added benefits that come with choosing Mondays.
Completely customisable

 
Each Mondays' Box is completely customisable, allowing you to pick the right mix of period products for your unique cycle. Choose from three organic cotton, plastic free products: menstrual pads (in two absorbencies), applicator tampons (in two absorbencies) and panty liners. Delivery is free across Europe and beyond, and costs start from £12.50. 
Individual boxes can be purchased at any time, or you can subscribe to Mondays and receive a box of products in time for your period every month. Your monthly box is made up of your own unique combination of 25 products, chosen by you to match your flow, and is set to be delivered on a personalised subscription cycle. Have a 21-day cycle? No problem. Or maybe it's 36-days? Mondays will match you and send out your boxes to suit, meaning you're never caught short again. 
Four-minute Mondays

 
With a one-time registration at the click of a button, shopping for period products that are good for you and the planet has never been this easy. The average woman spends over 350 hours shopping for period products in a lifetime, making the four minutes it takes to register for Mondays, time well-spent. 
One Percent for the Planet

 
Nancy continued: "At Mondays we put our money where our mouth is. We're part of the 'One Percent for the Planet' movement set up by the founders of Patagonia and Blue Ribbon Flies, meaning that 1% of all our sales from day one are donated to environmental non-profit organisations."
Be part of the growing group of environmentally conscious women who expect more from their period products by signing up to Mondays.